I read poetry, a little bit of everything by Baudelaire. And there's always Mallarmé. I read poetry, but also short texts, correspondence, letters by writers. The first was Céline's. There are the letters of Madame de Pompadour, of Balzac, Voltaire's correspondence. Napoleon, too. Azzedine Alaïa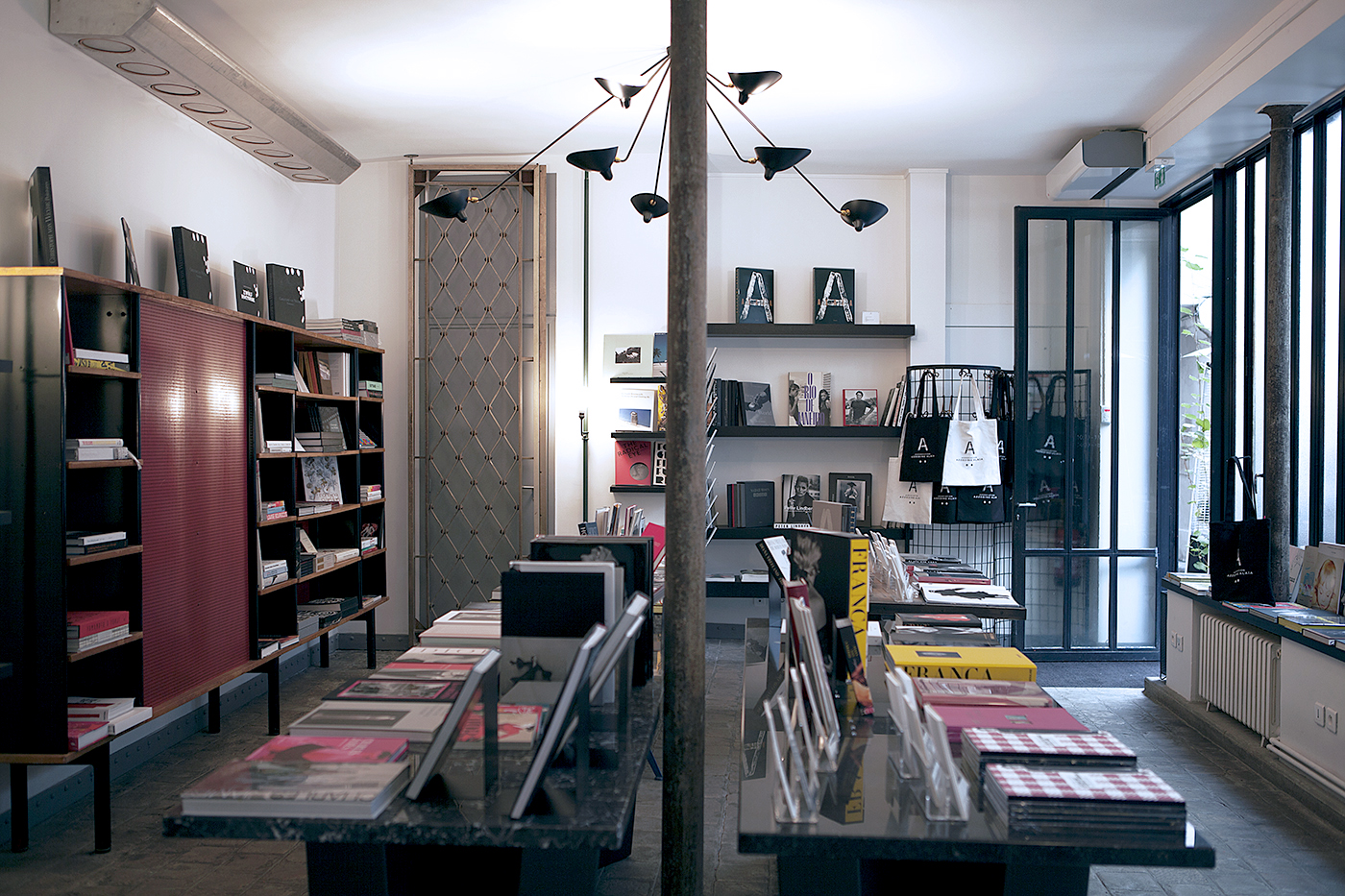 THE BOOKSHOP PH.SYLVIE DELPECH
In homage to Azzedine Alaïa's passion for books and artists, the Azzedine Alaïa Foundation opened a bookstore located in the interior courtyard at 18 rue de la Verrerie, the house where he lived and worked, and where he had chosen to establish the Foundation. In this location, which already hosts the Foundation's exhibitions, the bookstore serves as an extension of the living and working space that Azzedine Alaïa had loved so much.
The bookstore is decorated and furnished with pieces from Monsieur Alaïa's collection. The library, as well as the ceiling lamp and two tables, were designed by Jean Prouvé. One of the tables in particular, titled "African", was very dear to Azzedine Alaïa. The large rectangular tables in the center are made up of marble trays, discovered by Mr. Alaïa at a fish market, and supported by iron legs designed by the American artist Kris Ruhs; the two chandeliers are from Serge Mouille editions ; the wall lights, as well as the large bronze doors, are by Jean Royère.
The wall is dominated by an emblematic portrait of Azzedine Alaïa by Julian Schnabel.
The bookstore offers a selection of publications related to the work and universe of Mr. Alaïa: fashion, the history of fashion, exhibitions dedicated to various art disciplines, as well as books dedicated to artists presented in the gallery, or to those he simply loved himself. It also offers rare collector and limited edition works on fashion, art, design and photography.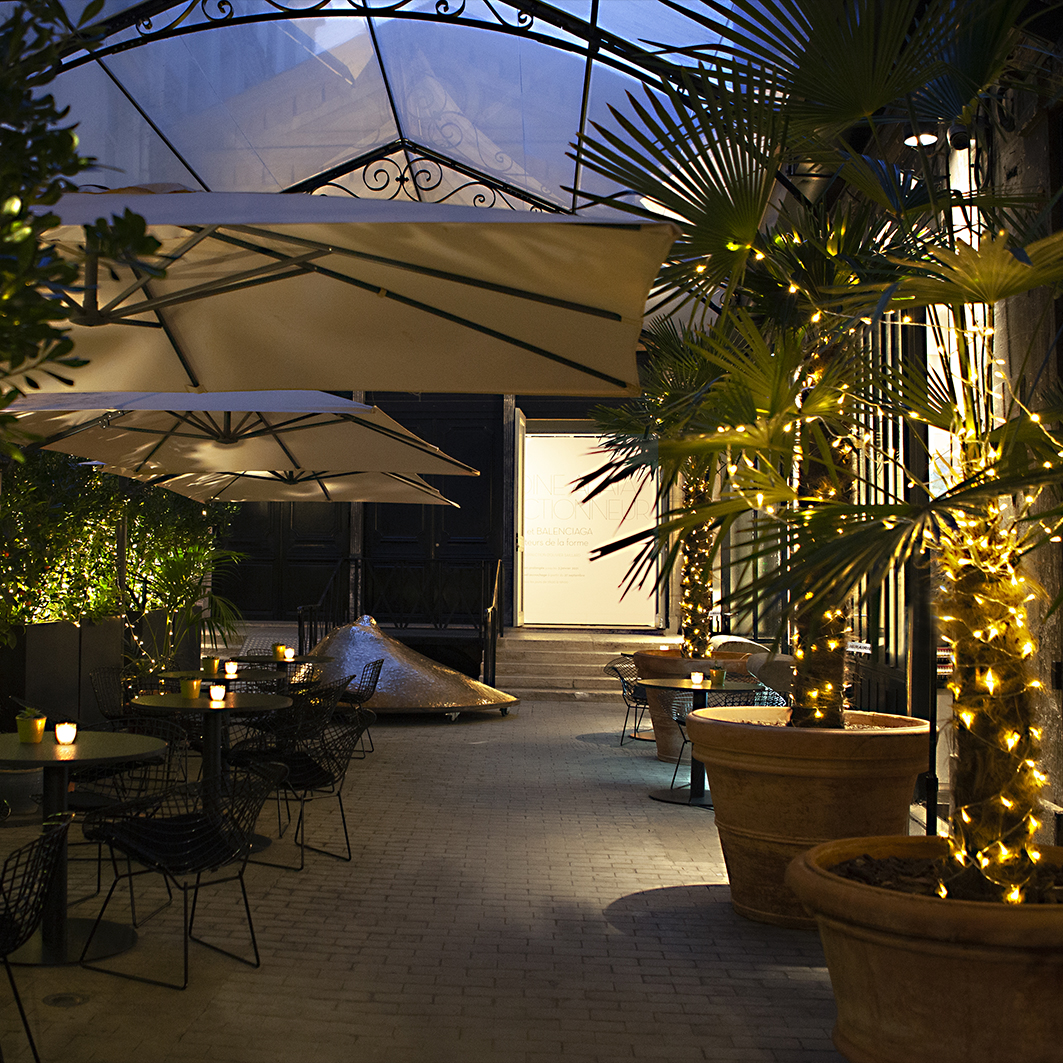 THE CAFÉ ON THE COURTYARD SIDE PH.SYLVIE DELPECH
The café of the Azzedine Alaïa Foundation is rooted in Azzedine Alaïa's famous sense of hospitality and conviviality, unlike any other. The lunches and dinners that he organized became legendary, as was his love of cooking, and his sense of sharing.
In a paved interior courtyard decorated with palm trees and sheltered by it's original glass roof, the Alaïa café is a peaceful haven in the very heart of Paris. The decor pays homage to Azzedine Alaïa's passion forart and design: the emblematic sculpture by César « Le Sein », concrete lights by le Corbusier, chairs and armchairs by Harry Bertoia.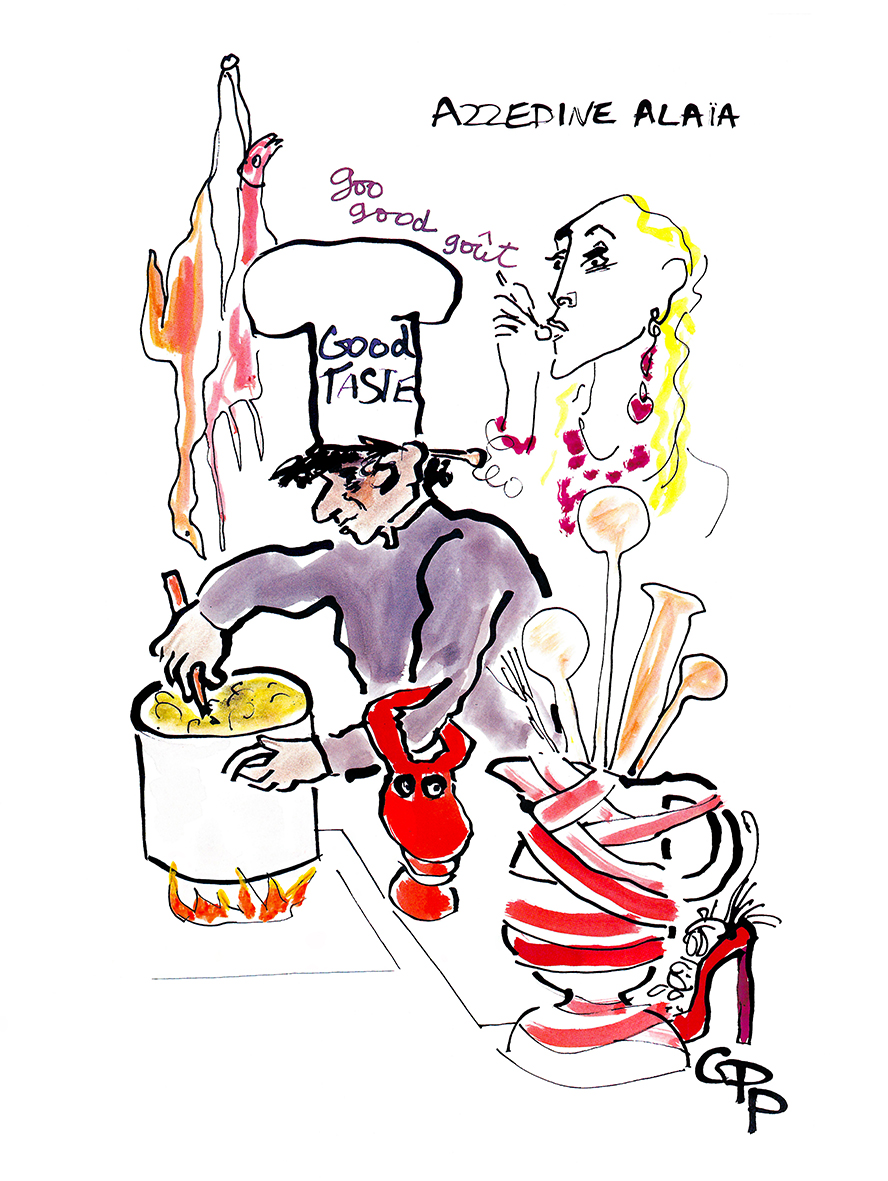 good taste, illustration © gladys perint palmer
For me, luxury is being able to do exactly what you want every day, to have a great plate of spaghetti with great friends and family, or a delicious mozzarella, tomato and basilic salad.