signing
11.13.2022
12pm
by invitation only
EYE-D
portraits by anna gabriel
azzedine alaïa foundation
peter gabriel ph. Anna Gabriel

annie lennox ph. Anna Gabriel

noel gallagher ph. Anna Gabriel
Eyes speak. They reveal deep truths and moods that we try to hide from the prying observers. That's why Anna Gabriel decided to focus her work as a photographer on the gaze. And to do so, she chose stars from music and entertainment industry. From Johnny Depp to Sting, Susan Sarandon, Willem Defoe, Eddie Vedder, Annie Lennox, Lou Reed, Michael Stipe and many others: we know them, we watched them on stage or on the big screen. In these insightful shots, they show everything they are used to hiding. 
"One of the functions of art should be to allow you to see in a new way, what you already know well. This is what Anna has done so well in this book. Many of these people will be familiar, but these photos are neither carefully constructed portraits or casual snaps. They are original close-ups – like peering through a door left a little open, they allow us a glimpse of a private interior world." – Excerpt of Peter Gabriel's introduction.

"To photograph an eye is to see into another world, a deeper emotional world. These photographs are like small windows into houses that we pass every day but never look inside. In a time where people are looking at screens and experiencing less eye contact with each other, I am happy to put out this book that takes a deeper look into the eyes of these famous faces." – Anna Gabriel.
Anna Gabriel is a photographer, director and editor. She worked with celebrities as Joan Baez, Robert Plant, Iggy Pop and she directed a lot of music videos for his father Peter Gabriel  and many others musicians. She also worked on many autobiographical documentaries and for no profit organizations too. 
The book signing will be preceded by a Q and A session between Anna and Peter Gabriel.
Published by ACC Art Books.
Q and A session between Anna and Peter Gabriel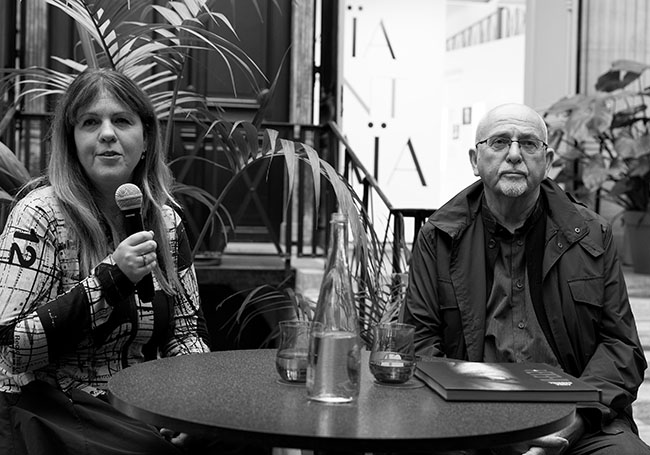 anna and peter gabriel ph. Sylvie Delpech