Exhibition
10.11.2015 - 10.25.2015
Azzedine Alaïa, Couture, Sculpture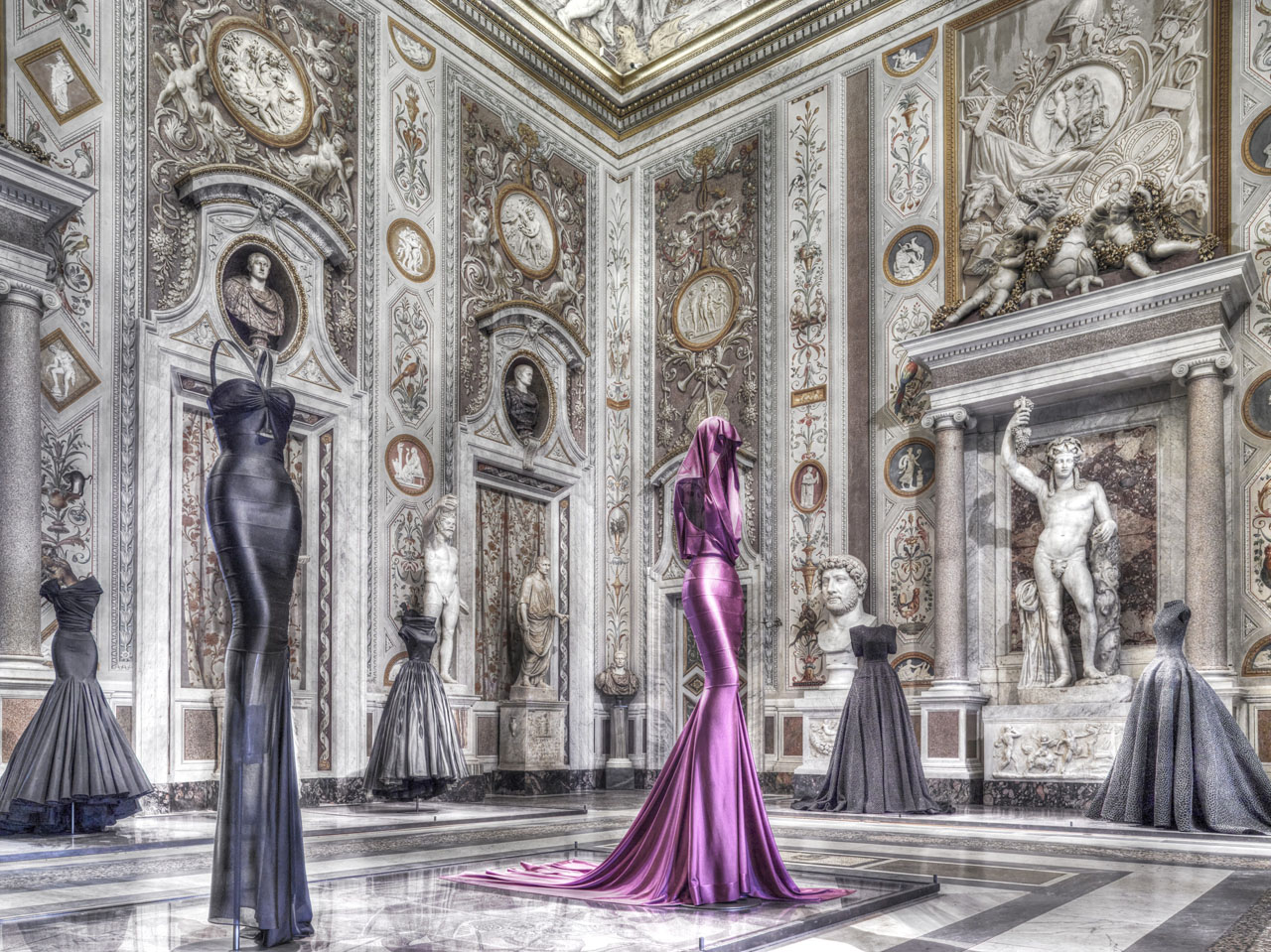 Azzedine Alaia, Couture, Sculpture Galleria Borghese ph. andrea & VALENTINA
The exhibition «Couture Sculpture» realized at the Borghese Gallery in 2015 and dedicated to the work of the couturier, testifies to his extraordinary creative commitment. His attention to matter, forms and body is illustrated through eighty pieces arranged in the Museum's rooms, in dialogue with the very works in the collection.
Azzedine Alaïa introduced into the Borghese Gallery, the privileged place of sculpture, a completely new sculptural variant, that of «flexible sculpture».
Azzedine Alaïa, Couture, Sculpture - video ilvio gallo
Born from the relationship between Alaïa and the Borghese Gallery «Couture Sculpture» is an exhibition that also revealed much of the creative technique of the master. Indeed, Alaïa's sharp, striking, tirelessly inventive gaze never seemed to move away from the body and imagination of the real woman, a subversive way for him to approach this second skin of the body that was for him clothing.
Alaïa's creativity in her way of modifying bodies and silhouettes with her cutting game represented, in the exhibition Couture Sculpture, a real contrast between scissors and chisels.
The museum pays tribute to his creativity, generosity and kindness.
Azzedine Alaïa, Couture, Sculpture GALLERIA BORGHESE ph.andrea & VALENTINA

Azzedine Alaïa, Couture, Sculpture GALLERIA BORGHESE ph.andrea & VALENTINA

Azzedine Alaïa, Couture, Sculpture GALLERIA BORGHESE ph.andrea & VALENTINA

Azzedine Alaïa, Couture, Sculpture GALLERIA BORGHESE ph.andrea & VALENTINA

Azzedine Alaïa, Couture, Sculpture GALLERIA BORGHESE ph.andrea & VALENTINA

Azzedine Alaïa, Couture, Sculpture GALLERIA BORGHESE ph.andrea & VALENTINA

Azzedine Alaïa, Couture, Sculpture GALLERIA BORGHESE ph.andrea & VALENTINA