Exhibition
12.07.1997 - 03.08.1998
azzedine alaïa
Azzedine alaïa in the 20th century
In 1997, the Groninger Museum in the Netherlands hosted a retrospective dedicated to Azzedine Alaïa. The exhibition was organized by Mark Wilson and took place in the building designed by Alessandro Mendini, the famed Italian architect. Azzedine Alaïa's pieces were presented amidst a multicolored scenery, resonating alongside the works of his favorite artists:Jean-Michel Basquiat, César, Anselm Kiefer, Pablo Picasso, Julian Schnabel, Andy Warhol, Christoph von Weyhe …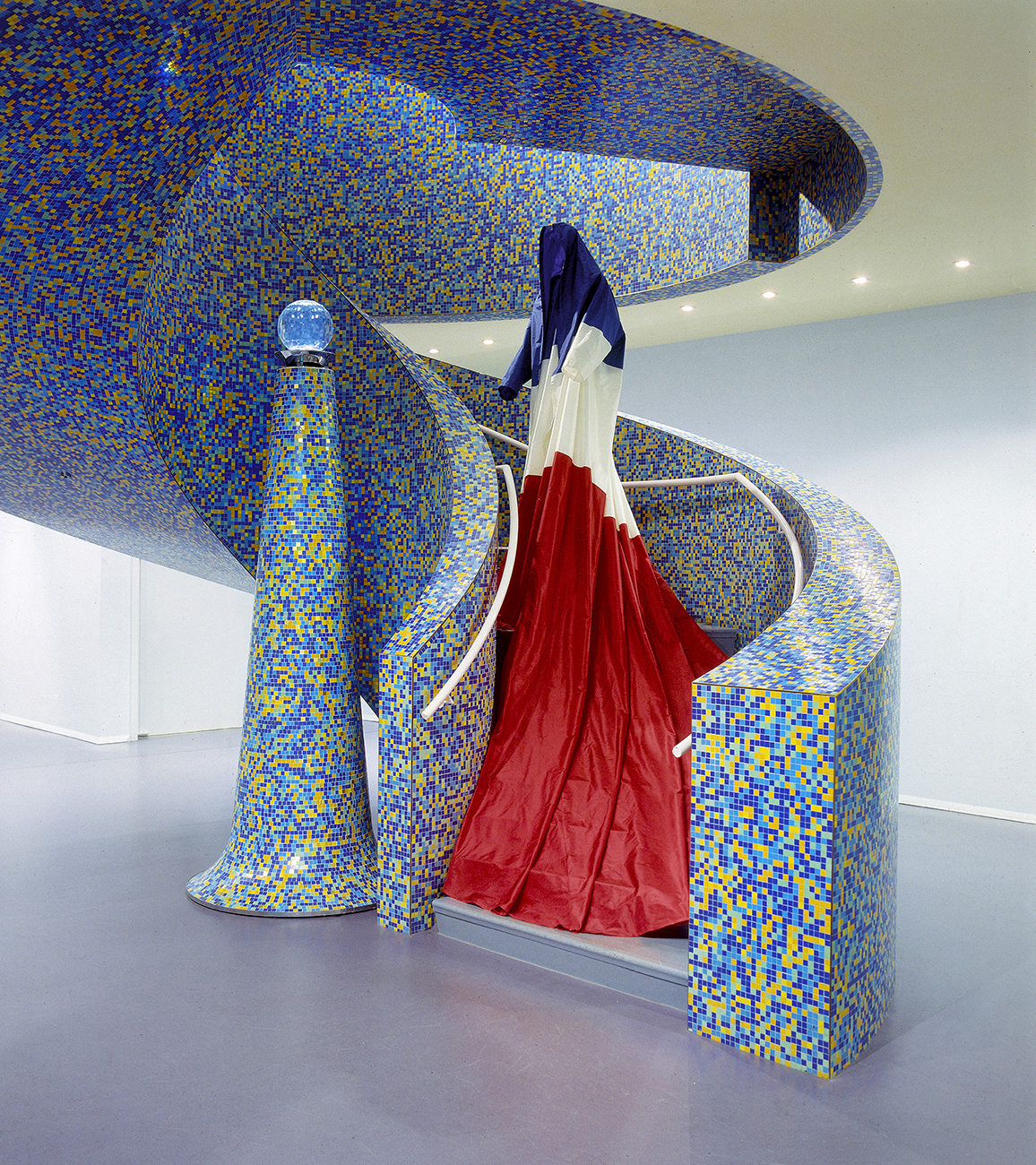 azzedine alaïa, 1989 ph. Peter Tahl
Some of his most iconic dresses were displayed in a symphony of colors, most notably the blue white and red flag dress created in 1989 for Jessye Norman on the occasion of the Bicentenary of the French Revolution in Paris. In a room of ochre and sand tones, bustier dresses composed of shells, or rope fringe, were exhibited in dialogue with the works of Basquiat. Nearby, Andy Warhol's Maos surveilled the long-sleeved silhouettes of the designer's Spring/Summer 1990 collection. The sculptural and sublime "bandelette dresses" were exhibited near an Egyptian mummy in its gold coffin.The myriad of rooms throughout the exhibition all responded to a particular genre:sculptures,paintings and couture.
azzedine alaïa, spring/summer 1990 - andy warhol, mao's, 1973, collection of the Brant foundation ph. Peter Tahl

azzedine alaïa, 1986, 1990, 1994 & 1997 - egyptian mummy and coffin collection of the rijksmuseum van oudheden, leiden ph. Peter Tahl

azzedine alaïa, 1988-1990 - jean-michel Basquiat, untitled, 1982, collection of the Brant foundation ph. Peter Tahl

azzedine alaïa, 1992 - Cesar, compression Fragonard, 1988, collection of cesar ph. Peter Tahl
Notoriously mimicked, yet never truly copied, Azzedine Alaïa is the most renowned of contemporary fashion designers. His work continues to surprise, invigorate, as well as titillate the imagination. With technique, craftsmanship, and mastery of cut as trademark, Alaïa's impact on fashion is especially relevant today; the last great couturier to work solely on the body. A true scientist and sculptor manipulating the human form. The Groninger Museum presents this journey through Alaïa's extraordinary œuvre. Neither chronological nor didactic, it is rather an impressionistic view of a 20th century master.
Azzedine alaïa in the 20th century - video ilvio gallo