I am bad with the timeline. I am the age of the Pharaohs. I've erased all the dates.  Azzedine Alaïa
1935-1949
I dont'like people who forget where they started from.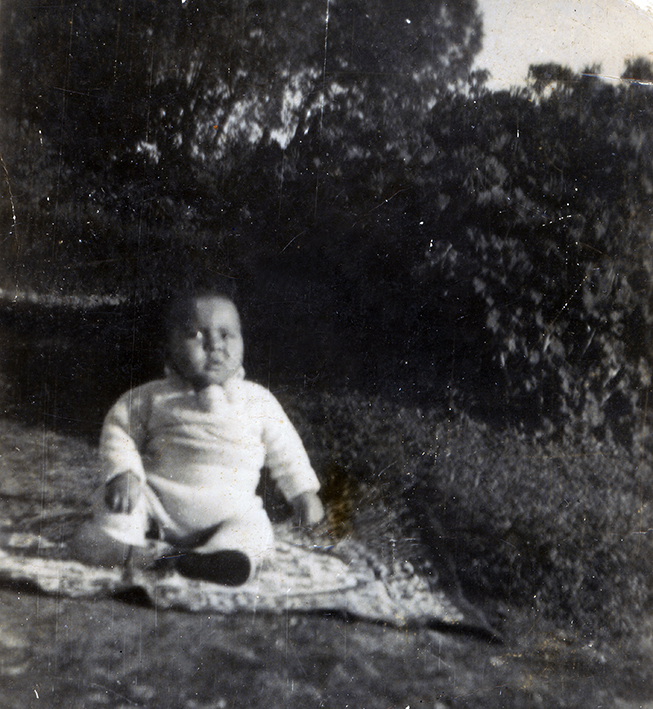 azzedine alaïa,siliana, 1935
Azzedine Ben Alaya is born on February 26, 1935, in Tunis.
His parents, Ismaël and Frida, live in Siliana, a small town where his family grows wheat, but Azzedine, his sister Hafida, and brother Abdelhamid, live with their grandparents, Ali and Manou Bia, in Tunis, where they go to school. Manou Bia, a free spirit, gives him a taste for freedom that he will never lose.
At that time, Tunis was a city where origins and faiths coexisted harmoniously. It was really a very happy mix. I did not know the word 'racism' or the differences amongst religions.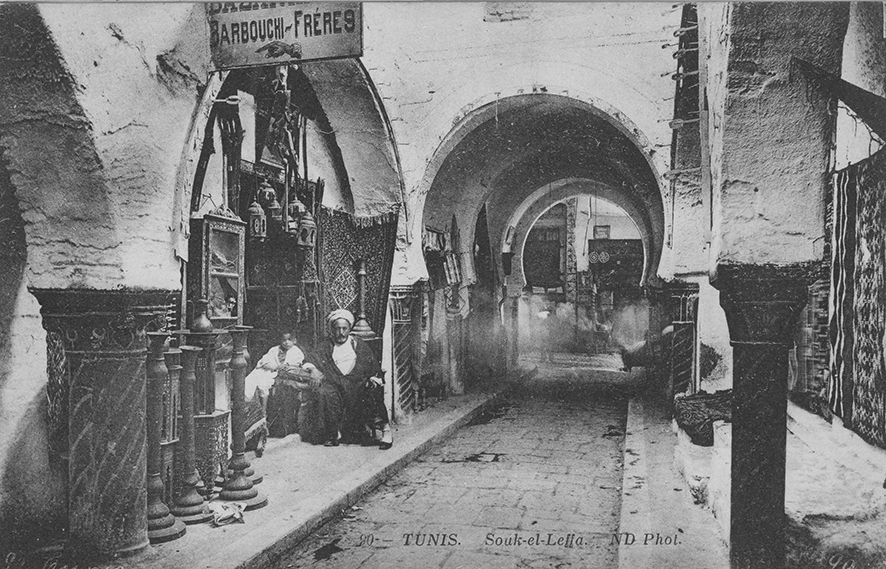 the el lella souk in tunis, 1940
My parents lived in Silliana. They wanted my sister and me to have a good education, so I was brought up by my grandparents in Tunis. My  grandmother was a free spirit, she raised me and my sister in the most incredible way !
Ali reads One Thousand and One Nights to him every Thursday evening, except when the radio broadcasts the concerts of Oum Kalthoum. This is a moment of celebration for everyone in the Arab city of Tunis.
Every first Thursday of the month we had to have an early dinner. We had to stay quiet, and not make any noise because my grandfather was trying to get radio waves from Egypt, because Oum Kulthum was singing. Everyone was sitting on the floor waiting for her to sing. Her voice was creepy. It was the first great voice I heard in my childhood.
Every Friday and Saturday afternoon, Ali takes him to Ciné-Soir.
I would pass the entire day in one of the back cinema seats and watch all the Egyptian films. I would watch the same film four times back-to-back.
Since the police headquarters where his grandfather works is located near the cinema, he also spends his weekends in the passport photo department, where he helps to cut the serrated edges of the photos.
My grandfather was a police officer and worked in the passport and ID department. From the age of 10, on days when I didn't have school, he took me to work with him, and I spent the day sitting next to Mademoiselle Angèle, the girl who made identity cards. I particularly liked the photos of the Italian women. They were so beautiful. I collected them, put them in a big envelope, took them home, arranged them by category: the blondes, the brunettes... I was making labels. Sorting out those pictures was my favourite game.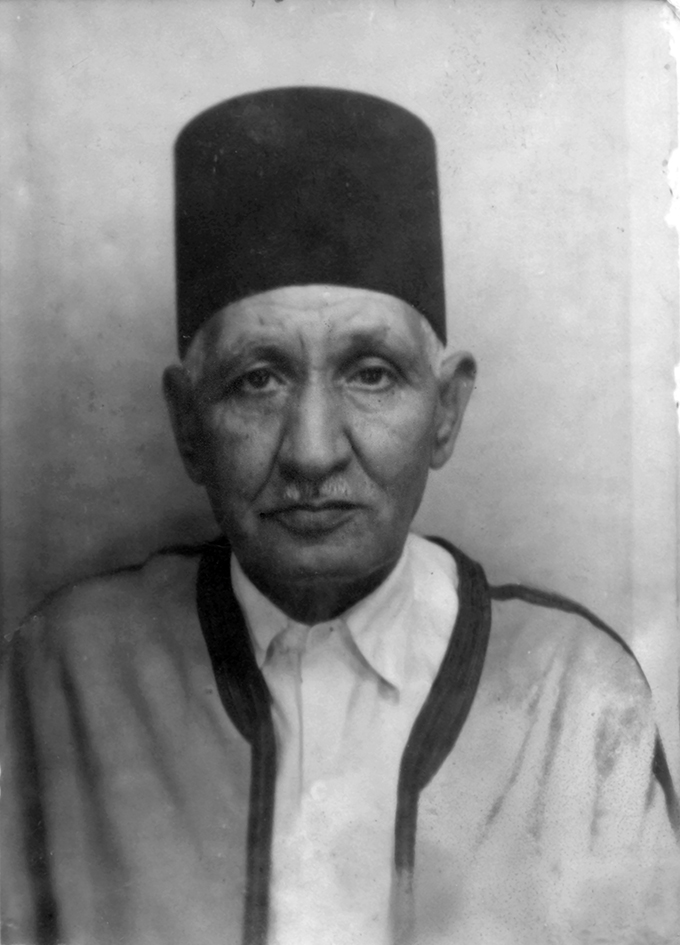 Grandfather Ali, Tunis, circa 1950. ph. azzedine alaïa foundation
Madame Pineau, a French midwife who helped deliver Manou Bia's last child, introduces him to fashion and painting. It is she who enrolls Azzedine at the School of Fine Arts in Tunis, when he is just fifteen years old.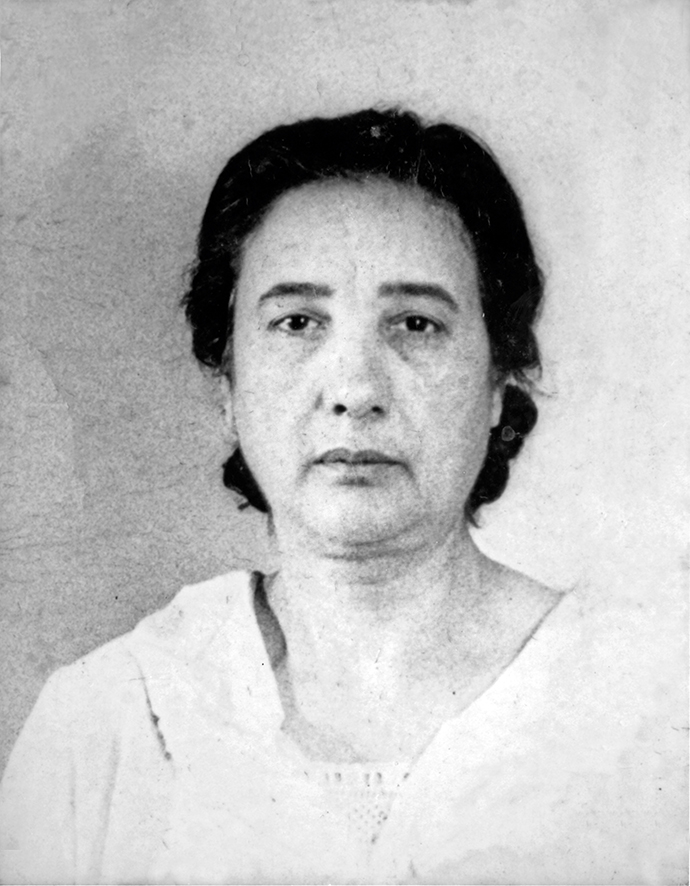 Madame Pineau, circa 1950. ph. azzedine alaïa foundation
The Italian neo-realist film Bitter Rice is released in cinemas. Azzedine Alaïa is overwhelmed by the image of Silvana Mangano and her iconic shorts worn in the film.
I also remember Bitter Rice, with Silvana Mangano. What a moment! When I got out of the film, I rolled up my shorts like she did.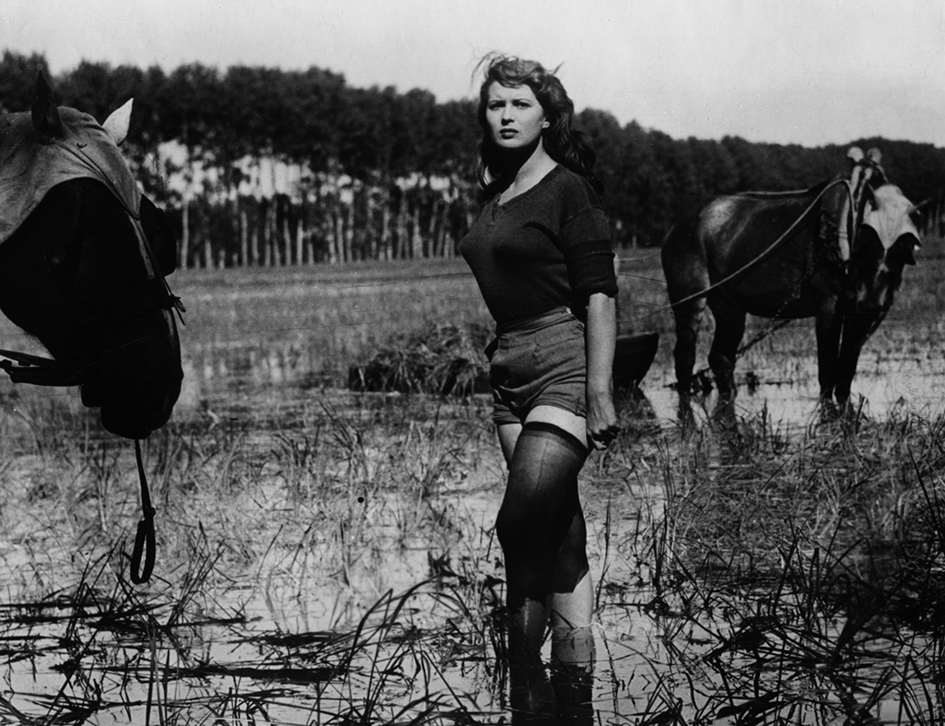 silvana mangano in Bitter Rice, by Giuseppe de Santis, 1949
1950-1955
Madame Pineau, the midwife who delivered me, was like my second mother. I used to go to her home all the time and sleep there on Saturdays and Sundays. It was she who got me into the local school of fine arts, despite the fact that I was only fifteen. She gave me books on major painters, and I had to copy the paintings, the one I admired most was Vélasquez. She went to the teacher and told him: "Listen, it was me who brought him into this world. I can assure you that he is sixteen years old." She would give me crayons and I'd draw copies.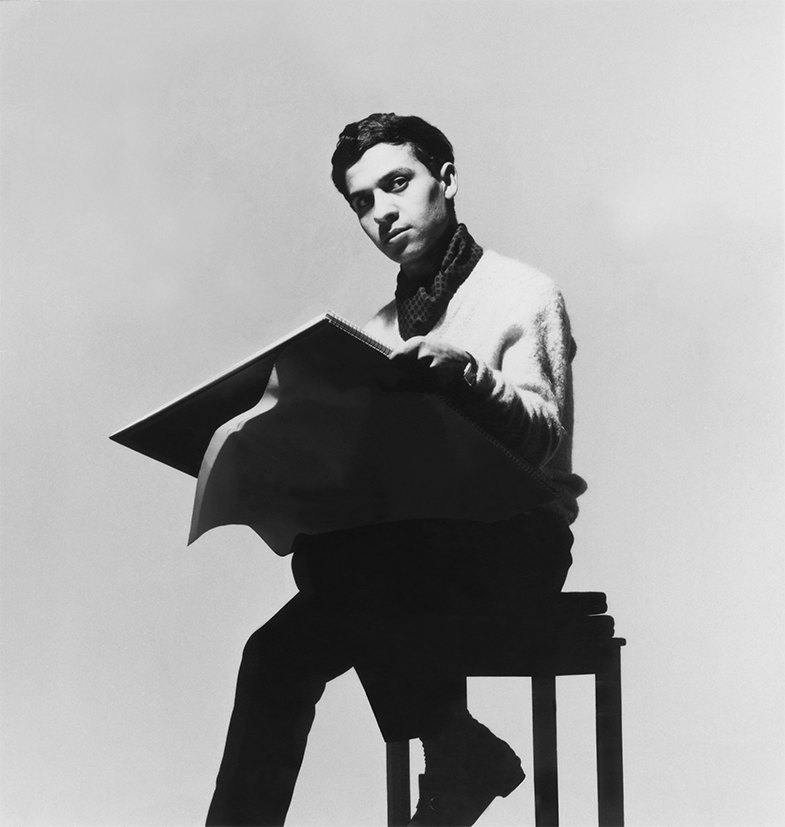 azzedine alaïa at the school of Fine Arts in Tunis, 1951. ph. azzedine alaïa foundation
Azzedine Alaïa studies at the School of Fine Arts in Tunis without his father's knowledge. It is there that he meets Latifa Bach Hamba, who will become his closest and dearest friend.
She will go on to marry Jellal Ben Abdallah, one of the greatest Tunisian artists, who will design Azzedine Alaïa's house in Sidi Bou Saïd in the 1990s.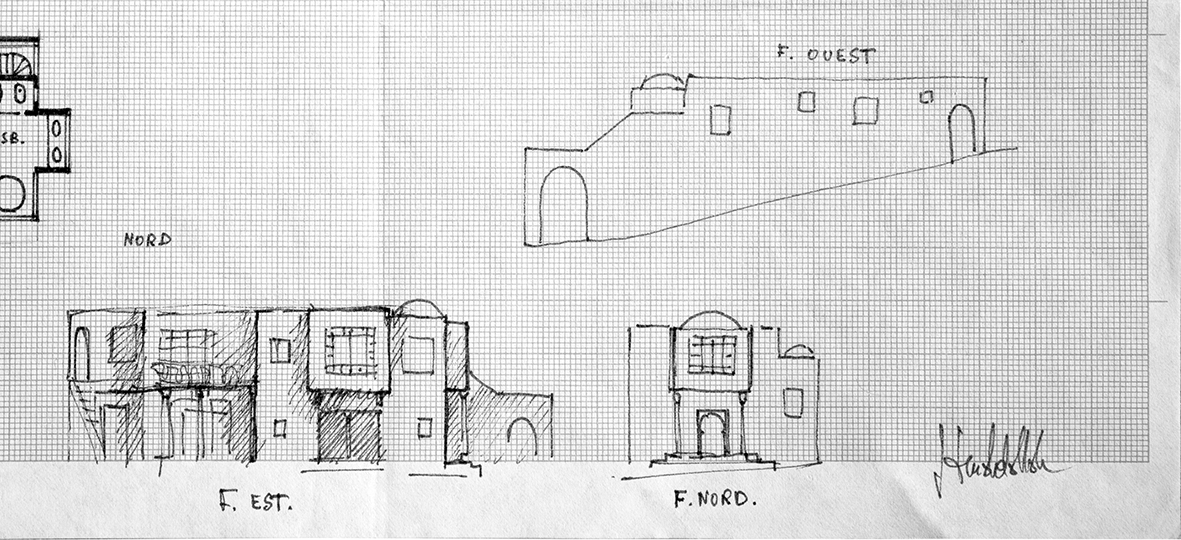 DRAWINGS OF THE HOUSE IN SIDI BOU SAÏD BY JELLAL BEN ABDALLAH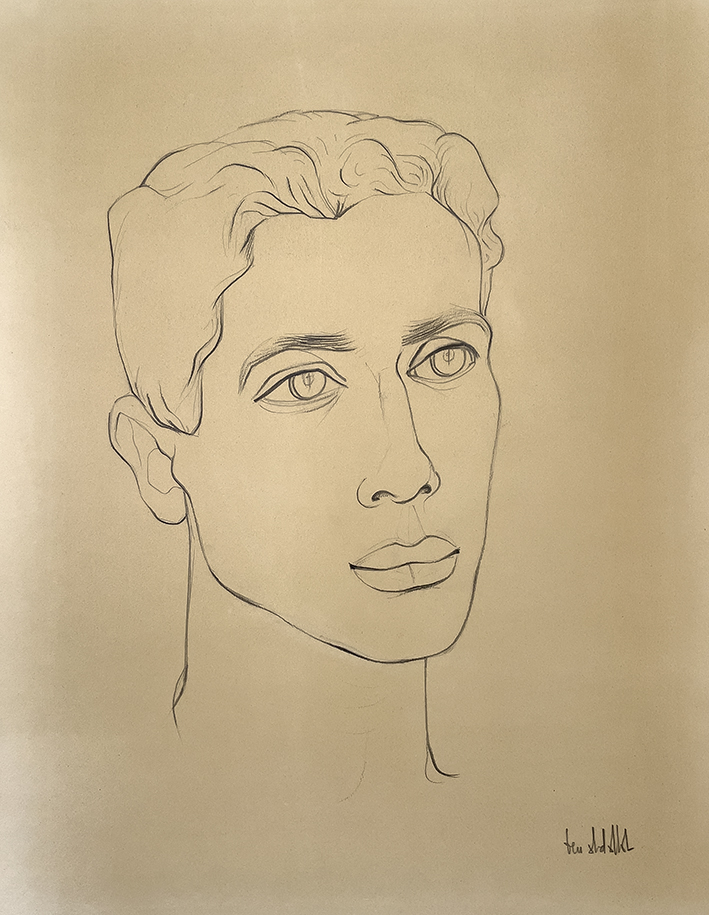 PORTRAIT OF AZZEDINE ALAÏA BY JELLAL BEN ABDALLAH, 1955
Latifa had the slimmest waist I've ever seen, so I used her as a guinea pig. I would sew skirts directly on her, tightening them as much as possible to see what the effect would be.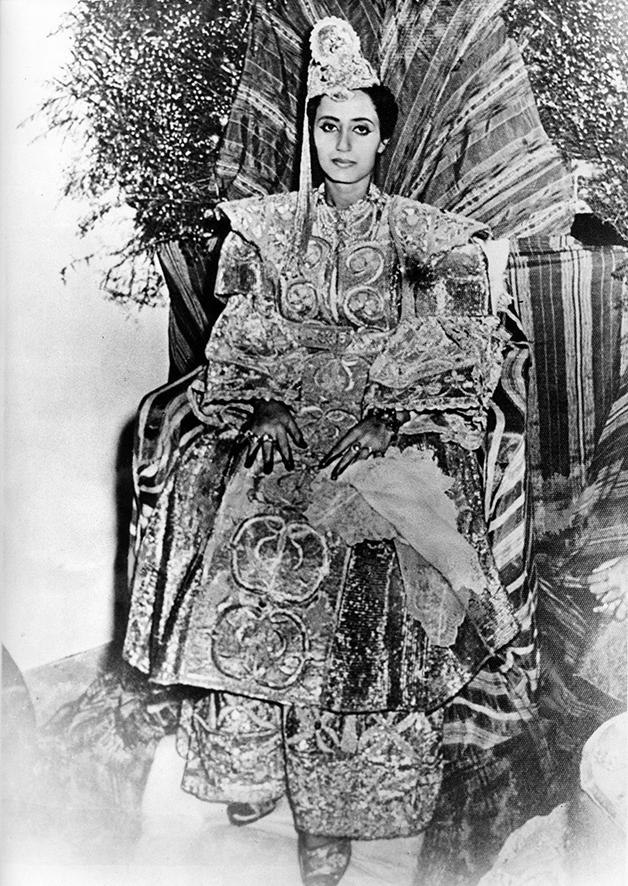 Latifa on her wedding day to Jellal ben Abdallah, 1957. ph. azzedine alaïa foundation
Even though I did not stay long at the fine arts school, I retained what I learned. Sculpture gave me a knowledge of anatomy. We had to make clay casts and copies of models' feet and hands . . . Most notably, I made a horse, which I still have.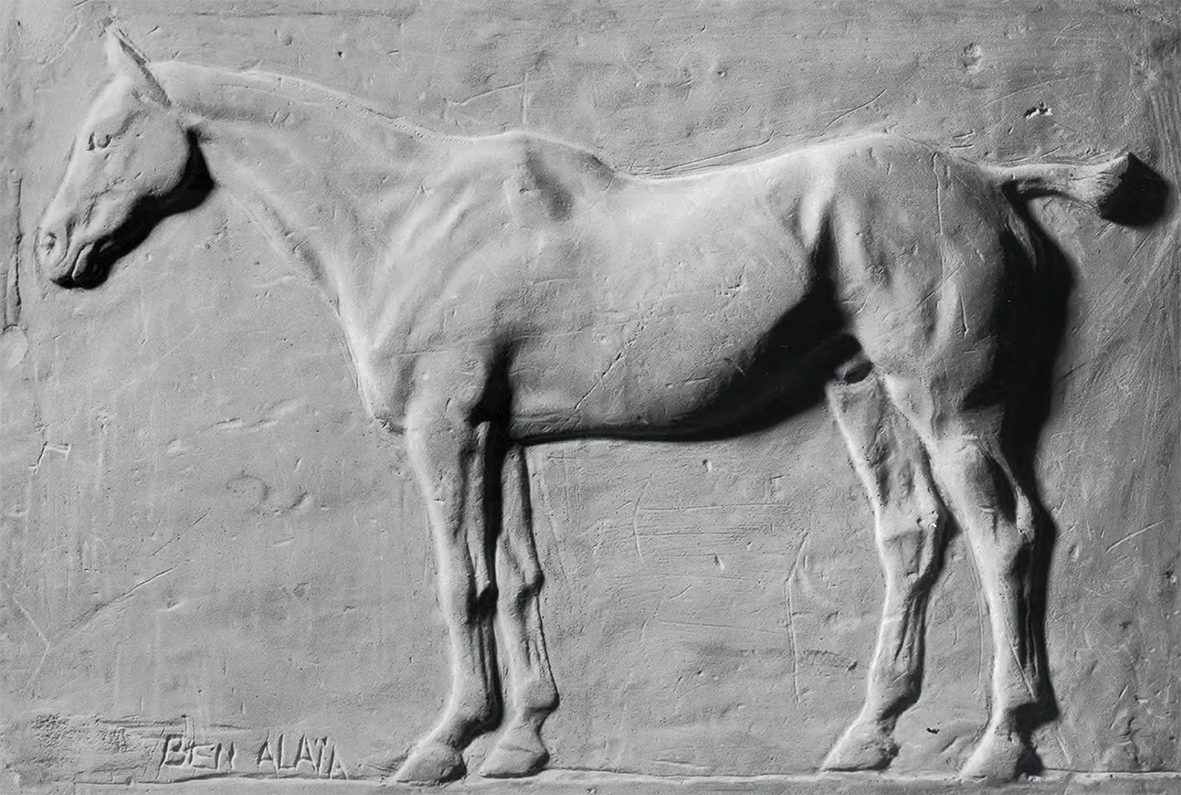 SCULPTURE OF A HORSE IN STUCCO MADE BY AZZEDINE ALAÏA AT THE FINE ARTS SCHOOL IN TUNIS, 1952
When I realized that I would not be a great sculptor, I changed my focus.
His sister, Hafida, at school at Notre-Dame de Sion, teaches him to sew. C'est avec elle qu'il rencontre Mme Richard, une couturière qui propose à la riche clientèle tunisienne des reproductions des modèles des grands couturiers parisiens. Avec l'argent gagné chez Mme Richard, Azzedine pourra payer ses frais de scolarité à l'école des Beaux-Arts.
My sister was a pupil at Notre-Dame de Sion. She had to make needlepoint samples with different stitches—, but she hated sewing. So I was the one who did her notebook, and so she got good grades. During the holidays I worked at a small dressmaker's who had posted an advertisement looking for someone to do the finishing work. I went to her for my sister so that she could do some sewing at home. In the end my sister and I both did the sewing at night sitting on our bed and I would bring the dresses back the next day. I took a job to buy charcoal and paper for the school.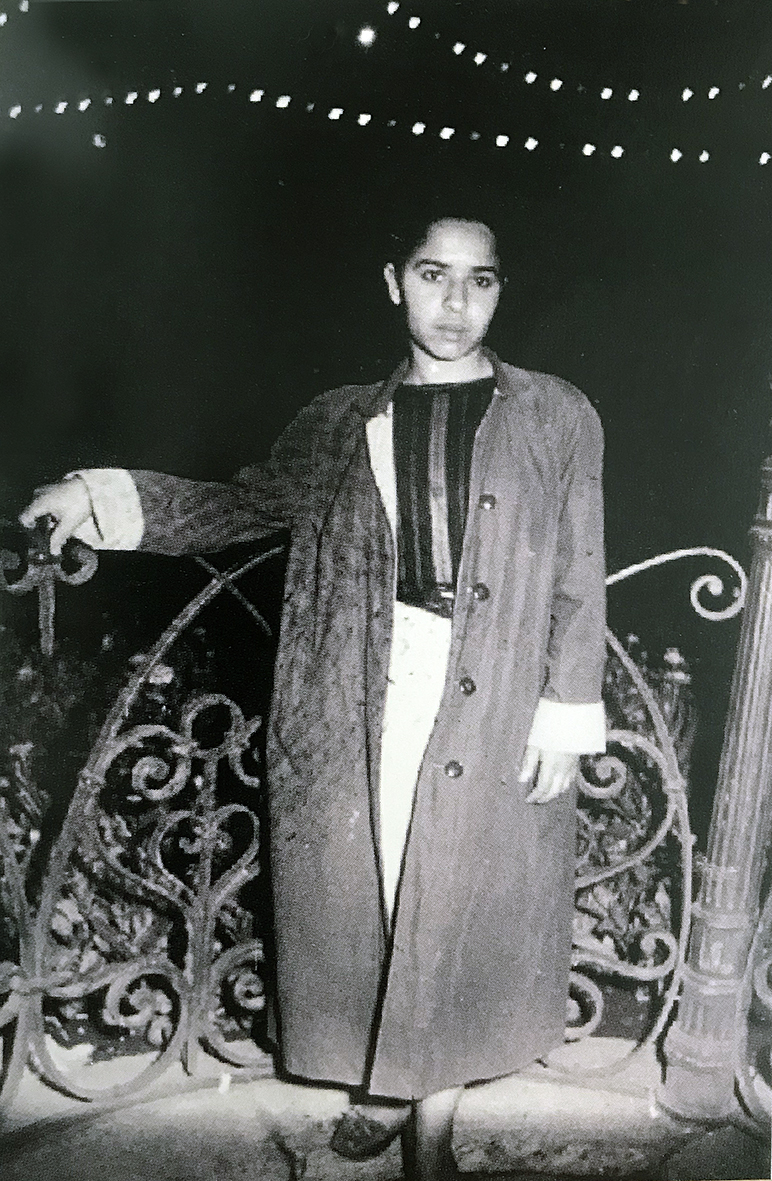 Hafida, Tunis, 1953. ph. azzedine alaïa foundation
Madame Richard told me that I must devote all my time to learning to sew.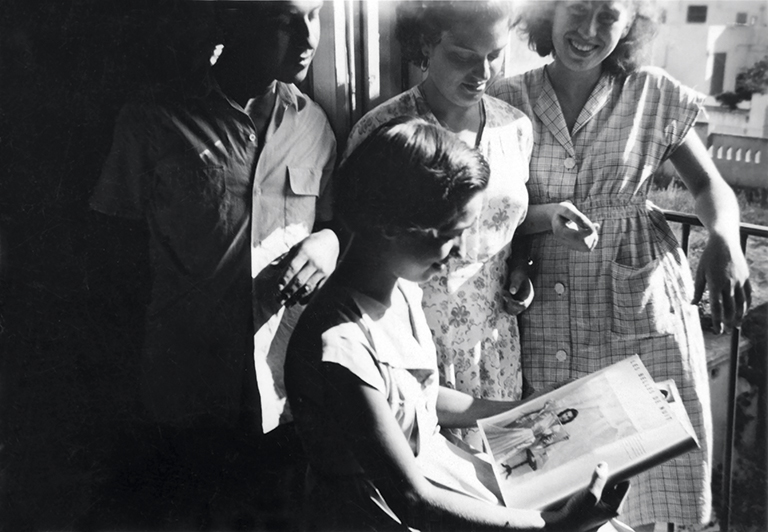 AZZEDINE ALAÏA WITH FRIENDS AT THE HOME OF MADAME PINEAU, TUNIS, 1952
He starts making clothes for close friends, first of all Latifa.
It is through Madame Richard that he meets Habiba Menchari, famous for her lectures on the emancipation of women in Tunisia. She encourages him to go to Paris and, thanks to a Tunisian friend and client of Christian Dior, Mrs. Zeineb Lévy-Despas, secures him an internship at the Dior workshops.
Habiba Menchari learned about what I was doing and told me I had to complete my training in Paris. And here I am, saving money in order to leave. I start to work alone on sewing, I tinker with the dresses of my friends from the Beaux-Arts.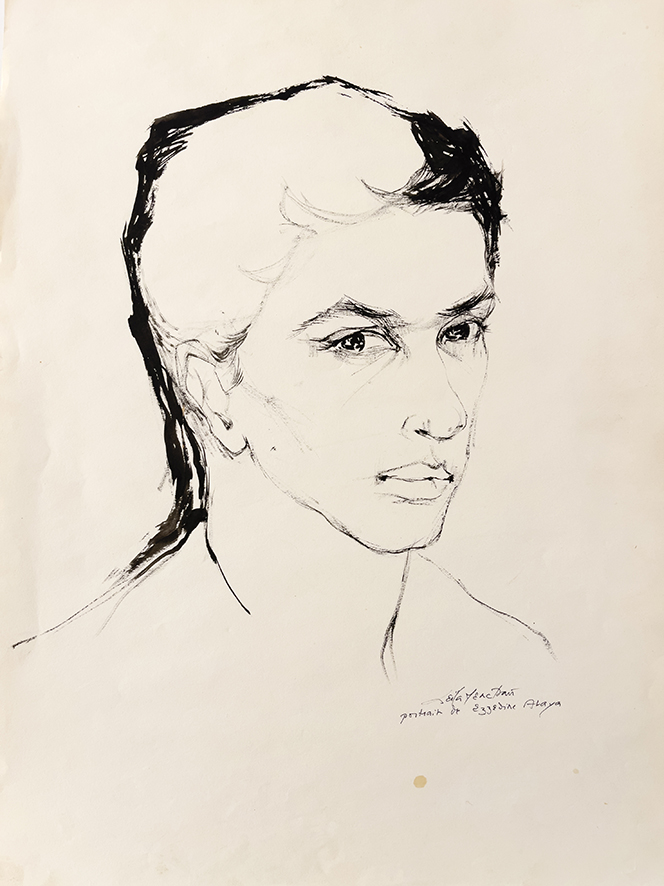 AZZEDINE ALAÏA by LEILA MENCHARI, PARIS, 1956
I arrived in Paris in the late 1950s. I came from Tunisia, but I never had the impression of being in a different country. I felt so at home in France.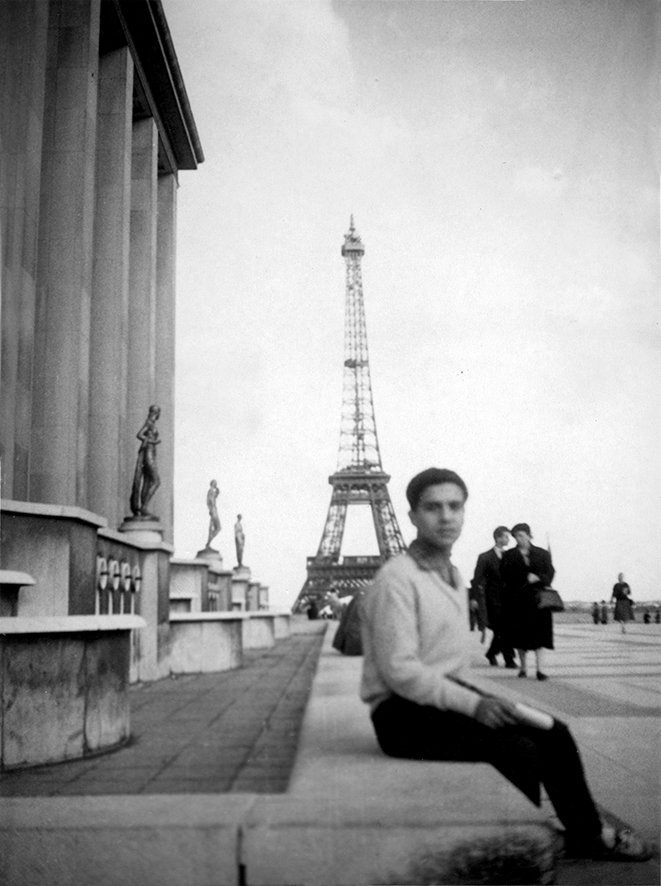 azzedine alaïa, paris 1956. ph. azzedine alaïa foundation
1956-1958
In June 1956, he moves to Paris, during the Algerian War of Independence. He goes directly from the airport to the Champ-de-Mars, where lives Mrs. Lévy-Despas.
And there I was at the foot of the Eiffel Tower in my camel hair coat made by an Italian tailor in Tunis—it was belted, with lapels—it was stylish!

azzedine alaïa, paris, 1956. ph. azzedine alaïa foundation
I admired Madame Zeineb Lévy-Despas very much. She came from Tunisia too. She was always very well dressed, in Dior. But when I got to Dior, she barely looked at me and never invited me to her house.
He works briefly, from June 26 to 29, 1956, in the workshops of Christian Dior. But after four days, he is fired.
I really wanted to learn to sew, to cut, and to see how you make a dress: to unravel its mystery.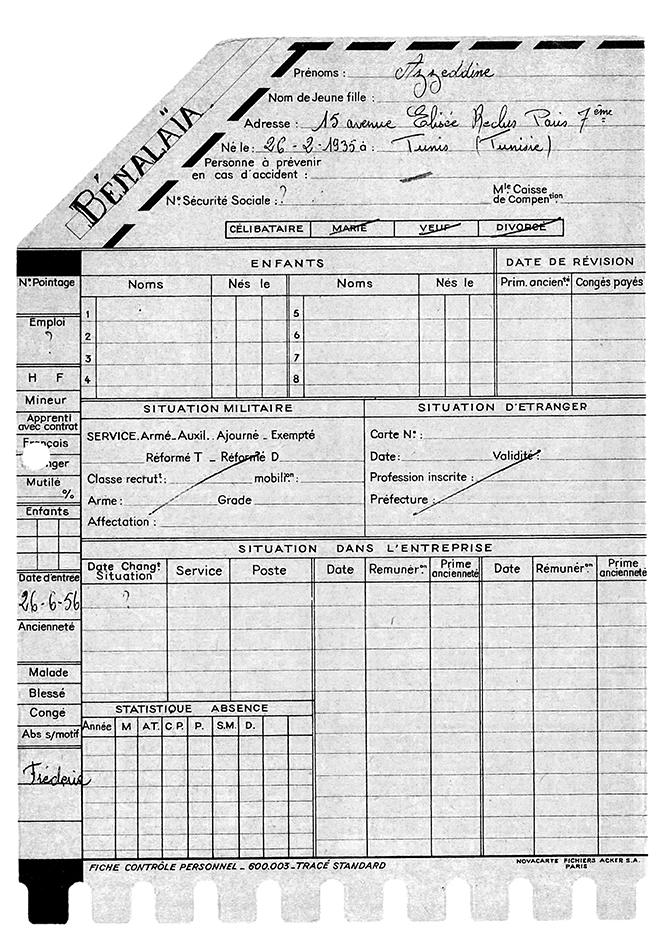 azzedine alaïa's personnel control sheet at dior, june 26,1956
Unable to find accommodation, he reaches out to Leila Menchari, the daughter of Habiba Menchari, who entered the Beaux-Arts in Paris in 1948. Leila Menchari finds him a garret studio in the same building as her, rue Lord-Byron.
He helps the janitor deliver mail and installs a sewing machine in his room so he can work. He makes clothes for Leila Menchari.
Leila helped me find an attic room on rue Lord-Byron, where she lived. I helped out the caretaker there. I was very happy and had a great time!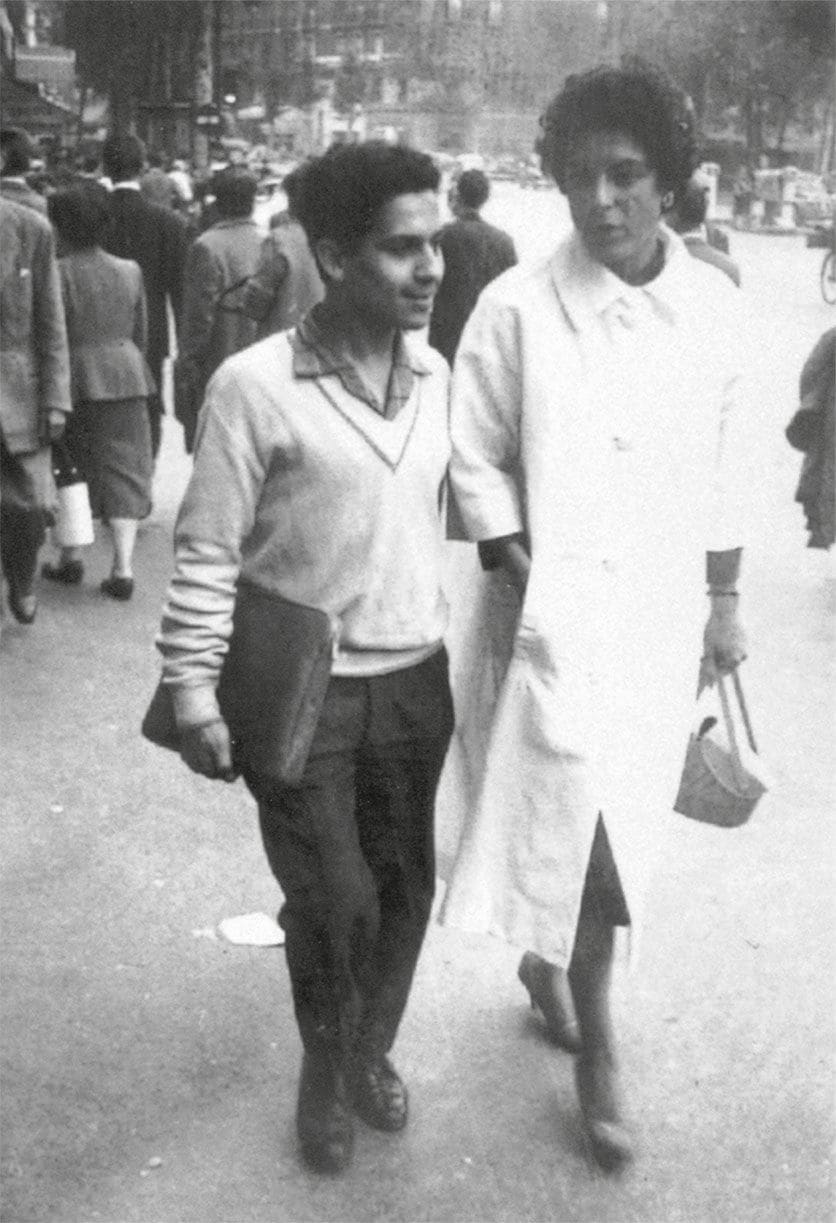 AZZEDINE ALAÏA AND LEILA MENCHARI on the Champs-ÉLYSÉES, 1956. PRIVATE COLLECTION
He has a letter of introduction from Tunis that allows him to meet Simone Samama Zehrfuss, a figure of Tunisian high society married to the architect Bernard Zehrfuss. Simone Zehrfuss helps him furnish his room and gives him furniture from Charlotte Perriand and Jean Prouvé, close friends of the family.
I owe a lot to Madame Zehrfuss, the wife of the architect Bernard Zehrfuss. They knew a lot of people, and I met a lot of people at their place: Prouvé, Calder, Tamayo, César…All the artists and architects of the time. So many people frequented their salon.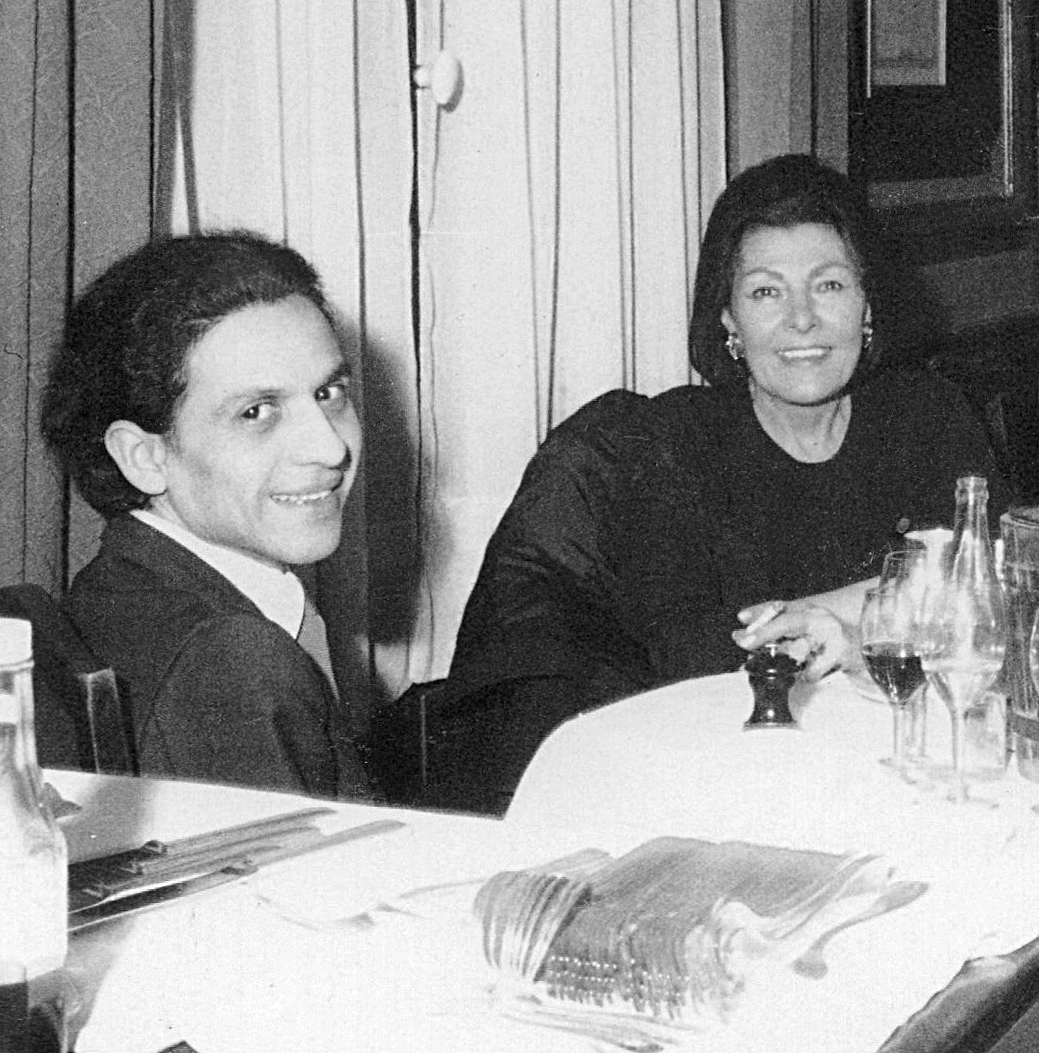 azzedine alaïa and simone zehrfuss ph. azzedine alaïa foundation
He works from his garret on rue Lord-Byron and makes clothes for Simone Zehrfuss and other Paris society women, friends of the Zehrfusses. He often accompanies them on vacation in Italy and Simone Zehrfuss introduces him to Louise de Vilmorin.
She would invite me to her house for Sunday lunch. I met everyone that mattered in the artistic and political world there.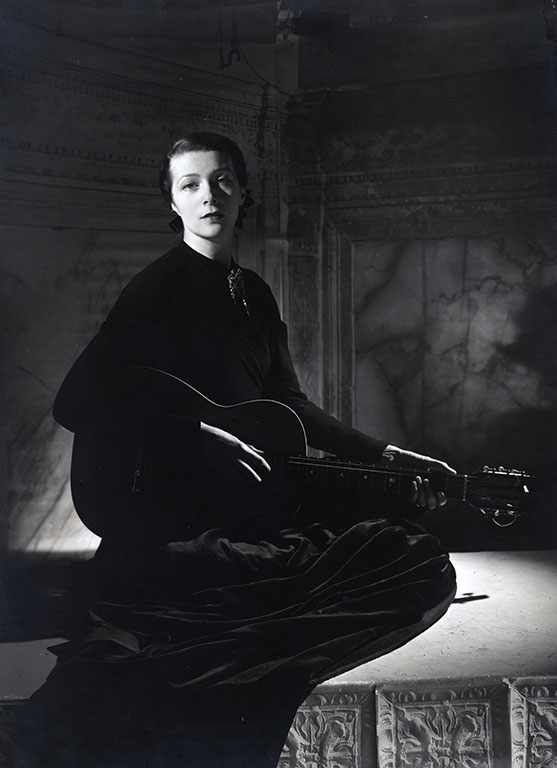 LOUISE DE VILMORIN, PARIS, 1937. PHOTOGRAPH BY HORST P. HORST
Every Sunday, he is invited by Louise de Vilmorin to her property in Verrières-le-Buisson. There, he meets André Malraux, René Clair, and Orson Welles. He makes clothes for Louise de Vilmorin and she will remain his point of reference for chic and elegance.
I went out everywhere with her. She had a lot of style. I learned about elegance and style with her.
He moves to Parc Monceau, to the home of an Italian, Mrs. de Mazan, wife of the Marquis de Mazan, in 1958. It is here that, one evening, as he is serving dinner, he meets Countess Nicole de Blégiers.
On June 30, 1958, Alaïa enters the house of the designer Guy Laroche, where Leila Menchari works as a fitting model. He will work there for three seasons, until November 1959.
Guy Laroche was a couture atelier, so I went there to learn couture.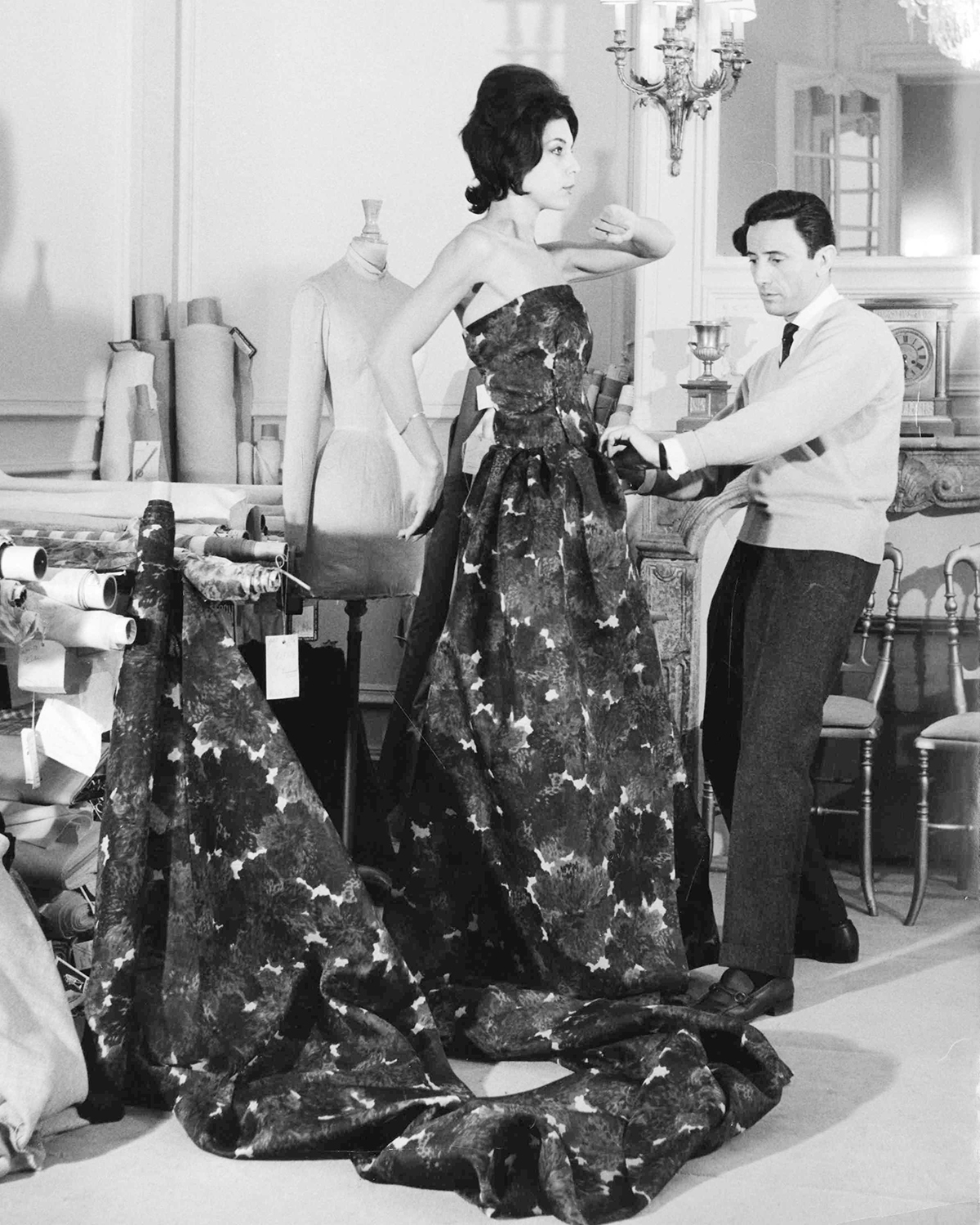 GUY LAROCHE AT A FITTING WITH LEILA MENCHARI IN HIS ATELIER, PARIS, 1958
1959
I was very lucky to meet the countess de Blégiers. I dined with the housekeeper and the children. I became quite a good babysitter, and I made her dresses. It was the end of the Algerian war, and it was difficult for a Tunisian to find a job in France. The Countess's husband gave me his business card to say that I was his "protégé" so they didn't bother me when they stopped me in the street.
As the year draws to an end, Nicole de Blégiers offers him a room in her home, rue Decamps, where she lives with her husband and two children. When the family moves, following the birth of a third child, to 95 avenue Victor-Hugo, he is given two rooms. In one of them, he sets up his dressmaker's table. There, while taking care of the three children, he can work. He lives with the family for four years.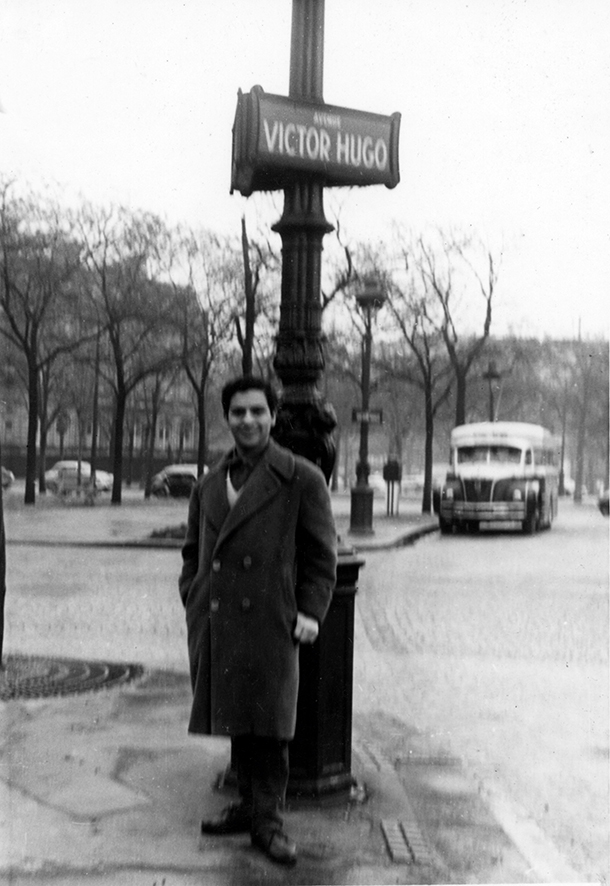 AZZEDINE ALAÏA, AVENUE VICTOR-HUGO, 1959. ph. azzedine alaïa foundation
He makes clothes for Nicole de Blégiers and, as his reputation as a designer grows, he starts to work for many high-society Tunisian women, like Madame Bourguiba, and French, like Cécile, Lina and Marie-Hélène de Rothschild.
Nicole de Blégiers often lets him organize dinners at her home, when she is on vacation with her family.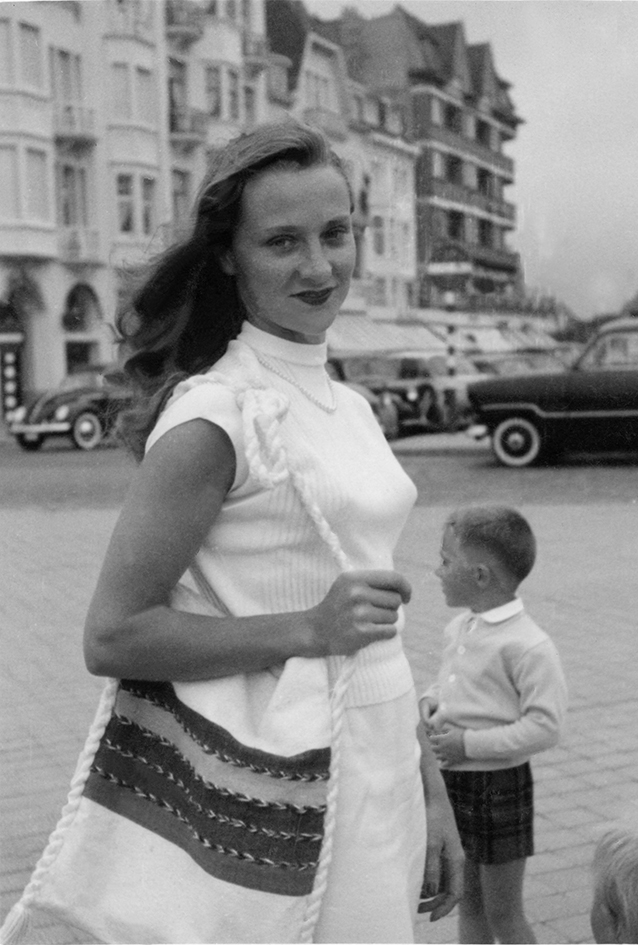 the countess nicole of blégiers with her son laurent, 1961
1960-1962
In 1960, Azzedine meets the hairdresser Frédéric Somigli, who will introduce him to the legendary actress Arletty when she performs in Félicien Marceau's L'Étouffe-chrétien at the Théâtre de la Renaissance. He starts to create clothes for her, including the famous pink jacket.
For me, she represented France. Arletty personified the Parisian woman, with her voice, her style. Unforgettable.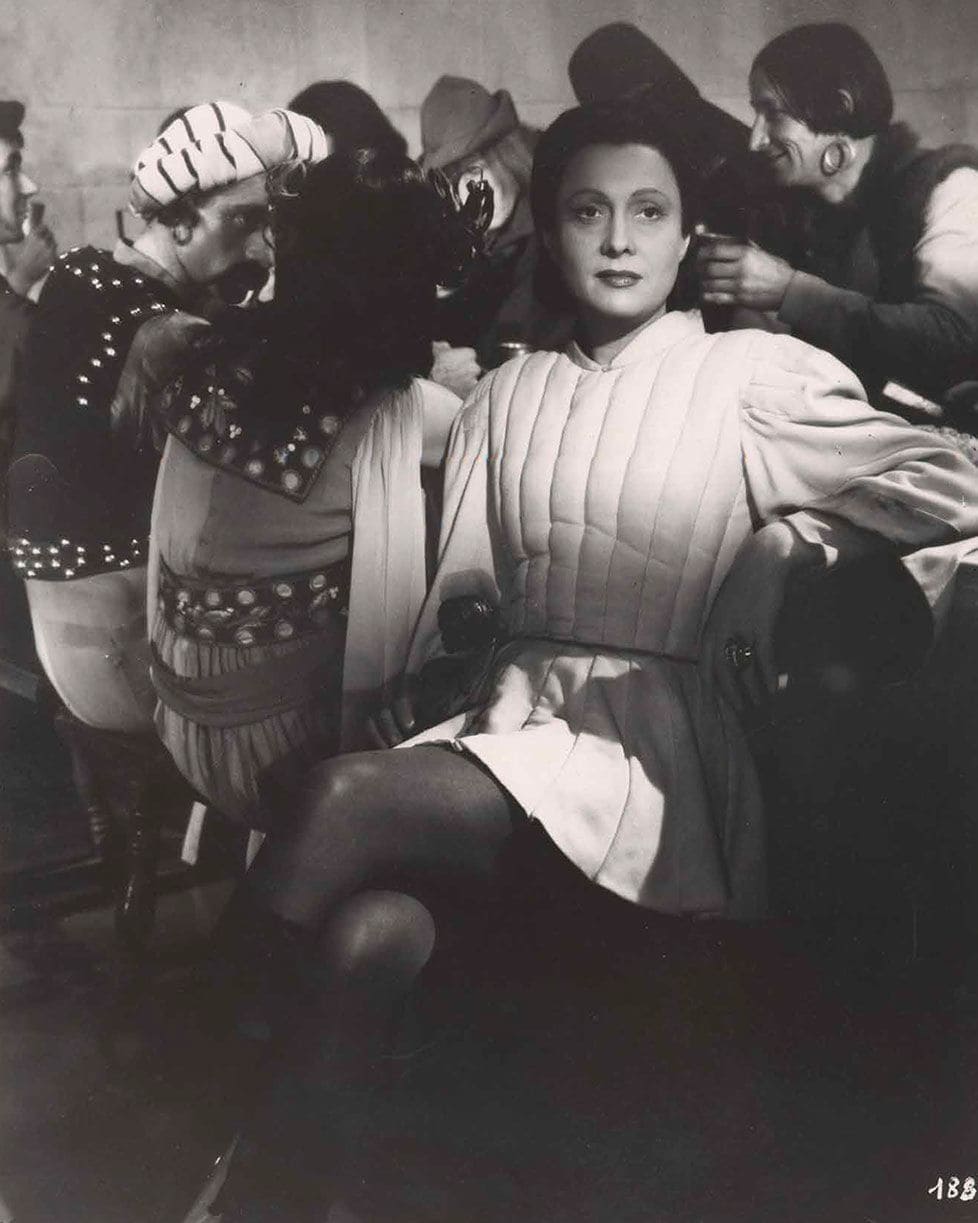 ARLETTY IN THE FILM 'LES VISITEURS DU SOIR' BY MARCEL CARNÉ, 1942. PH. ALDO PHOTOGRAPHY, GALERIE AU BONHEUR DU JOUR, PARIS
I went to see Hôtel du Nord at Theatre Le Ranelagh, which was showing it as part of a Marcel Carné season. My friend, the hairdresser Frédéric Somigli, introduces us. I came out totally blown away by Arletty's voice and style. In the film, she's so modern and she has this tone of voice that you don't hear in any other country. It sounds really French. She asked me to come and see her at her home in Rue Raynouard. Elle m'a commandé un tailleur rose, parce que disait-elle, ça donne bonne mine: "The zip dress" is really because of Arletty.
He travels to Tunisia, to Sidi Bou Saïd, where Latifa and Jellal are at the heart of social life and hold many parties. It is during one such party that he meets Jean Daniel and Claude Perdriel from the Nouvel Observateur magazine. They are part of a group of journalists dubbed the "Maghreb Circus" formed during the Algerian war. These are two friendshipshe will keep for life.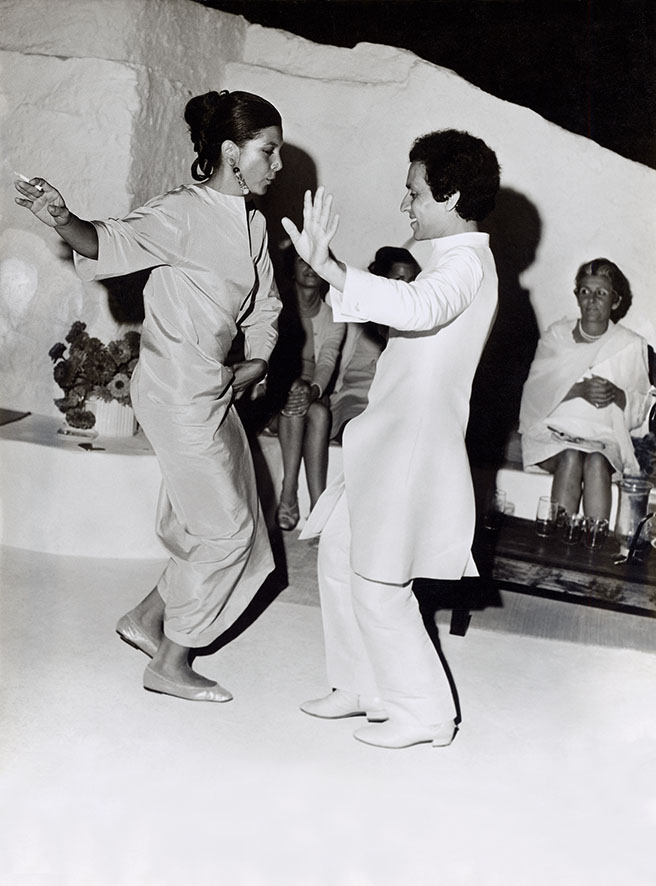 LEILA MENCHARI AND AZZEDINE ALAÏA, AT JEAN-CLAUDE PASCAL'S HOUSE, HAMMAMET, 1966
1963
Azzedine Alaïa becomes friends with some of the most beautiful models of the time. He moves into a small apartment on rue des Marronniers with his friend, the model Rose-Marie Le Quellec. He also befriends Lison Bonfils, a model at Christian Dior, and Bettina Graziani, who works at Jacques Fath, along with Rose-Marie Le Quellec. Together with Rose-Marie Le Quellec, he goes out a lot, frequenting nightclubs, often Régine's.
I went to live with Rose-Marie on rue des Marronniers. We went to clubs and we hung out all night at Régine's.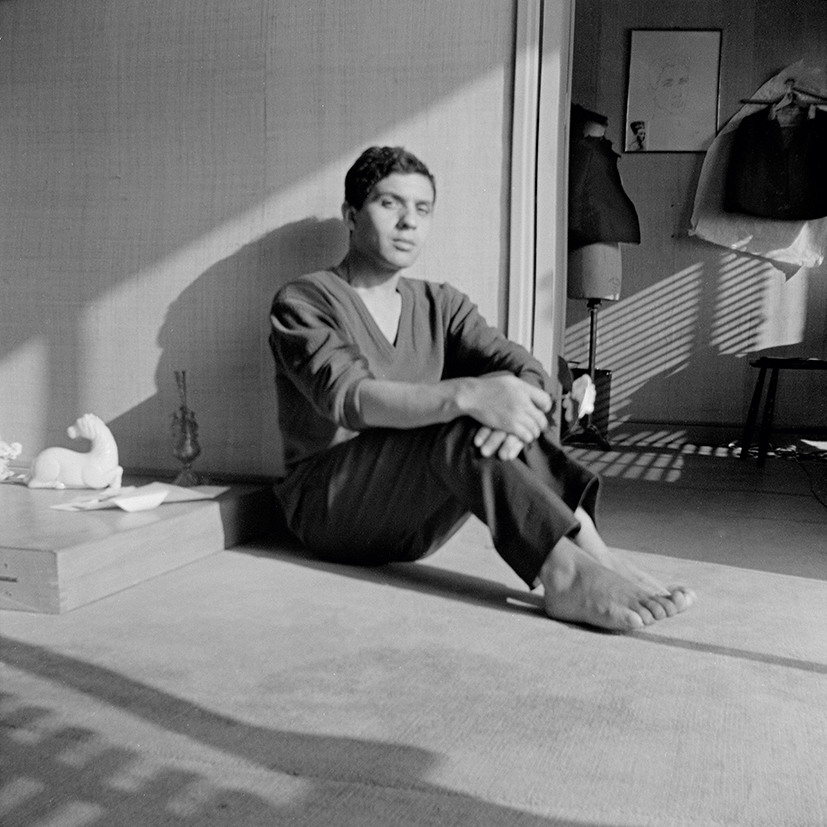 azzedine alaïa rue des marronniers, 1963 ph. jean-pierre ronzel
At the time, women were born models: it was innate!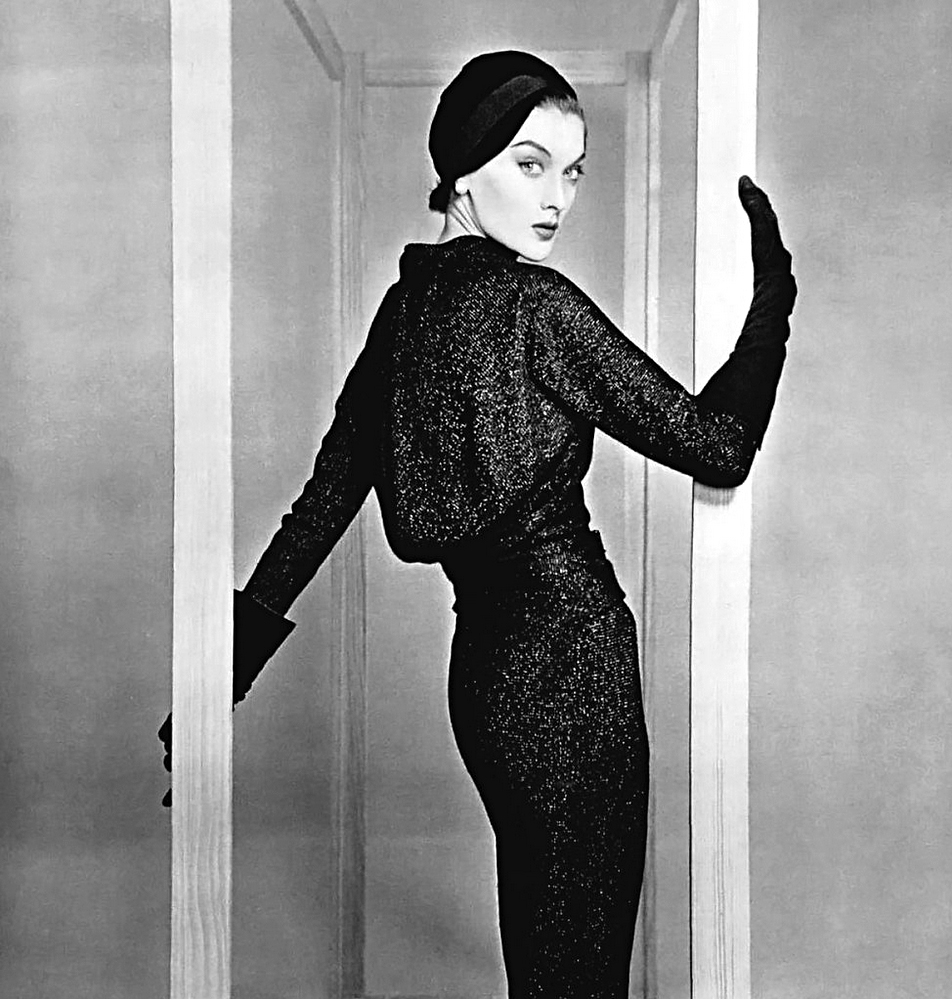 ROSEMARIE LE QUELLEC in Jacques Fath ph. Philippe pottier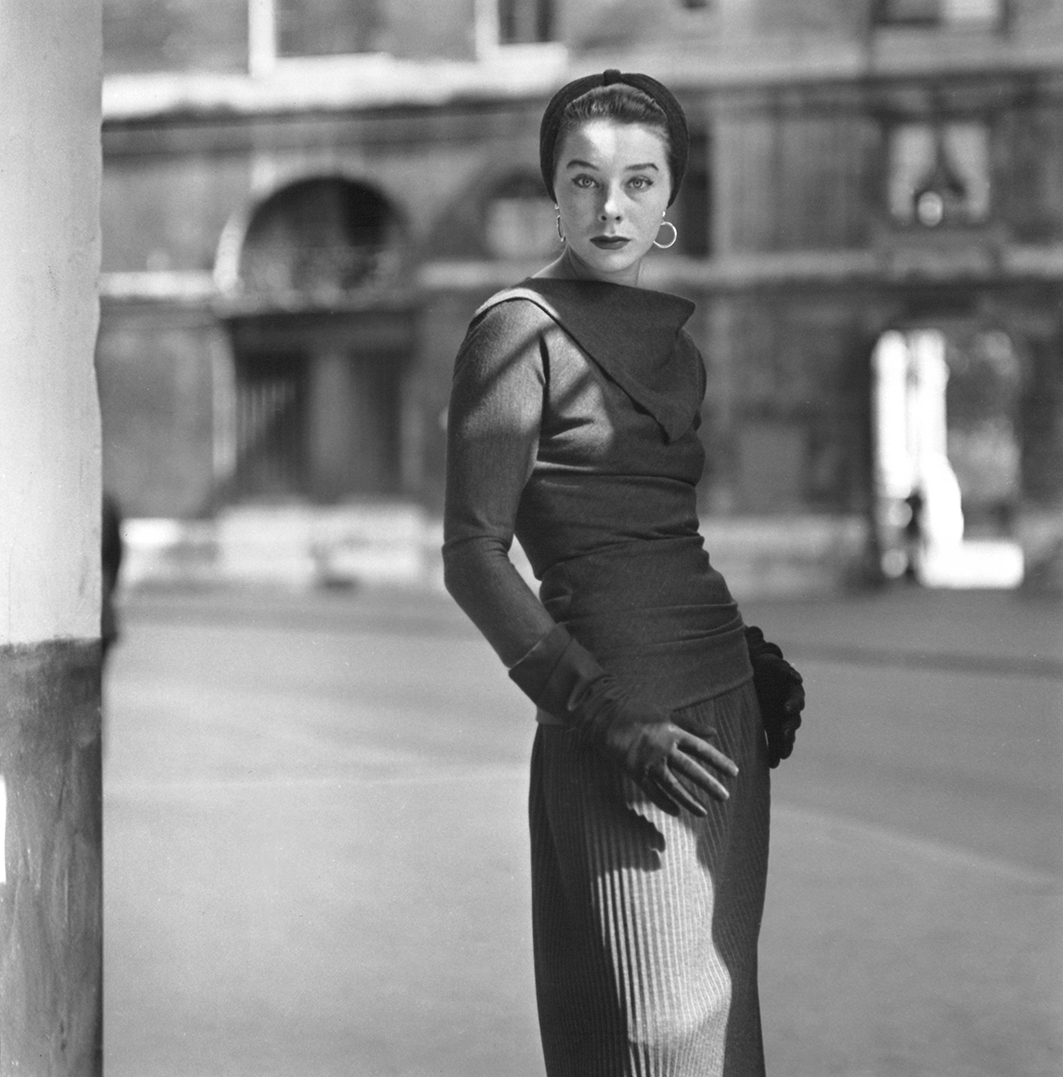 Bettina Graziani in Jacques Fath ph. DR.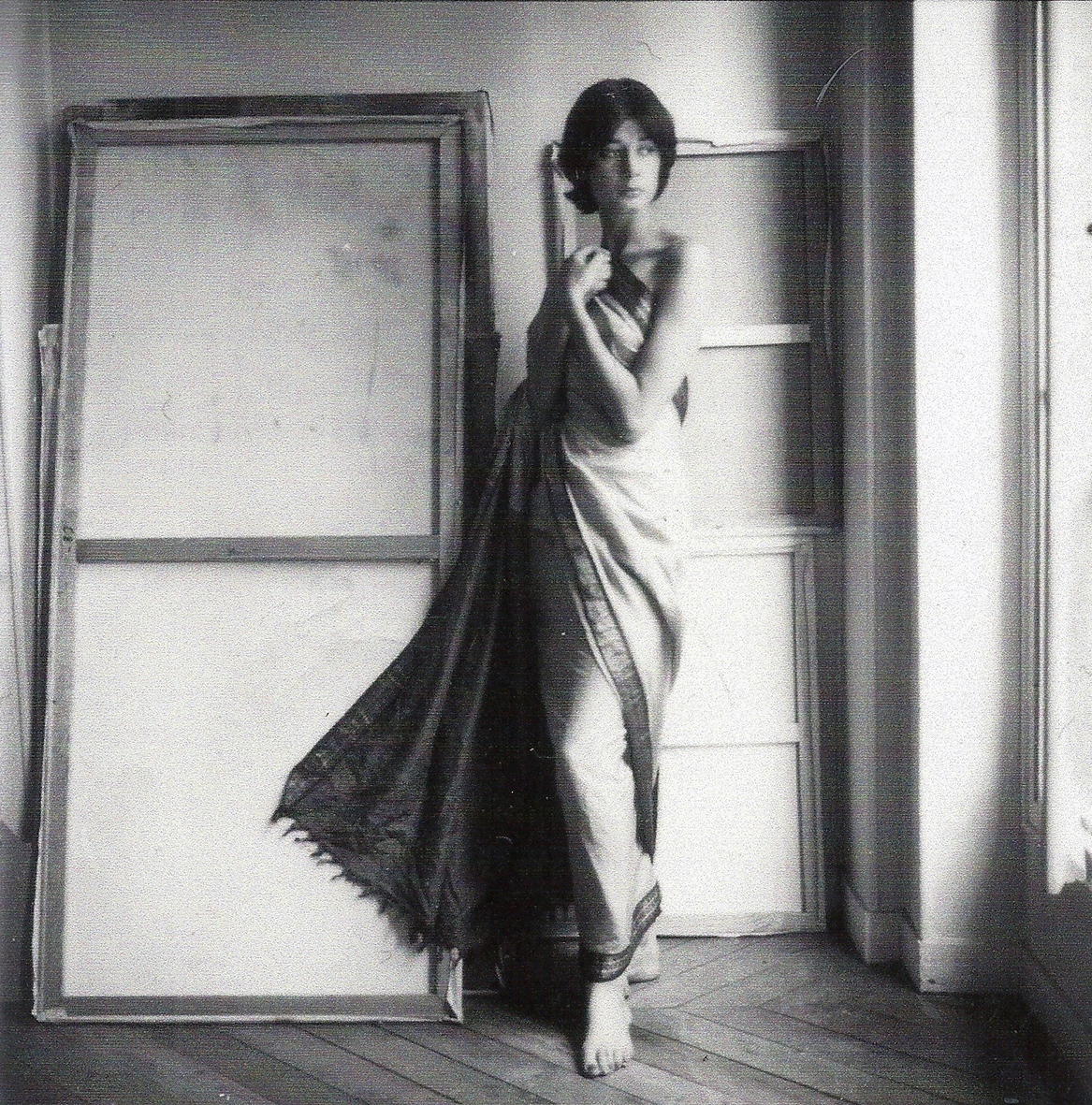 Lison Bonfils ph. DR
One night, Arletty and Louise de Vilmorin both came to dinner at my place. The contrast between these two intelligent women, with such different spirits and styles, was a fantastic moment.
He organizes and makes dinners, inviting numerous people to dine. One evening, Arletty and Louise de Vilmorin both come to dine at his house. His legendary cooking is starting to become known.
The same year, he dresses Dany Saval, who stars in the Marcel Carné film Chicken Feed for Little Birds.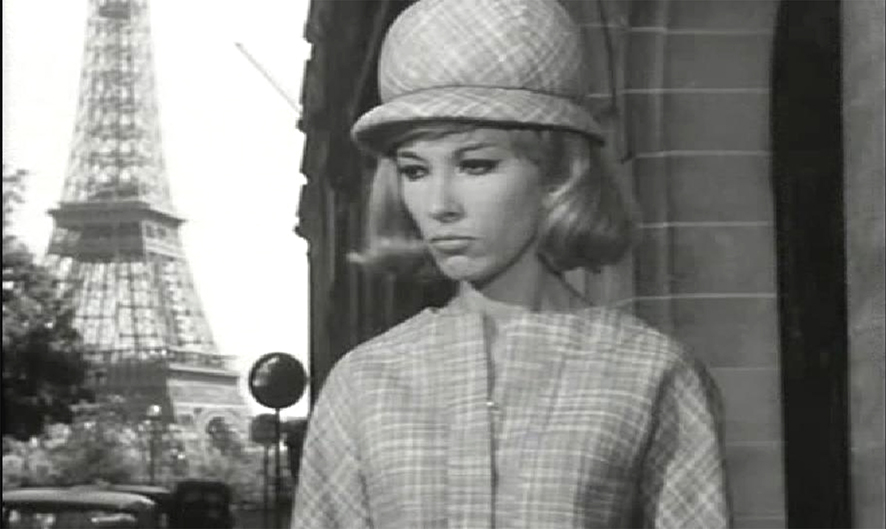 DANY SAVAL in the MARCEL CARNÉ "Chicken Feed for Little Birds", 1963
1964-1966
With help from Jean Daniel and Claude Perdriel, he moves into a 140m2 apartment at 60, rue de Bellechasse, consisting of a living room, a dining room, two workshops, a bedroom-workshop with a mattress for sleeping, a small kitchen and two bathrooms.
He creates a fashion house for a private clientele and sets up his first workshop there, with the financial support of Simone Zehrfuss. For the next twenty years, this will be his place of life and work.
As soon as I got my space on rue de Bellechasse, I dressed the most famous women in Paris. There were Rolls-Royces, Bentleys, and limousines coming up and down the street all the time.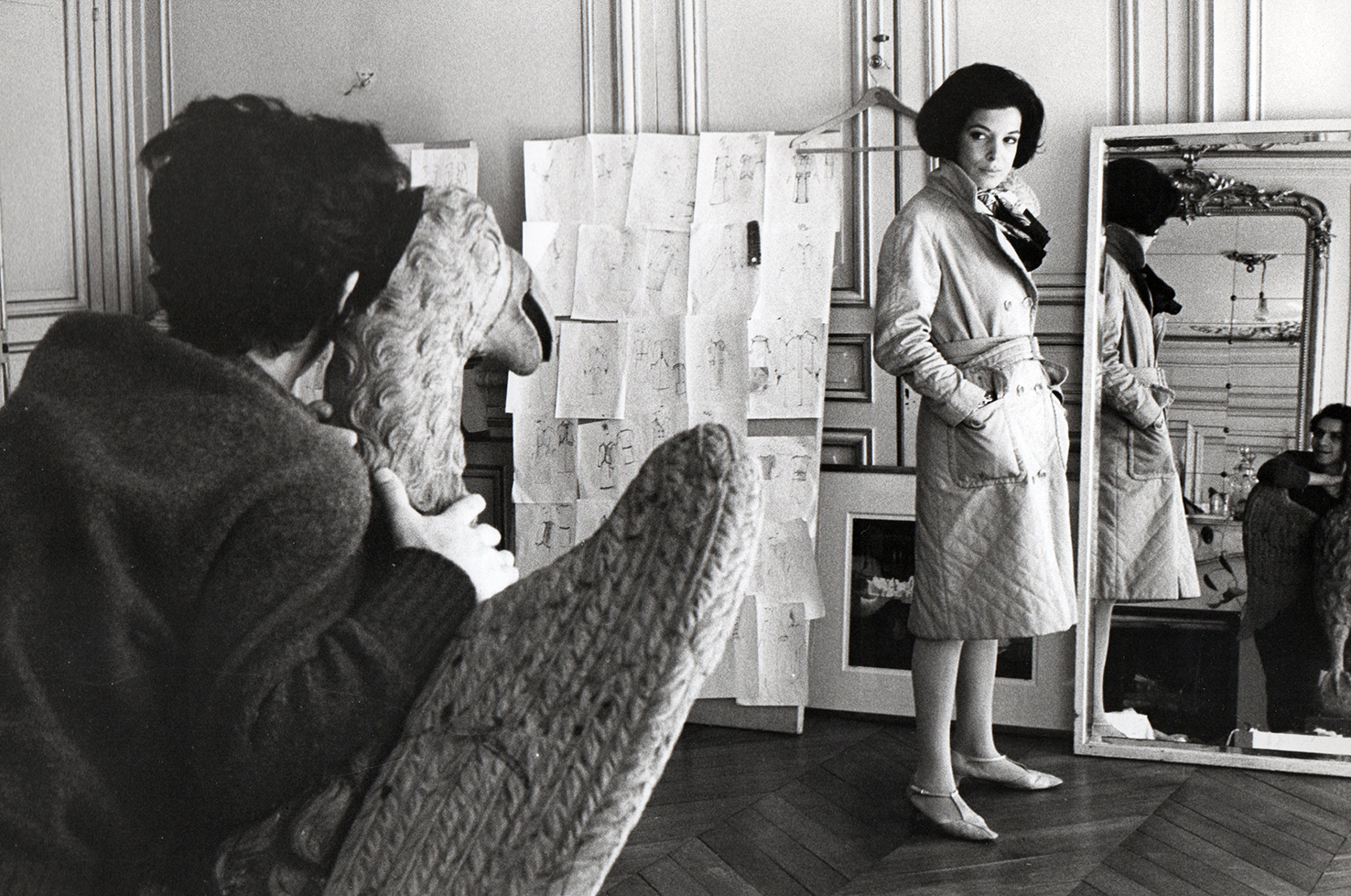 azzedine alaïa and leila menchari, rue de bellechasse ph. jean-pierre ronzel
He changes the spelling of his surname, which will now be written "Alaïa".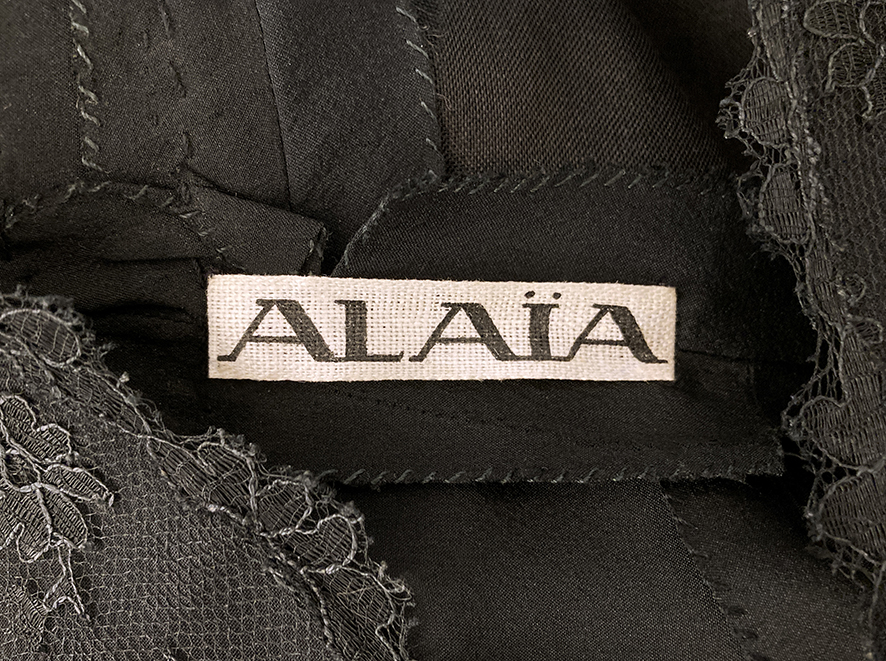 hand painted alaïa's label
He acquires his first important work of art, a Coptic sculpture representing a head. It had once belonged to the Countess Greffulhe, who inspired Proust for the character of the Duchess of Guermantes in In Search of Lost Time.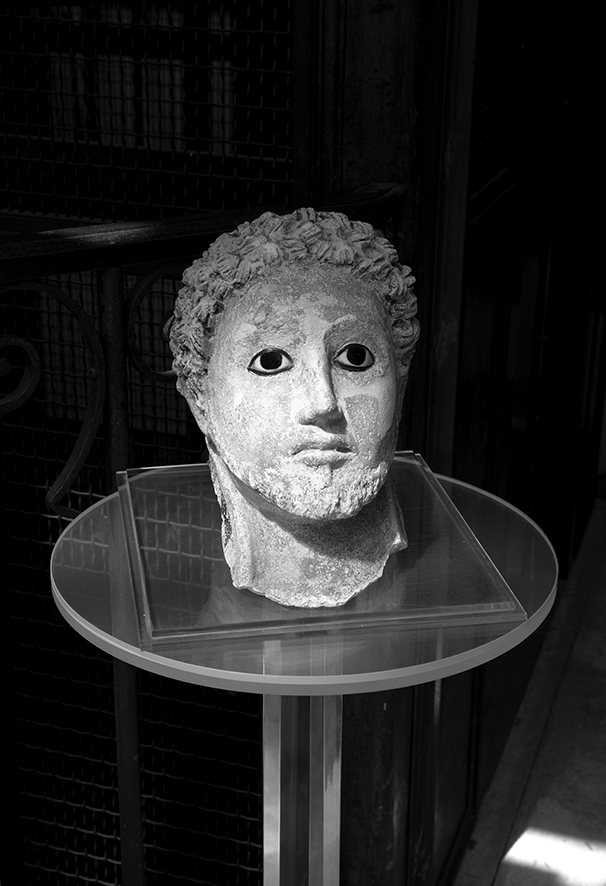 coptic head, first half of the 2nd century AD azzedine alaïa foundation collection ph. Sylvie Delpech
I would dress one lady and she would recommend me to her friends. I was dressing the wives of Picasso, Miró, and Calder. I was very lucky.
He leaves for Rome with Louise de Vilmorin and the Zehrfusses. Together they visit the Vatican, which marks him indelibly. He makes couture dresses for the most stylish women in Paris, including Madame de Surmont, Cécile de Rothschild, Madame Moreira Saltes, and Countess Cristiana Brandolini…
With Louise de Vilmorin, there was so much to learn. Intellectually, it was marvelous. She would pick up a book and read it to me when we'd go off traveling together.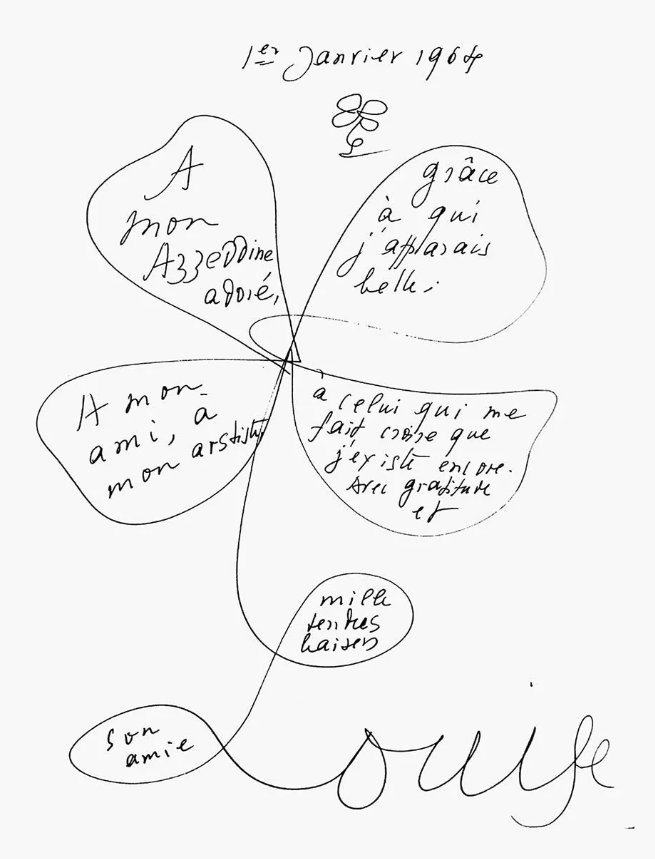 A letter from Louise de Vilmorin to Azzedine Alaïa, 1964 azzedine alaïa foundation collection
In 1965, Mrs. Ida, head seamstress, whom he met at Christian Dior, asks him to make pieces for Yves Saint Laurent. He will create the prototype of the emblematic Mondrian dress as well as a number of Mondrian dresses that he personally delivers to Yves Saint Laurent at rue Spontini.
In the 1960s I was working for other fashion houses. I made the prototypes of the Mondrian dress for Saint Laurent.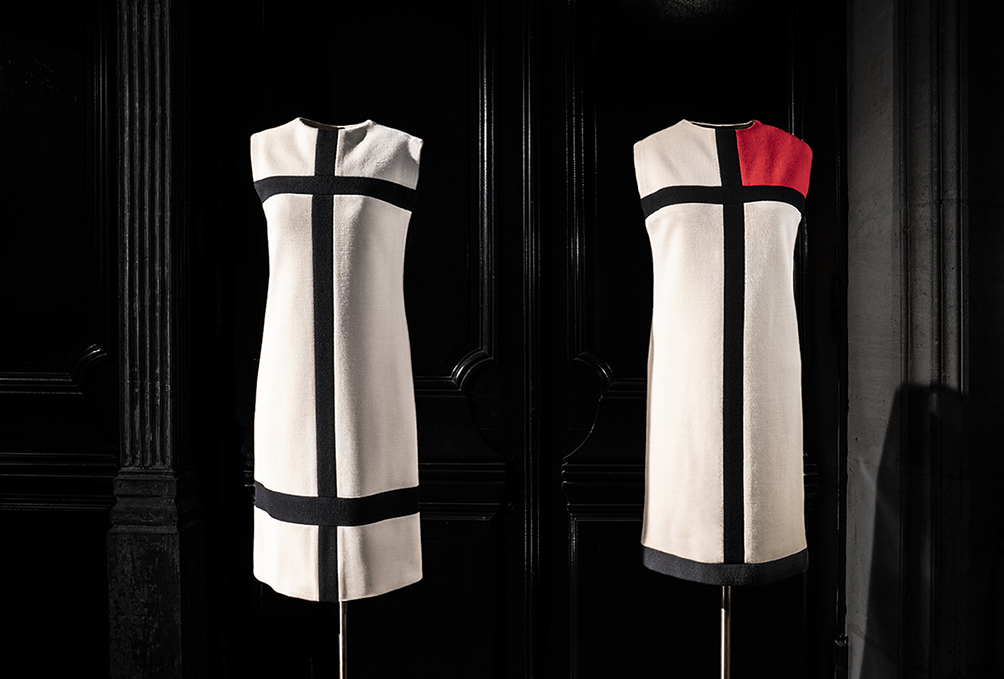 YVES SAINT LAURENT, MONDRIAN DRESSES, 1965, THESE TWO DRESSES ARE PART OF THE COLLECTION OF THE AZZEDINE ALAÏA FOUNDATION PH. ILVIO GALLO.
Azzedine Alaïa is still very close to Simone and Bernard Zehrfuss and they invite him to Venice, to the Hotel Bauer. The couple introduce him to César and Rosine Baldaccini.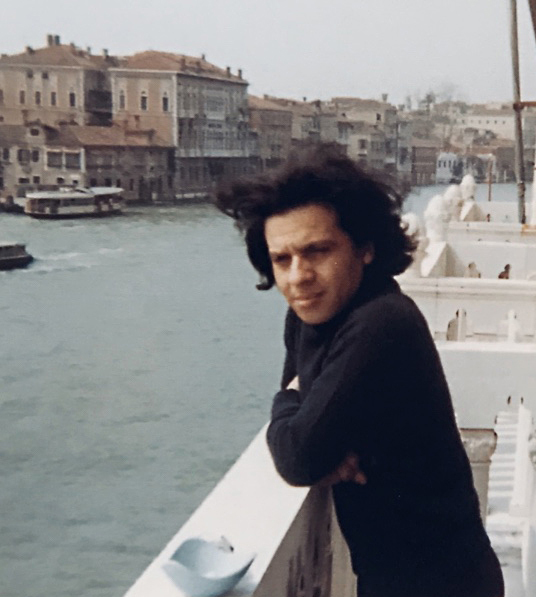 AZZEDINE ALAÏA AT THE BAUER HOTEL, VENICE, 1967
César becomes a great friend of Azzedine Alaïa, they spend hours cooking great dinners. It is during one of these dinners that the idea of a collaboration is born for an "impressions compressions" collection, which would be produced a few years later, in 1985.
César was a true friend, we would talk about everything, we would cook together and exchange recipes.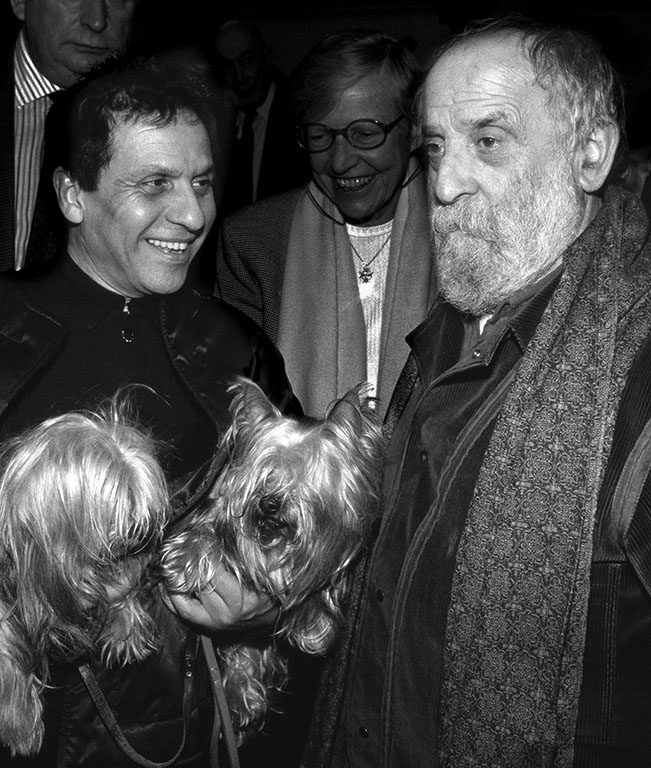 AZZEDINE ALAÏA AND CÉSAR, PARIS, 1985
1967
Every day I listen to Oum Kalthoum. She took on a new dimension for Arab music.
Alaïa attends a concert by Oum Kalthoum at the Olympia in Paris. At the end of the concert, he has the chance to meet her. Very moved to meet this mythical figure of his childhood, the memory of this magical experience will mark him.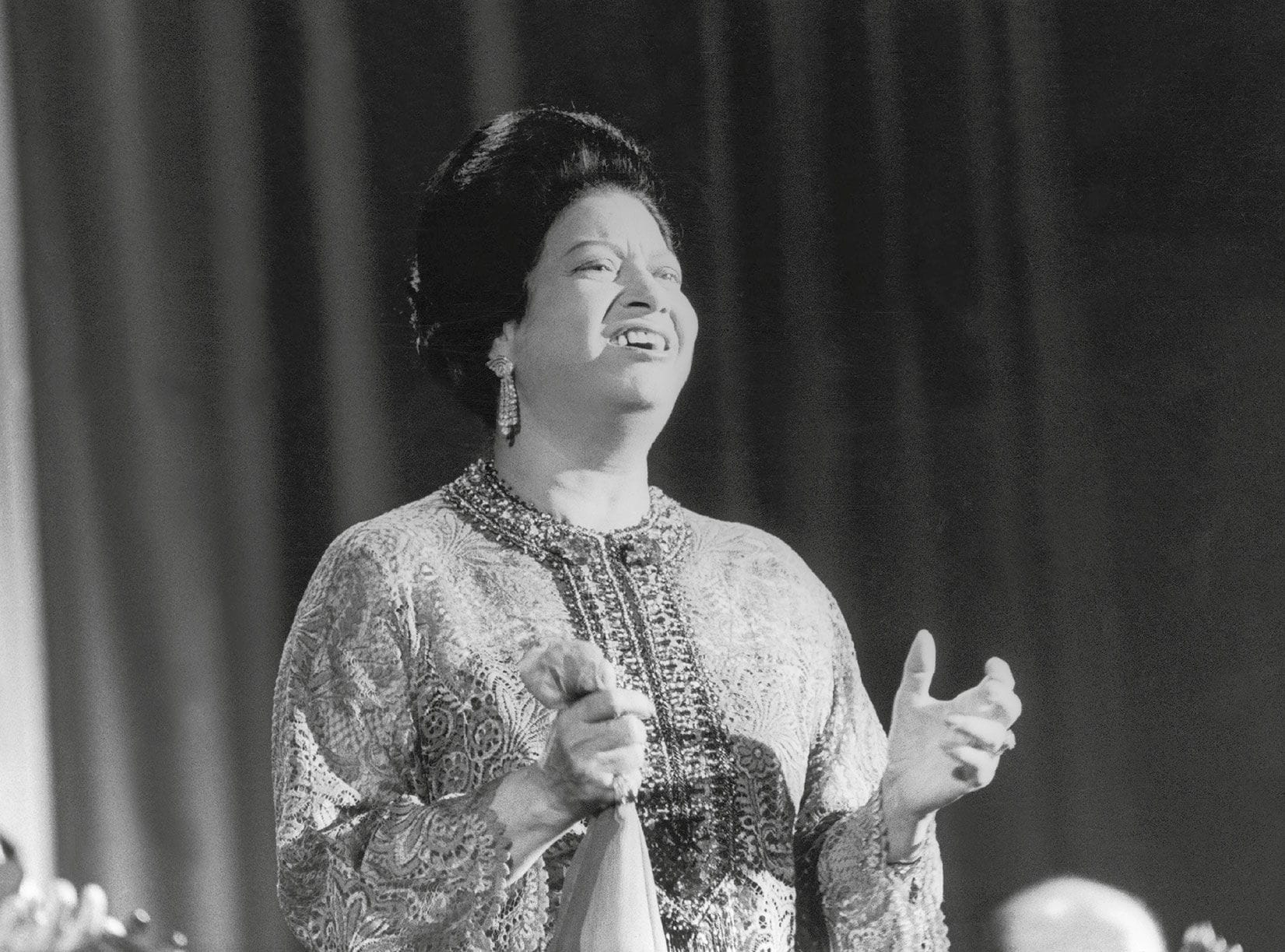 OUM KALTHOUM in concert at the OLYMPIA in PARIS on 14 november 1967. KEYSTONE-FRANCE / GAMMA-KEYSTONE VIA GETTY IMAGES
1968-1970
After 1968, there was a shift in the population's mentality, the essence of the era changed. There was no longer this allure of haute couture. Women wanted simple dresses that were comfortable to wear, styles became dull. I decided I had to change my strategy, I needed to do something about this.
The protest movement of 1968 brings a new breath of life. Mentalities are changing and so is fashion. Haute couture for women is no longer du jour. Bentleys no longer park on rue de Bellechasse. Azzedine Alaïa realizes he has to change his concept of fashion.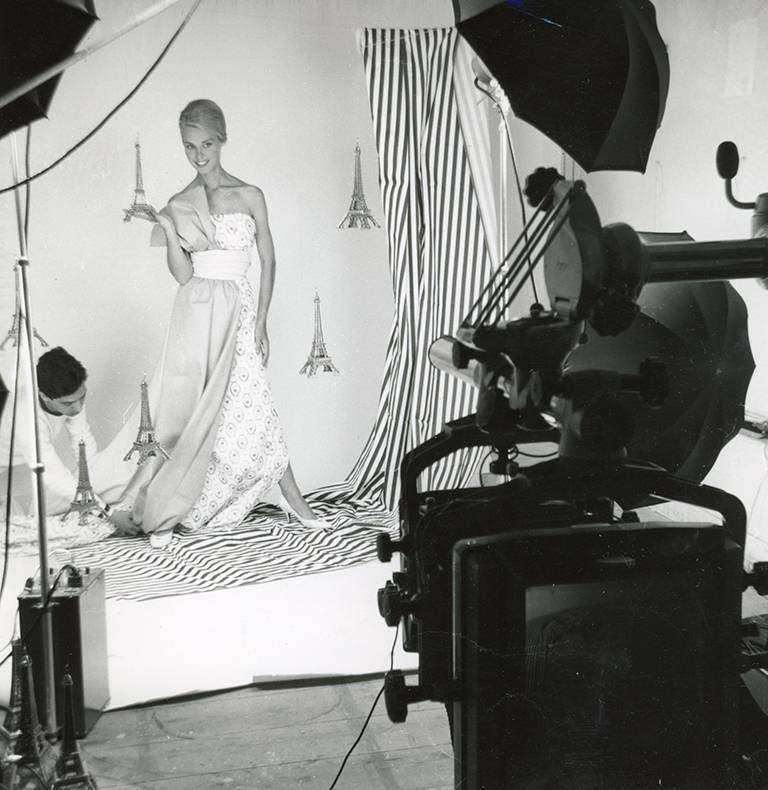 AZZEDINE ALAÏA ON A SHOOT WITH A MODEL, PARIS, 1968. PH. JEAN-PIERRE RONZEL
At the end of the 1960s, I had in my atelier eighteen seamstresses and two assistants that had been previously working at Balenciaga before he closed his house.
Cristóbal Balenciaga, judging the arrival of ready-to-wear as the end of fashion as he conceives it, decides to close his house. A seamstress who works in Azzedine Alaïa's workshop takes him to Balenciaga to buy pieces that he might use for his own creations. Azzedine Alaïa decides to save dresses created by the great couturier by buying them. Discovering this vulnerable fashion heritage is a revelation. He begins his collection of exceptional fashion masters.
When Balenciaga closed, I was able to collect a few pieces. Their director was the aunt of one of my saleswomen and invited me to visit their atelier, offering me discounts. I returned home with two bags full of their creations. That is how I began collecting fashion.
His close relationship with Louise de Vilmorin ceases with her death on December 26. They had shared a host of extravagances and dreams and her loss marks him deeply. It is the end of an important period of his life, that he will often refer back to.
René Clair introduces him to Claudette Colbert, whose films would become a source of inspiration for many collections.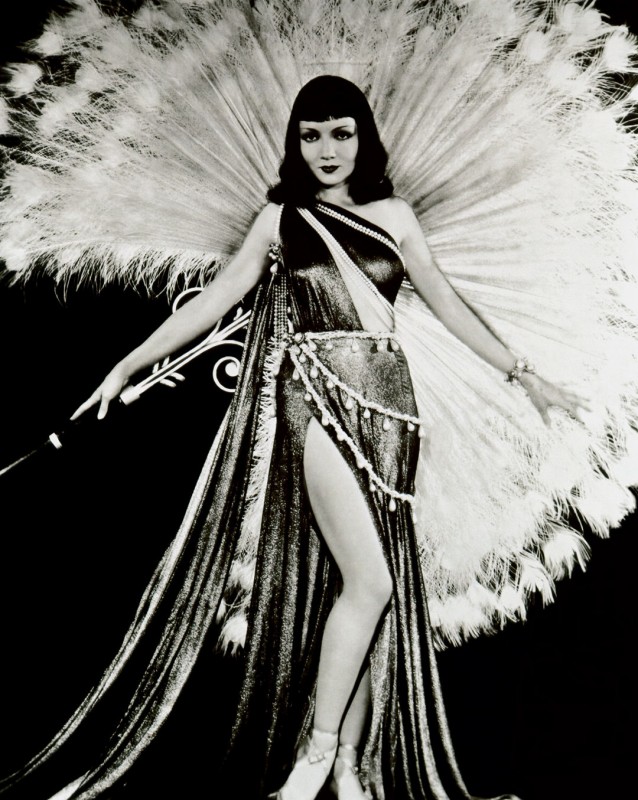 CLAUDETTE COLBERT IN THE FILM THE SIGN OF THE CROSS BY CECIL B. DEMILLE, 1932
In 1970, he helps the stylist Christiane Bailly by mounting canvases for her. She is married to the architect Lucio Stinco, a friend with whom Alaïa studied at the School of Fine Arts in Tunis.
He is still very close to Arletty and she invites him to spend a vacation in Belle-Île-en-Mer, where she owns a small fisherman's cottage.
She invited me twice to her house on Belle-Île. We would go for walks, cook, she would tell me stories about the movies. We talked about everything. The influence was there. I loved the way she dressed in tussore silk or lamé suits and under her jacket she was naked, or in a leotard from Repetto. She gave me the idea of doing tight bodysuits. She pulled up her suit skirt with a pin to change the fullness. I said to myself as I looked at her: 'This is Parisian chic.'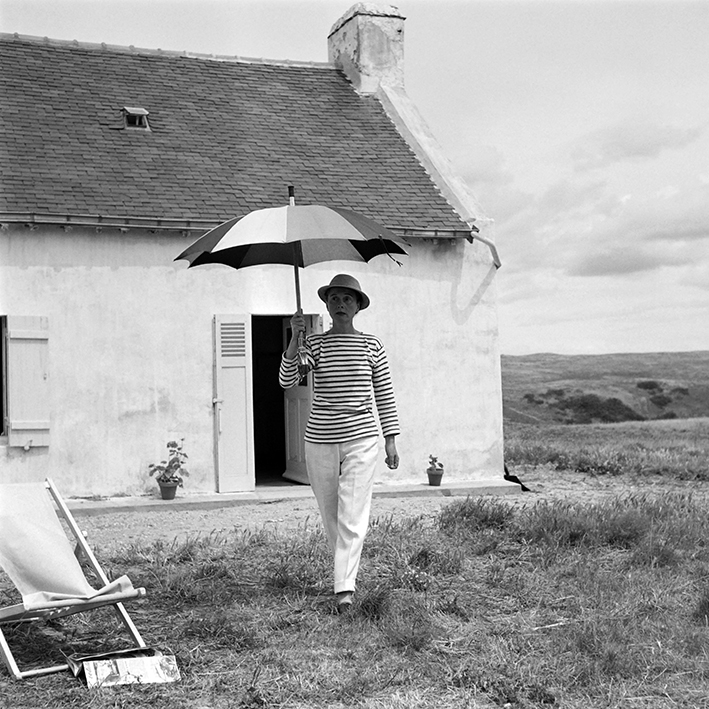 ARLETTY IN FRONT OF HER HOUSE, BELLE-ÎLE-EN-MER, 1950. ph. dr.
He hires Ibrahima Soumaré, providing him with a garret room in the building where he lives on rue de Bellechasse. Ibrahima Soumaré takes care of everything: cleaning, cooking, deliveries, ironing . . . He will stay with Azzedine Alaïa throughout his life, mainly as a cook.
Soumaré is like a brother to me.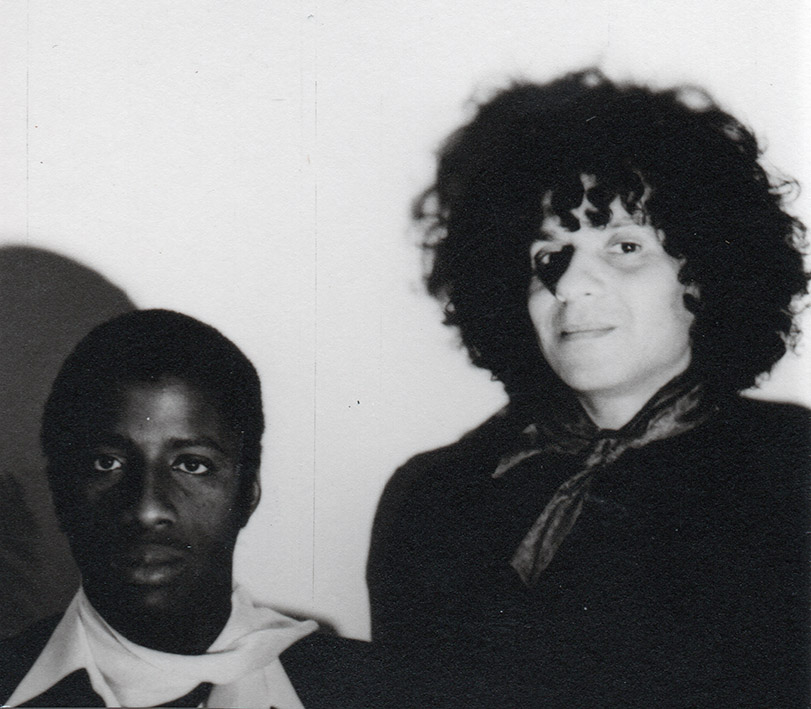 ibrahima soumaré and azzedine alaïa, rue du parc royal, 1985. ph. azzedine alaïa foundation
1971-1978
Before, fashion was reserved for women, and salons . . . Now, fashion is in the street, is for the street.
In March, he is admitted as a member of the Chambre Syndicale de la Couture Parisienne.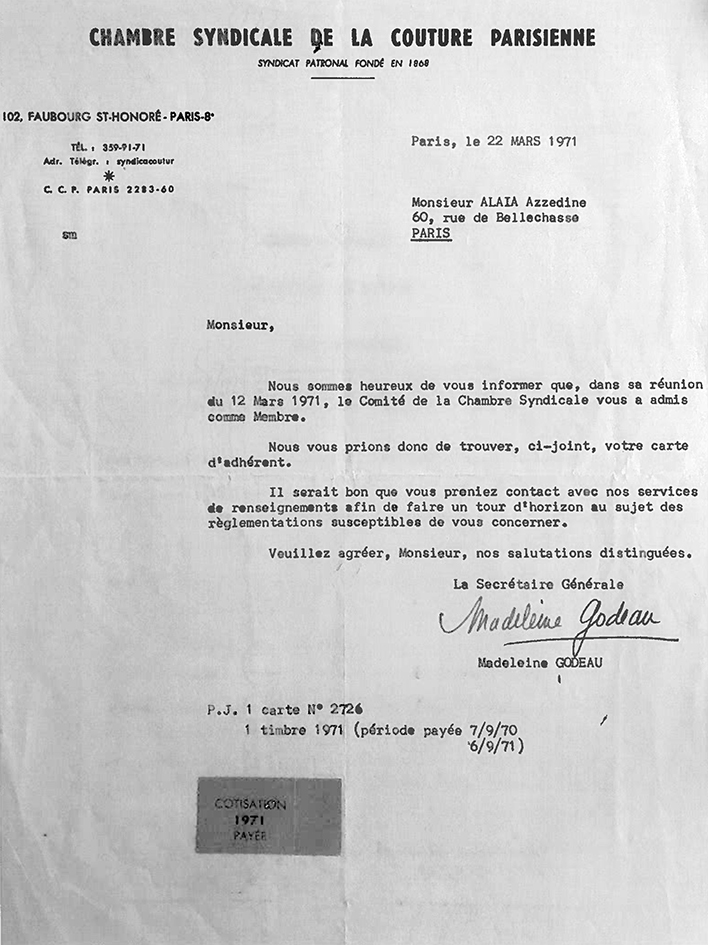 LETTER FROM THE CHAMBRE SYNDICALE DE LA COUTURE PARISIENNE, 1971
Cécile de Rothschild, one of his loyal clients, introduces him to Greta Garbo.
Garbo was sitting there, in a big turtleneck with the sleeves pulled down, so that you couldn't see her hands. I looked at her eyes, her nose, her eyelids. Incredible. She truly was absolutely magnificent. She asked me to make her a large overcoat. I've kept the model.She wanted it to be really big, like a military coat, and in blue. She had her own style. I made her jersey sweaters, fitted straight trousers, flat shoes, and three big overcoats.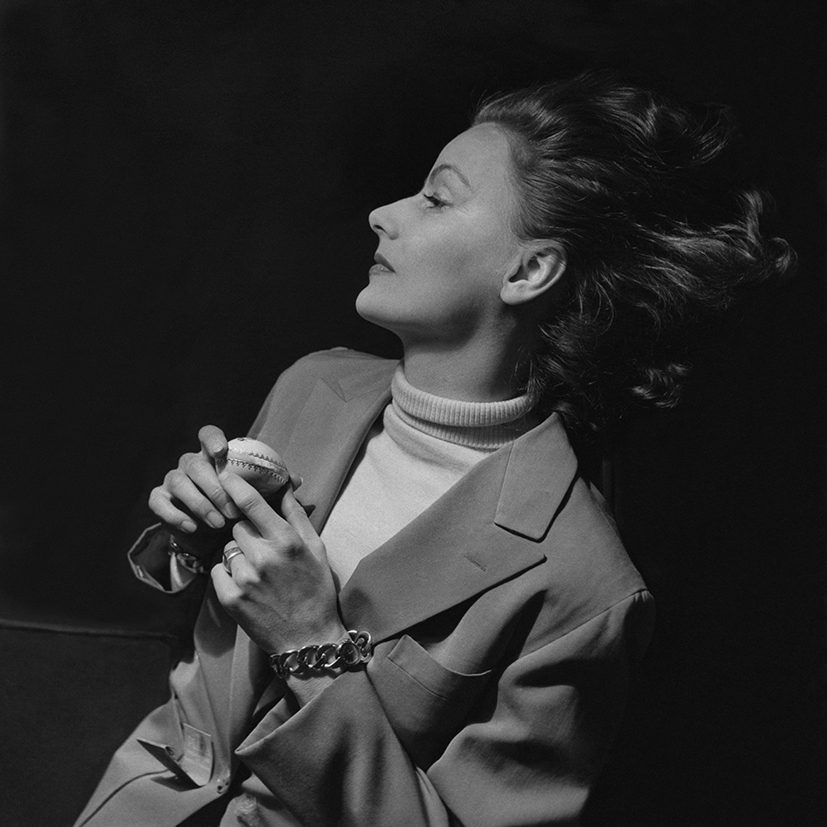 greta garbo, 1946. photographed by Cecil Beaton
The "Divine" orders several pieces from him, including coats in her preferred masculine and oversized style.
He works on some collections by the stylist Christiane Bailly.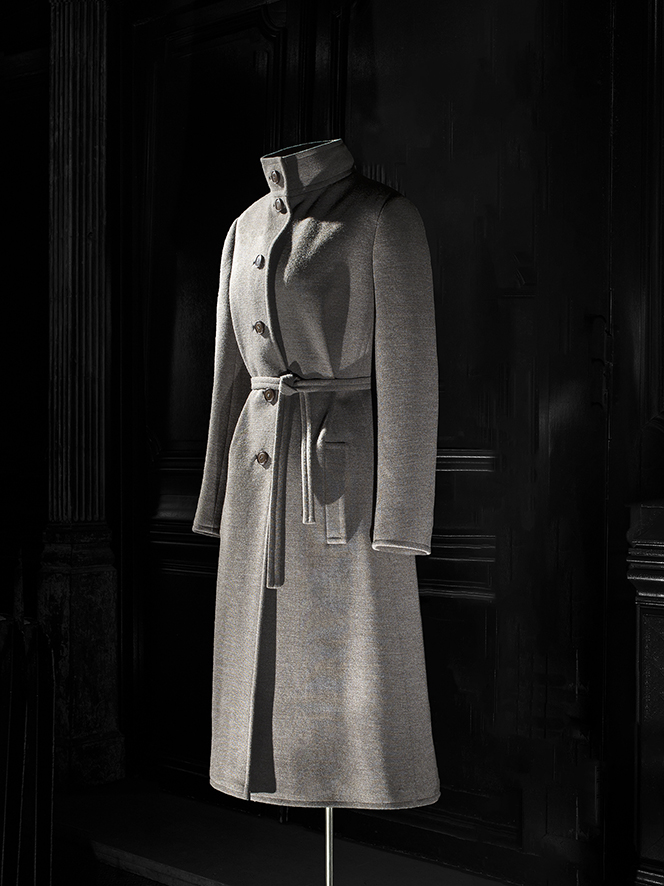 AZZEDINE ALAÏA, COAT IN TAUPE WOOL JERSEY FOR GRETA GARBO, 1972. COUTURE PH. ILVIO GALLO
He travels with Leila Menchari to Hammamet, where the Zehrfusses own a house.
In 1976, the first article devoted to Azzedine Alaïa's work appears, in the Tunisian press, under the title "The Tunisian who Makes Fashion in Paris." He makes perforated dresses for the Pennel & Flipo collection.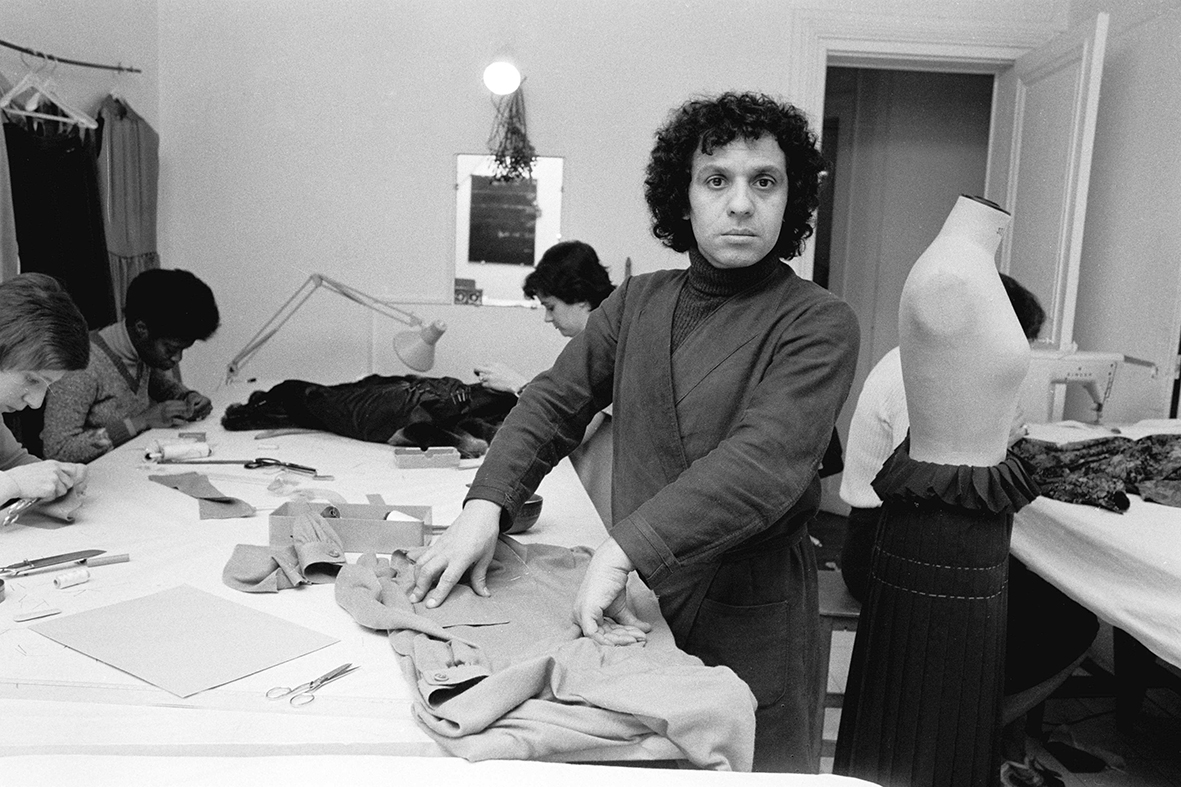 azzedine alaïa in his studio rue de Bellechasse, 1976 © MUUS/SIPA PRESS
Through Jean Daniel, he met Edgar Morin and befriends his wife, Johanne Harrelle, the Canadian actress and model. It is she who gives him his dog, Patapouf. After Patapouf, there will be Wabo and Barouf.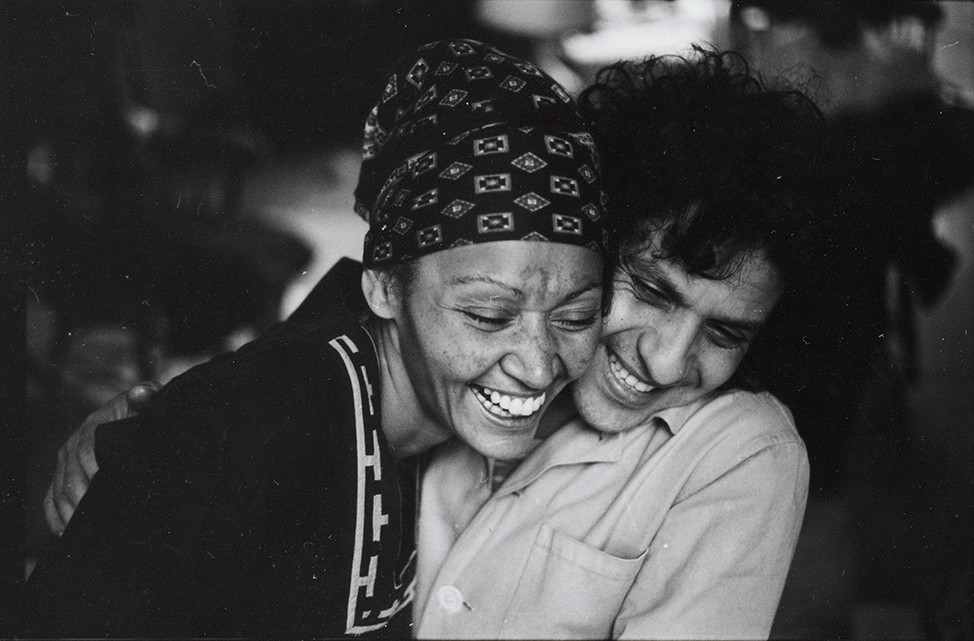 JOHANNE HARRELLE and azzedine alaïa ph. DR.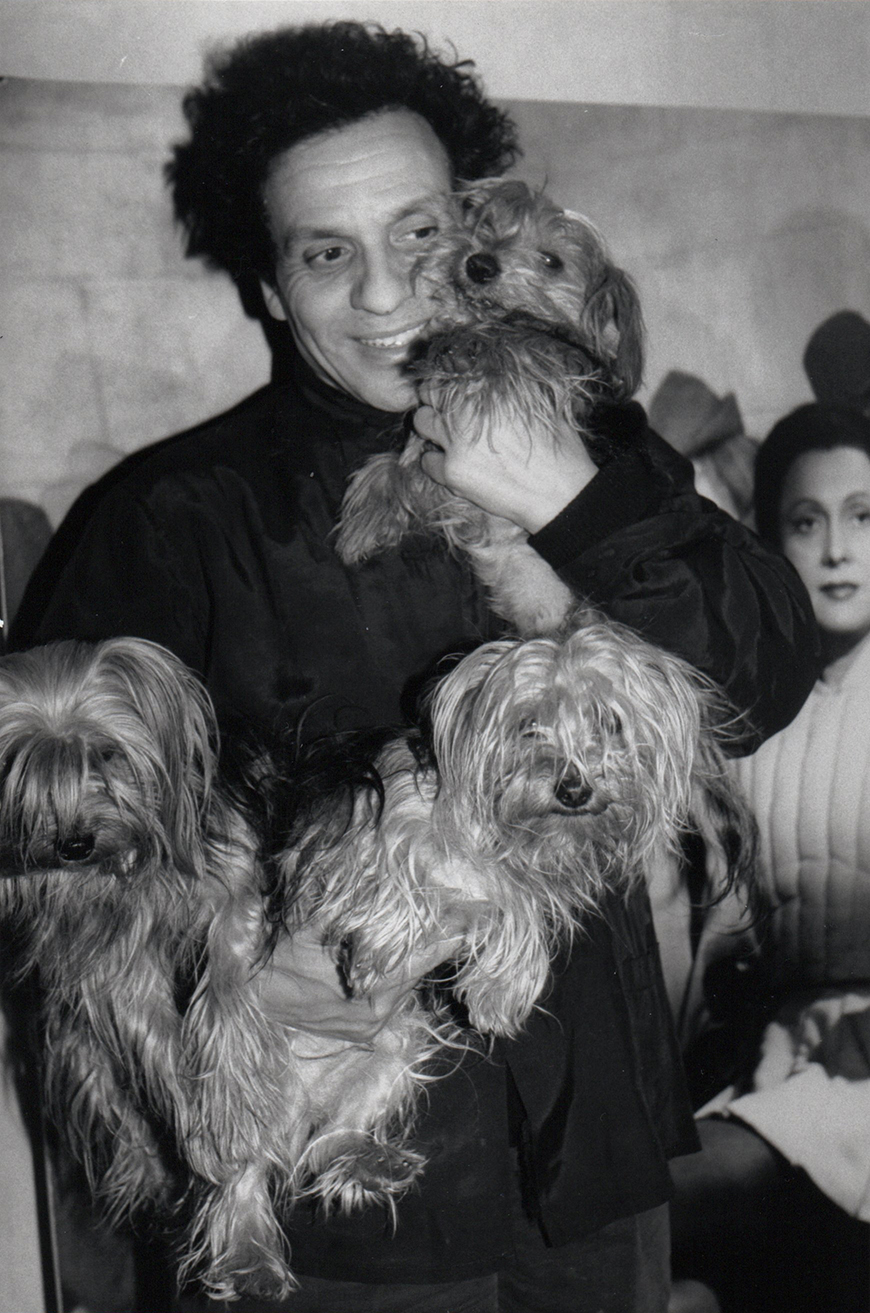 azzedine alaïa with his dogs ph. azzedine alaïa foundation
Between 1976 and 1979, he works for various furriers, including Robert Sack, Panther's Club, and La Madeleine furs. He becomes very close to the Imbert brothers, Paul and Christian, with whom he will make masterpieces in fur.
1979
He is still very close to Lison Bonfils, who has become a fashion designer. She is married to the son of Alain Bernardin and it is thanks to her that he designs the costumes for the dancers of the Crazy Horse, the famous Parisian cabaret.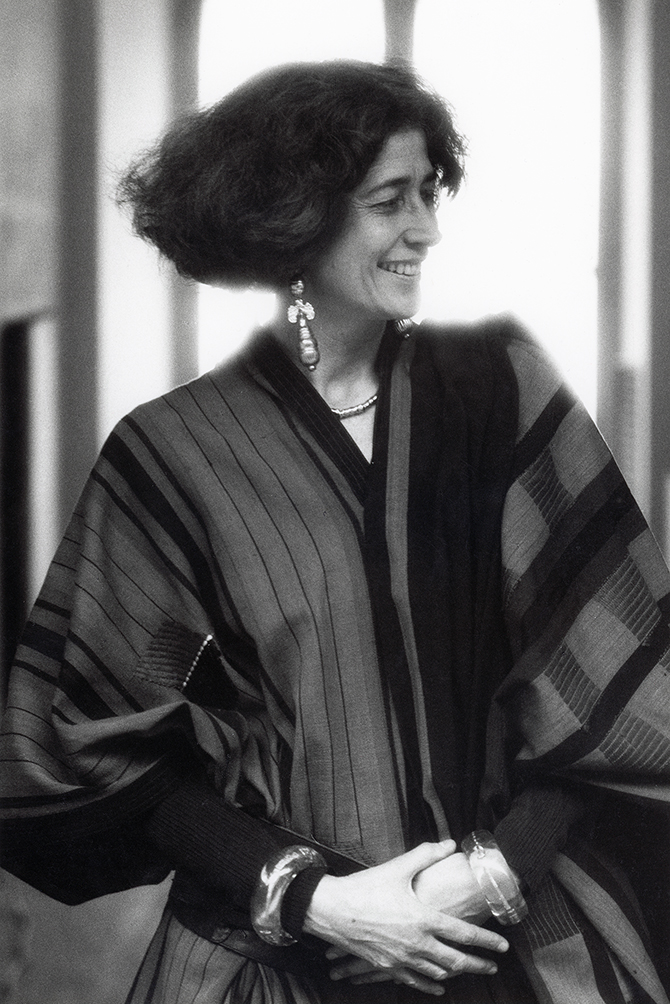 LISON BONFILS, PARIS, 1984. PH. FRÉDÉRIQUE VEYSSET
They were stage costumes in which the girls moved and they had to be able to take them off really quickly. Alain Bernardin kept telling me that 'the behind' was always more important than the bust in the show. And so I made the clothes accordingly, they were easy to take off.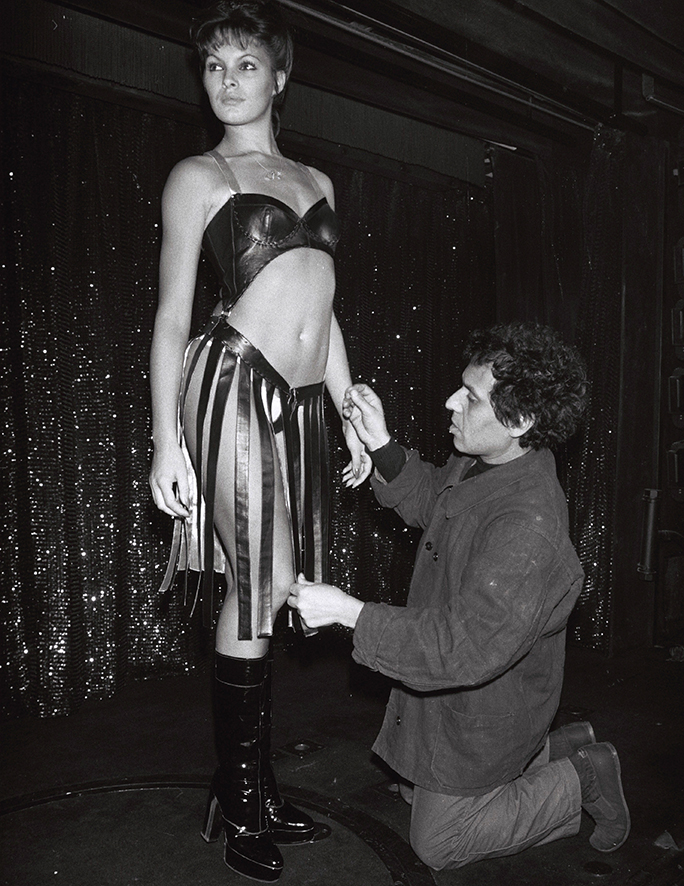 AZZEDINE ALAÏA FITTING AT CRAZY HORSE IN PARIS, 1979. ph. dr
Lilou Grumbach Marquand introduces him to Thierry Mugler. It marks the start of a great friendship between the two men. They spend several vacations together in Sidi Bou Saïd with Latifa Ben Abdallah, or in Hammamet with Leila Menchari. Thierry Mugler brings some of the most prominent journalists, like Francine Crescent from Vogue France, to lunch at rue de Bellechasse, so that they can see his work.
Thierry Mugler was one of the first people to take an interest in my work. He introduced me to a lot of journalists.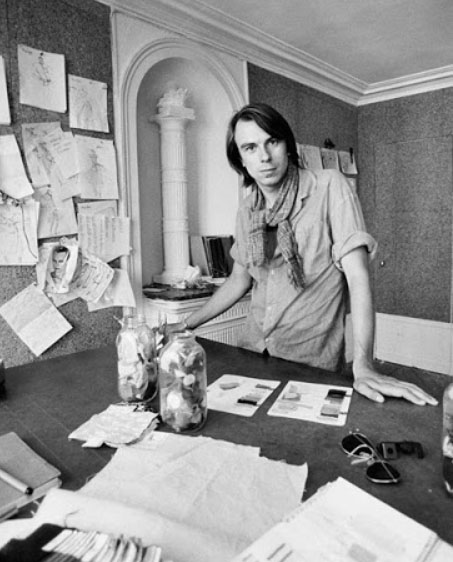 THIERRY MUGLER IN HIS atelier, PARIS, 1979. PH. DR.
Through Thierry Mugler, he meets Melka Treanton, a journalist from Depeche Mode who also works for Courtelle. He makes black coats and oilskins for them. Melka Treanton writes several articles on his work.
Melka was the one who encouraged me to launch my brand.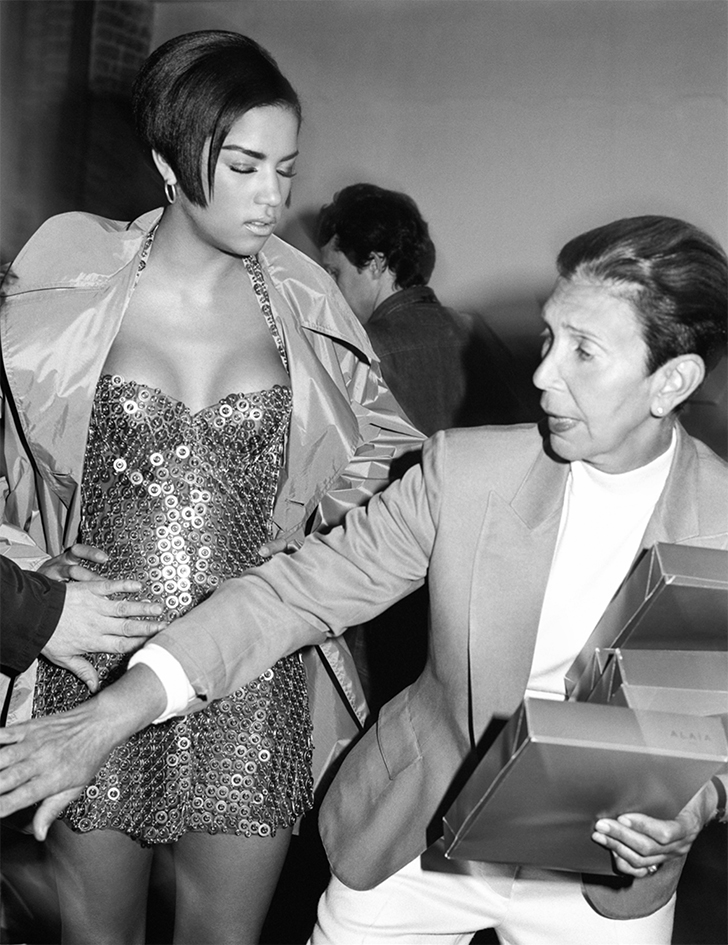 VERONICA WEBB AND MELKA TREANTON, PARIS, 1991. PHOTOGRAPHed BY BRUCE WEBER
Thierry Mugler asks him to create tuxedo suits for his fall-winter 1979–80 collection, Futures Spirales. It is here he works with Izet Curi who will later join him in his studio at rue de Bellechasse.
Thierry Mugler thanks him in his press kit: "Thank you to my friend Alaïa, for helping me make the series of tuxedos."
The model Alva Chinn introduces him to Hamid Bechari, who will introduce him to Julian Schnabel, a friendship that will last a lifetime.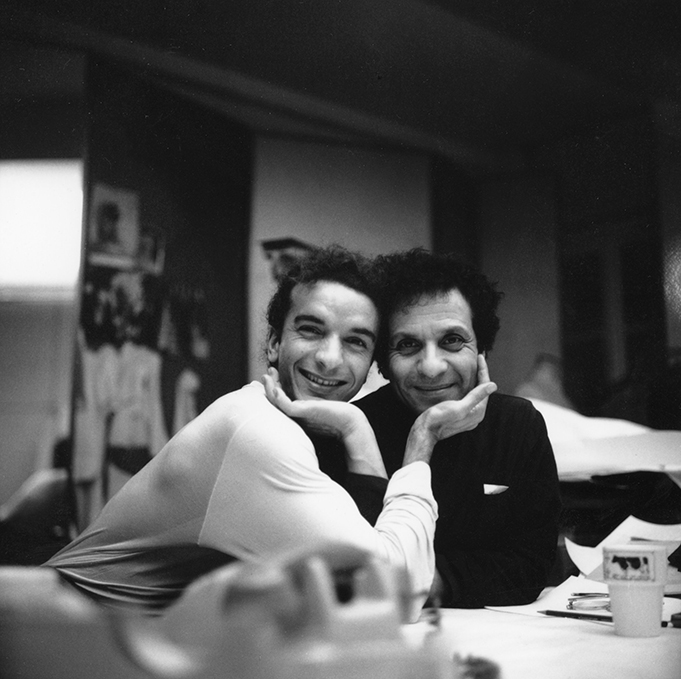 Hamid bechari and Azzedine Alaïa, 1981
Christiane Bailly introduces him to Marie Rucki, who runs Studio Berçot. Together they will work on a collection for Jacques Heim and will remain lifelong friends.
I spend one or two hours on the phone with Marie Rucki, every day.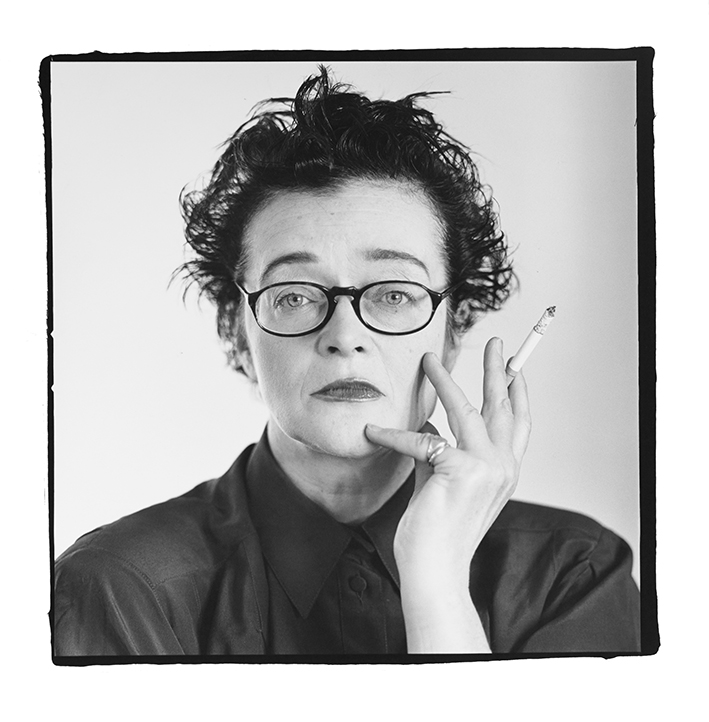 MARIE RUCKI, 1989. PH. MATTHEW ROLSTON
Charles Jourdan asks him to design a collection of ready-towear leather. He creates dresses with eyelets, berets, gloves, skirts. Lison Bonfils helps him with the knitwear, made in Italy at Silvia Bocchese's Maglificio Miles factory, which produces work for several French houses including Yves Saint Laurent, Céline, and Chloé.
Silvie Bocchese collaborated with Azzedine Alaïa since his first collection, in 1979.
Lison Bonfils took me to an Italian knitwear manufacturer with whom I made a few pieces for this show. A white sweater, some black sweaters, and a taupe dress. I didn't know how the threads she was showing me would look. First we did some tests. The technician made a stich and then another one. I looked at the result and then I asked her to do it tighter.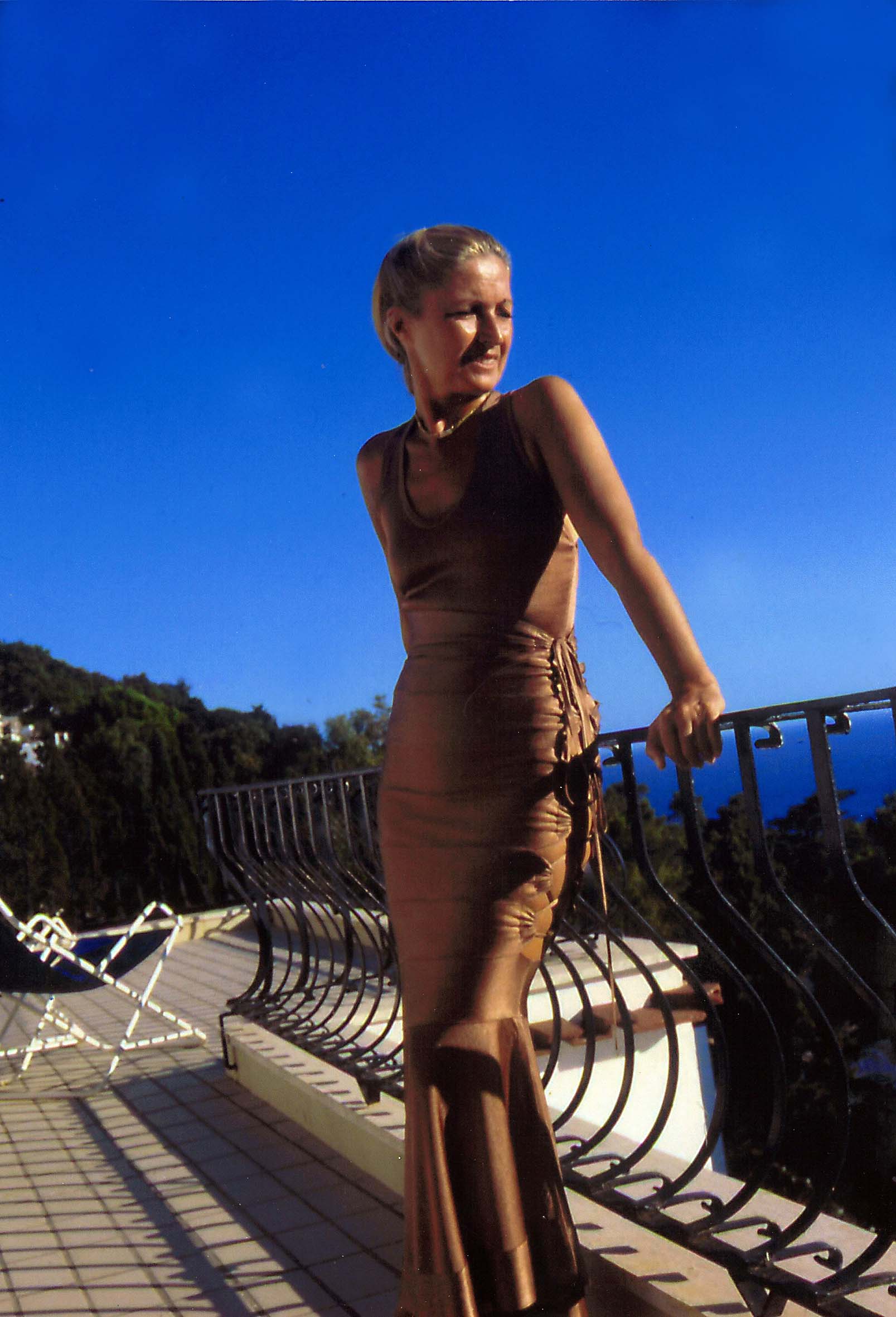 SILVIA BOCCHESE, CAPRI, 1986
The collection is refused by Charles Jourdan, which considers it too provocative for the brand, but Azzedine Alaïa keeps all the pieces, which later become emblematic of his work.
Charles Jourdan was looking for someone to make a ready-to-wear collection. I had no idea where to start or finish such a thing. But I thought that I had to do it anyway. I had leather dresses with grommets from 1976. When they saw the collection they screamed!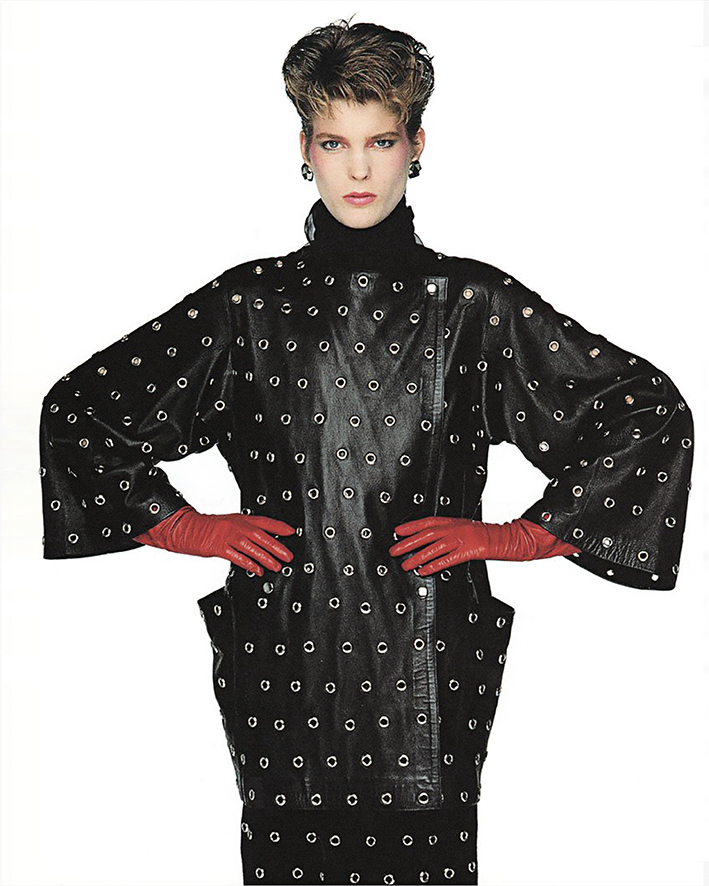 PHOTOGRAPH BY OLIVIERO TOSCANI PUBLISHED IN ELLE, 1981
In October, the celebrated journalist Michel Cressole devotes a first major article to him in Libération. It is a double portrait of Azzedine Alaïa and Serge Lutens: "Two loners in search of lost fashion." Marie Rucki introduces them to each other. The two men become friends.
Serge called me, we spoke for a long time. He told me he was going to help me create a new perfume.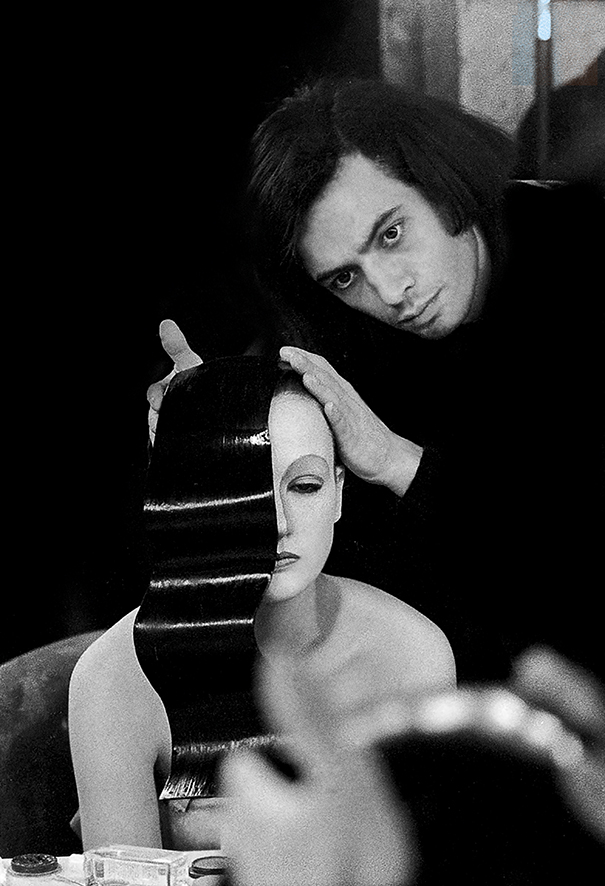 SERGE LUTENS, 1972. PHOTOGRAPH PUBLISHED IN LE MONDE
He meets Andrée Putman, who will support him throughout his life.
He continues his work as a couturier.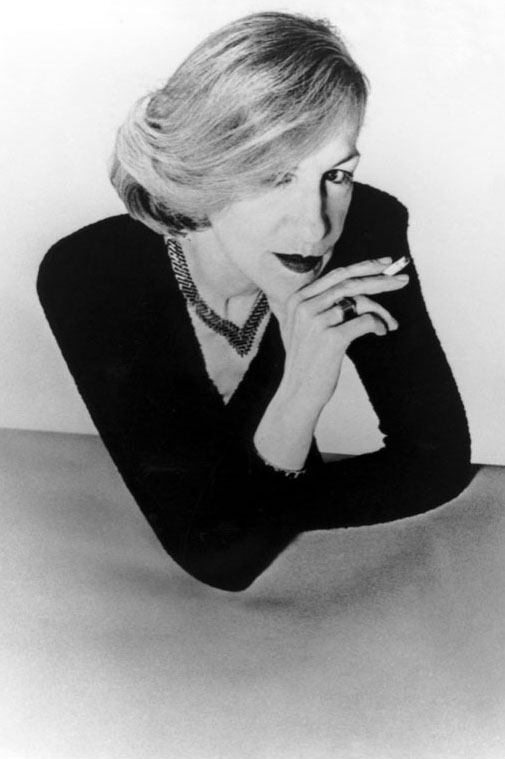 andrée putman, 1982. photographed by Serge Lutens
We had a machine to put eyelets in belts, and I used it on a piece of fabric to test its resistance. I found that it gave the fabric a beautiful style and that it made it move well. I made this dress for a client, Madame Moreira Salles. Then she found that the dress was too hard to wear with these rivets. So we made her a sheath dress instead. But the dress survived, and I ended up keeping it.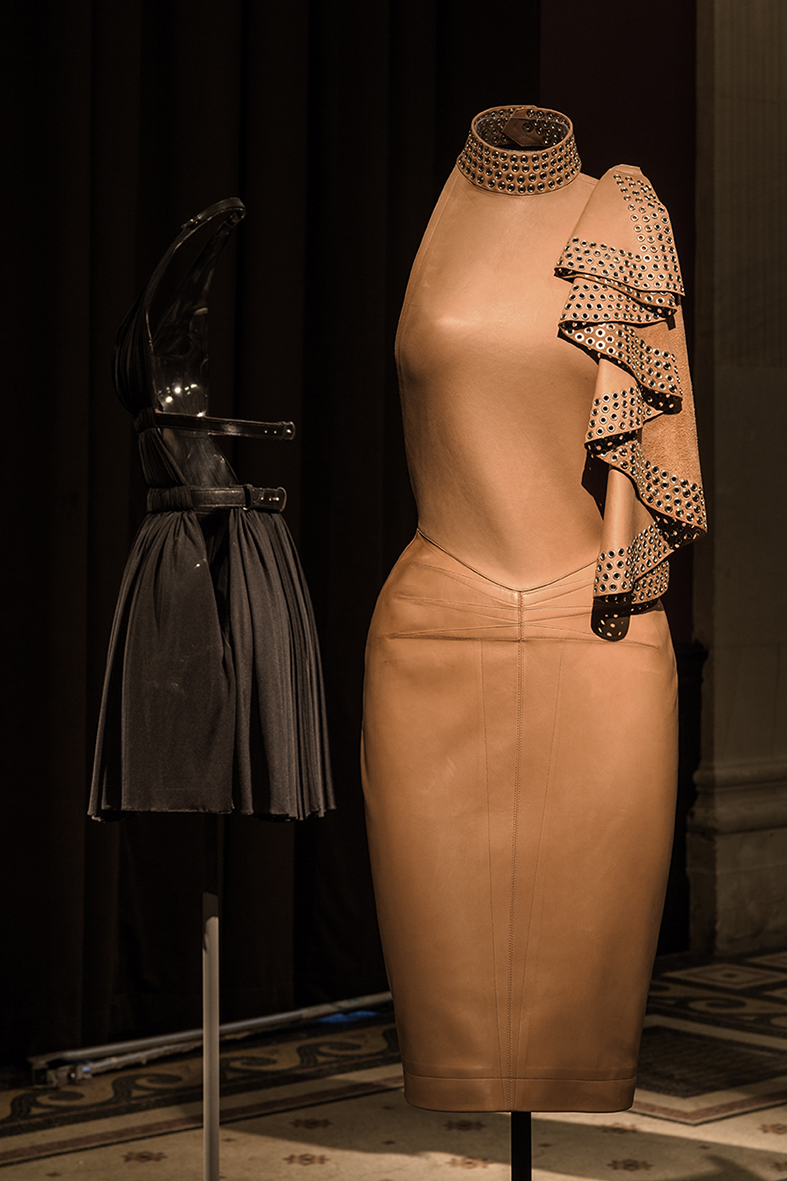 AZZEDINE ALAÏA, HALTERNECK DRESS IN LEATHER WITH SILVERED EYELETS,1981. ph. DR.
Having kept all the pieces made for Charles Jourdan, he shows them to Rosine Baldaccini, who introduces him to Nicole Crassat, fashion editor at Elle magazine. She will become his strongest supporter.
Lison Bonfils introduces him to the photographer Gilles Bensimon, the start of a lifelong collaboration.
With Gilles, I met the most beautiful women in the world.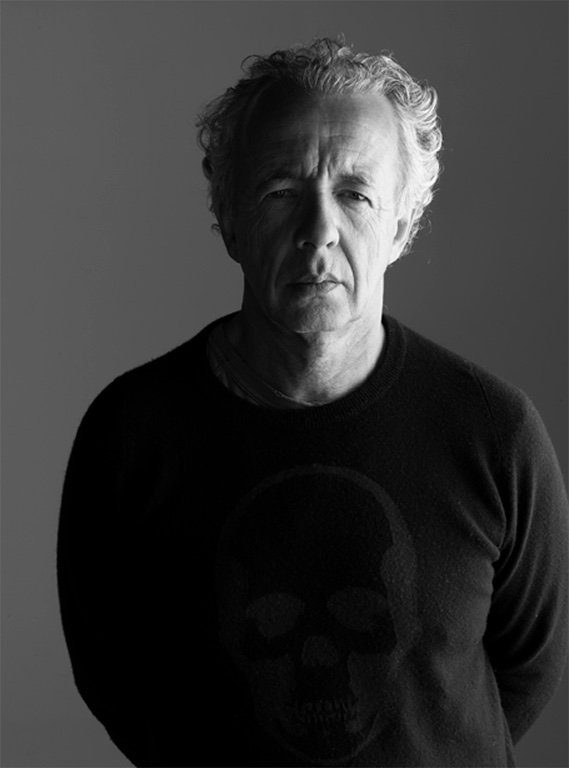 GILLES BENSIMON PHOTOGRAPH BY PABLO ENCINIAS
In November, a long black fur coat created by Azzedine Alaïa for the Panthère Club brand is featured in an editorial by Nicole Crassat. The same month, pieces by Azzedine Alaïa appear in Elle, with illustrations by Hazel Gomes.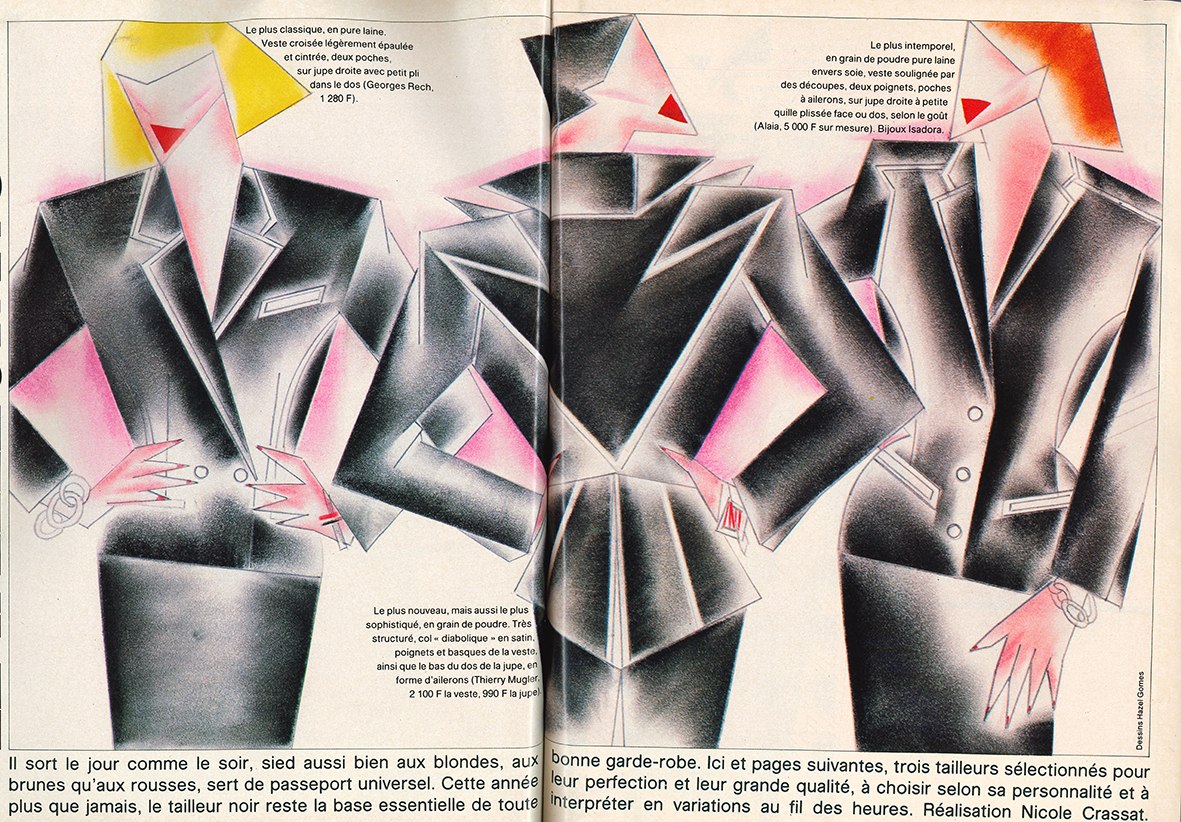 illustrationS by hazel gomes published in Elle ph.dr
Nicole Crassat brings Carlyne Cerf de Dudzeele to rue de Bellechasse, and introduces her to Azzedine Alaïa. It's love at first sight. From that day on, they will be friends. Carlyne affectionately nicknames him "Dindin."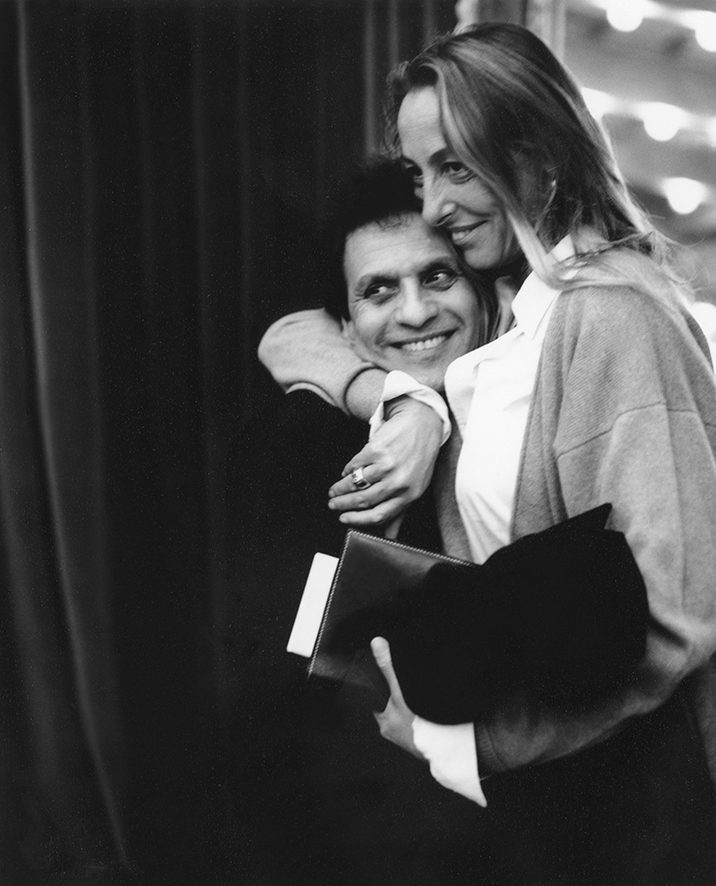 CARLYNE CERF DE DUDZEELE andAZZEDINE ALAÏA, PARIS, 1993. ph. dr.
At rue de Bellechasse, Nicole had seen a few pieces that I had made for Charles Jourdan. She published the first photos of my designs in Elle magazine. The editors at Elle asked me to lend them these clothes so that they could wear them during the collection shows.
Christiane Bailly introduces Azzedine Alaïa to the woman who will become his muse and friend, Zuleika Ponsen, who had already worked for Thierry Mugler.
For years and years I did all my fittings with Zuleika. She inspired me.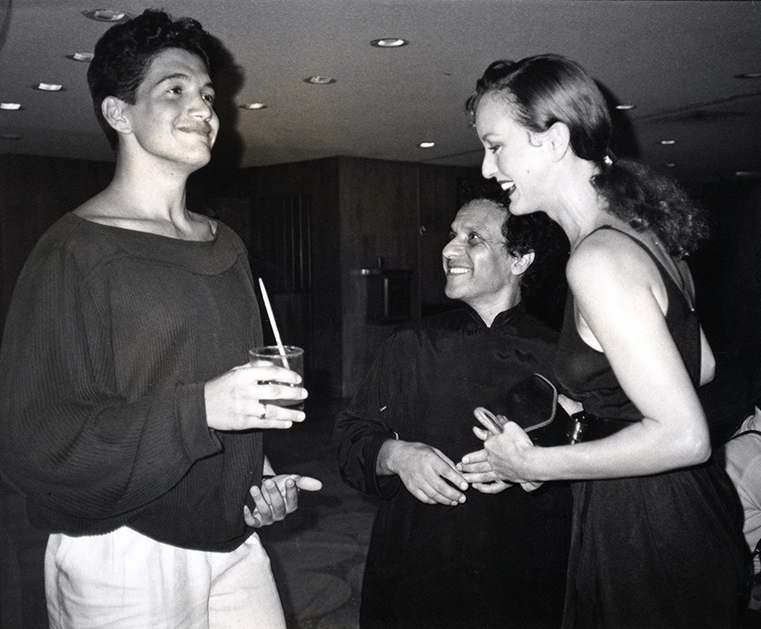 ÉRIC SARTORI, AZZEDINE ALAÏA and ZULEIKA PONSEN, 1982. PH. PAMELA HANSON
1980-1981
The stylist Françoise Ha Van introduces him to Carla Sozzani, director of special issues for Vogue Italia. This is the start of a lifelong friendship.
In the 1980s, I also met Carla Sozzani, an astonishing woman who has guided me through all the rest of my career, until today.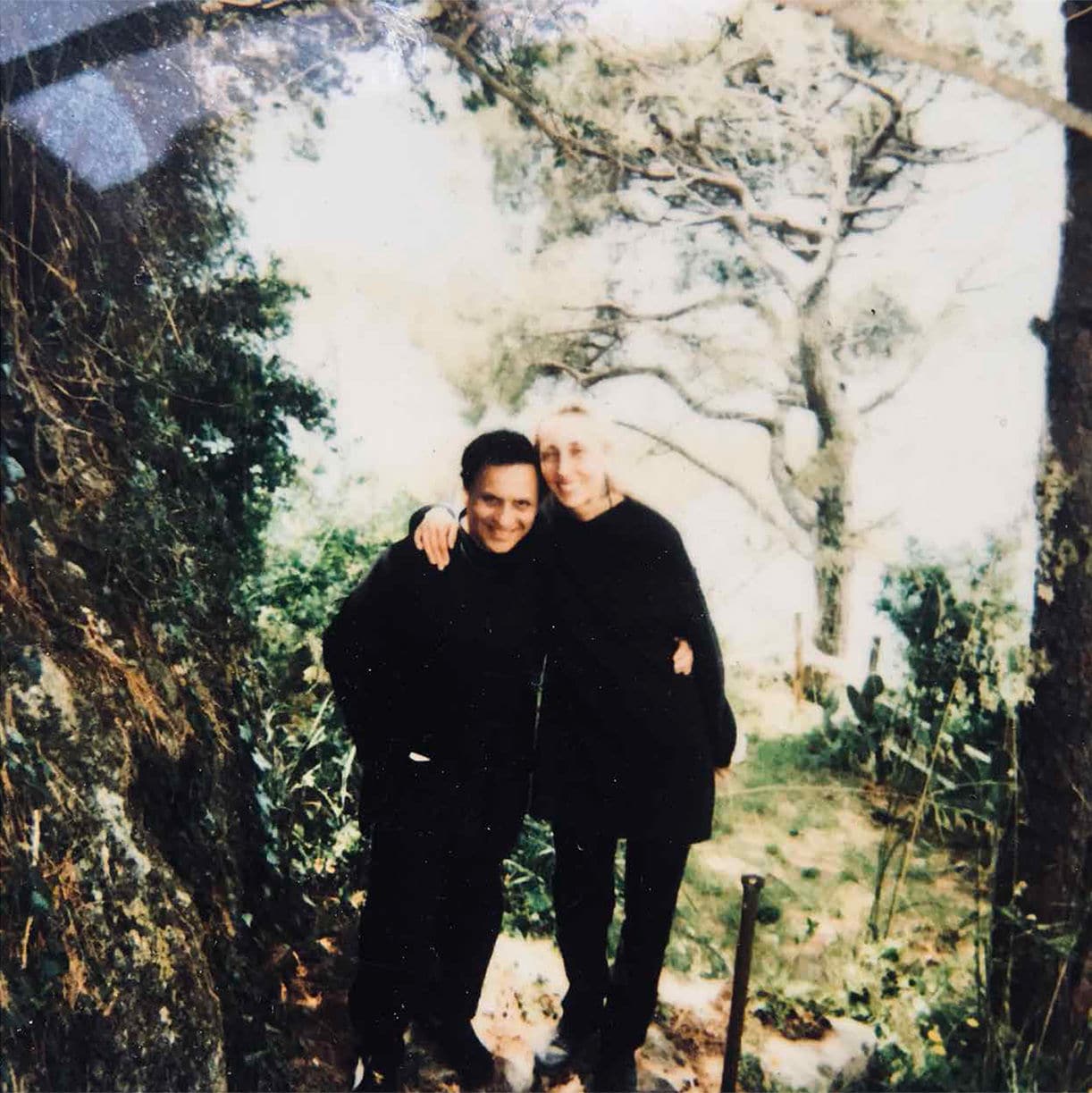 azzedine ALAÏA and CARLA SOZZANI À PORTOFINO, 1981
She is like my sister. Our relationship is very special. She has so much energy. She is positive and optimistic. Strong and gentle at the same time. And so elegant. I don't know anyone like her, and yet I've met fashion editors, all the designers and everyone . . .But never anyone like her. Ever.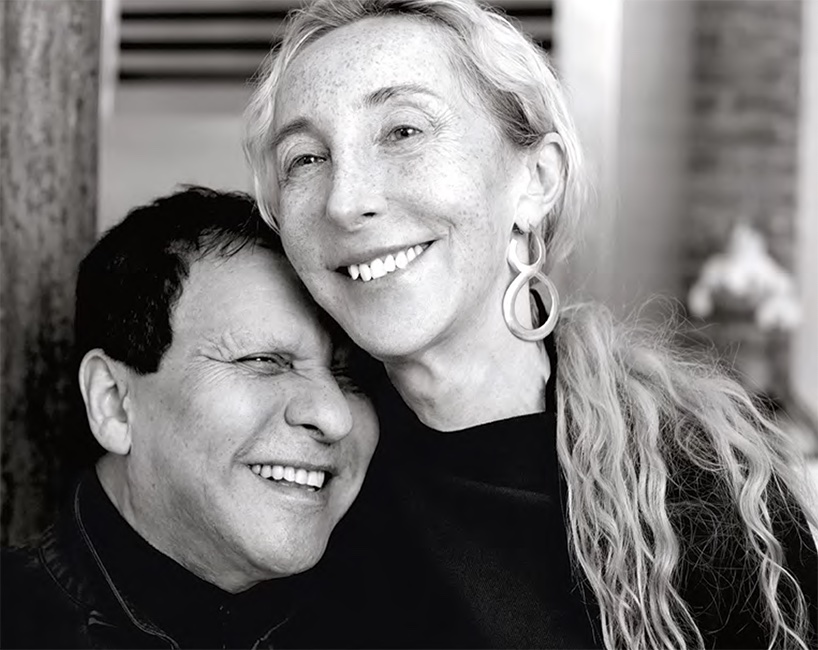 AZZEDINE ALAÏA AND CARLA SOZZANI PHOTOGRAPH BY RENÉ & RADKA PUBLISHED IN WALLPAPER*, 2014
On the initiative of Nicole Crassat, Azzedine Alaïa's fur coats, designed for the brands Panthère Club and Robert Sack, are photographed in Elle under the title "Dreams of Furs."
From now on, fashion editors all dress in Alaïa. At the Fall 1981 fashion shows, Nicole Crassat, Brigitte Langevin and Carlyne Cerf de Dudzeele wear Alaïa and are photographed by Bill Cunningham of Women's Wear Daily, who writes on November 23, 1981, that an "unknown stylist is dressing women, once again, in clothes designed to show off their curves." Alaïa will always say that it was thanks to Bill Cunningham that he became known in the United States.
Nicole Crassat had a leather suit, Brigitte Langevin a zippered dress, and Carlyne Cerf de Dudzeele a jersey dress and a draped belt in studded leather. As for designer Lison Bonfils, she was wearing a skirt of perforated chiffon and gloves with eyelets.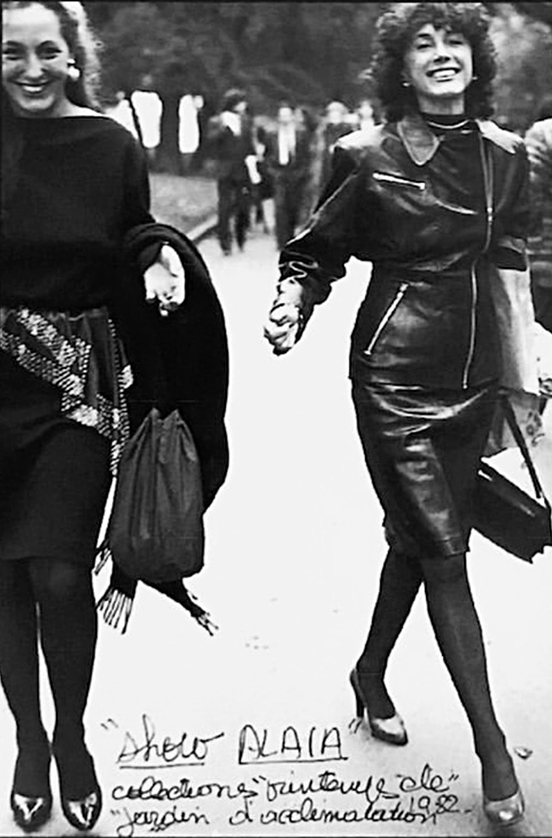 Carlyne Cerf de Dudzeele and Nicole Crassat wearing alaïa, 1982. photographed by Bill Cunningham
Bill Cunningham photographed them in the street during the party organized at the Palace.
The first publication in Elle devoted solely to Azzedine Alaïa and directed by Nicole Crassat is published under
the title "A Provocateur of Seduction."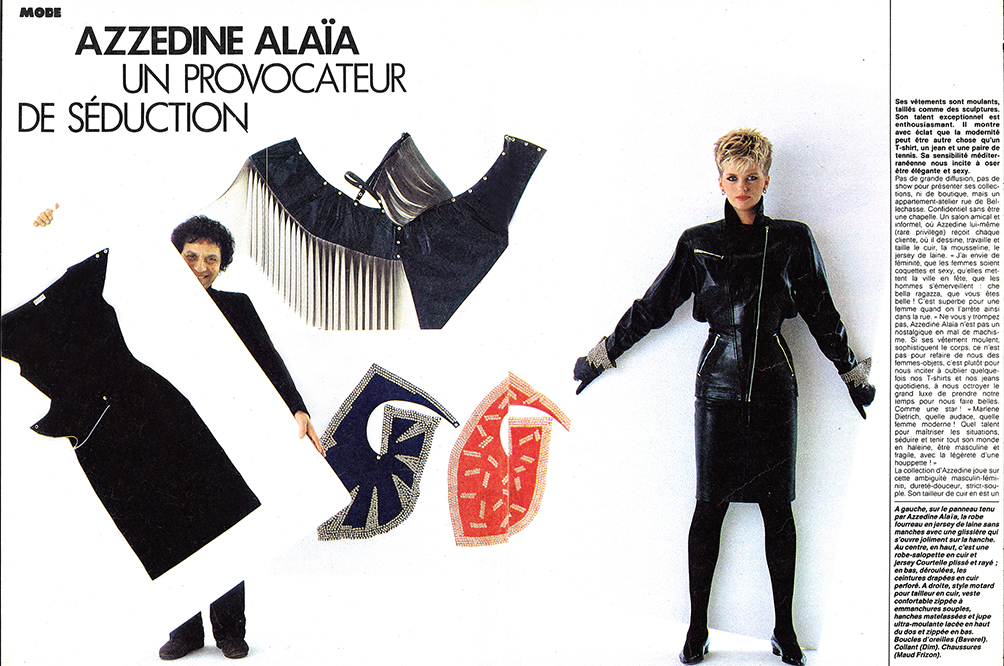 "a provocateur of seduction" article published in elle, 1981
Claude Brouet, editor-in-chief at Marie Claire, is interested in his work. Pages of photographs signed Paolo Roversi appear in the magazine.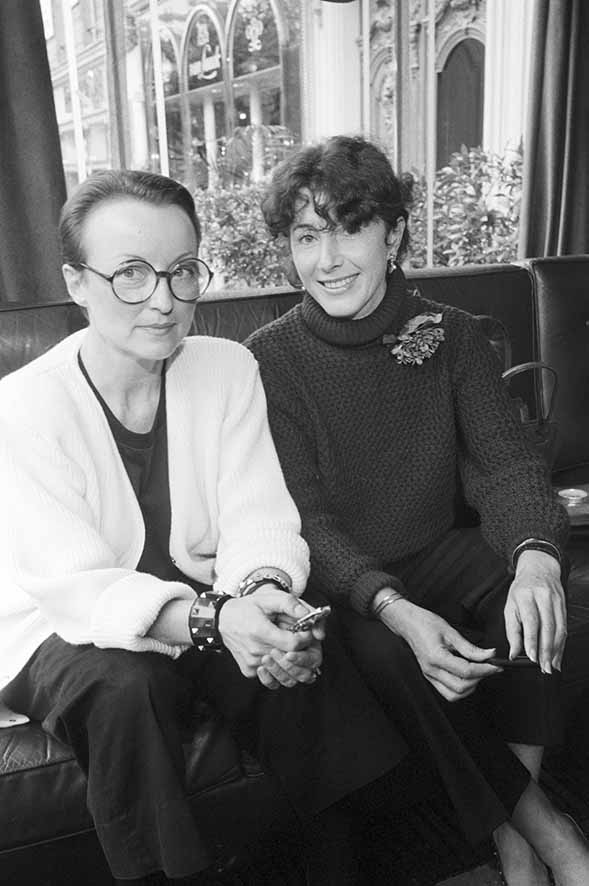 claude brouet and nicole crassat, 1982. ph. jack garofalo
Éric Sartori becomes Azzedine Alaïa's assistant and will remain at his side until 1995.
In November, Carla Sozzani devotes several pages to Alaïa in Vogue Italia Pelle, where she is editor-in-chief. This will be the first of a long series. Arthur Elgort and Alaïa will travel to Portofino for another Vogue Italia Pelle article.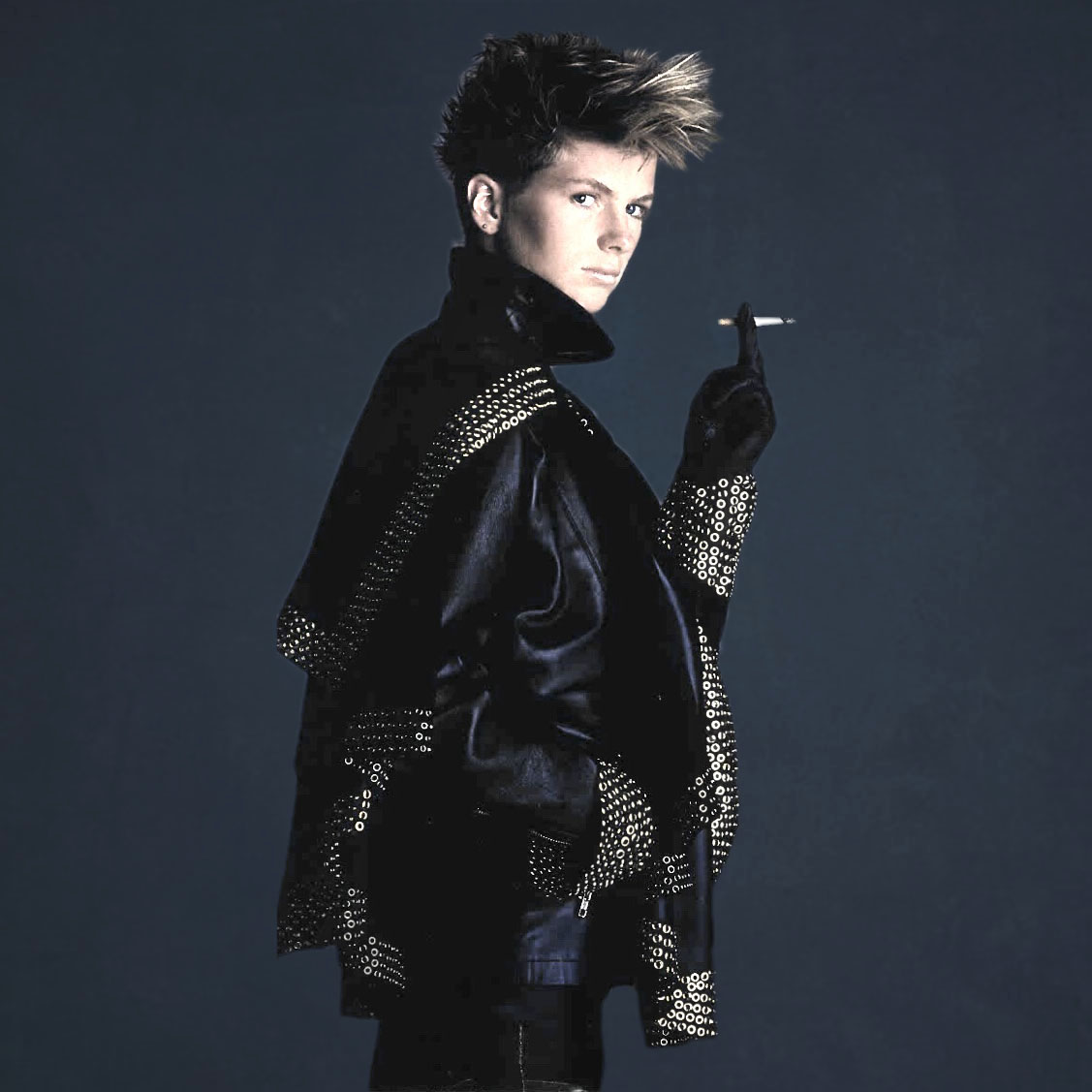 Leather cape and gloves with eyelets, Azzedine Alaïa, 1981. ph. gilles tapie, Vogue Italia pelle
Mirabelle Saint-Marie, the commercial director at Thierry Mugler, joins Alaïa to help him launch his house. Thanks to her, Maison Alaïa and its commercial development start to take shape.
Mirabelle built the house with me.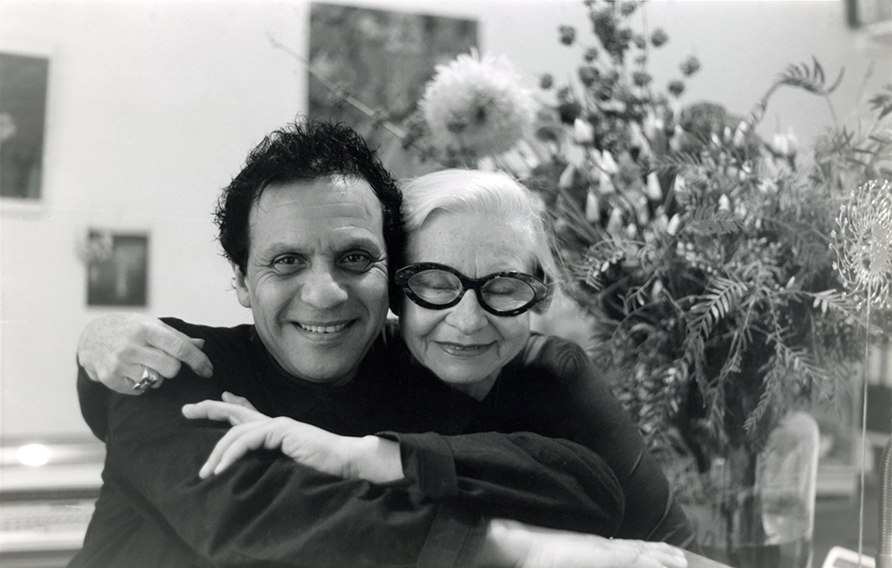 AZZEDINE ALAÏA AND MIRABELLE SAINT-MARIE, 1989
Sedused by the photos of Bill Cunningham published in WWD, Dawn Mello, director of the Bergdorf Goodman department store, offers Alaïa a show in New York. When Thierry Mugler tells him the news, he doesn't believe it. Mugler insists, encourages him to accept.
Bergdorf Goodman sent me a letter to suggest I come and show in New York. I thought Thierry Mugler was playing a prank on me . . . I only had ten designs. Next, Bergdorf Goodman sent me a telegram, to which I didn't answer either.
He works hard for two months to prepare the collection. Mugler gives him the names of the most beautiful models in New York and helps him with the castings. Maud Frizon makes the shoes. Lison Bonfils helps him with knitwear and Silvia Bocchese makes the first clothes that will become an Alaïa symbol.
Subsequently, they will always work together on the knitwear collections, creating new yarns with Giuliano Coppini, owner of Lineapiù.
1982
In September, Azzedine Alaïa hold his first New York fashion show in her Bergdorf Goodman store. He is helped by Thierry Mugler, both behind the scenes and for the translation of press interviews. Nicole Crassat, Paloma Picasso, Andrée Putman and  Andy Warhol, all attend.
He dedicates the collection to Arletty.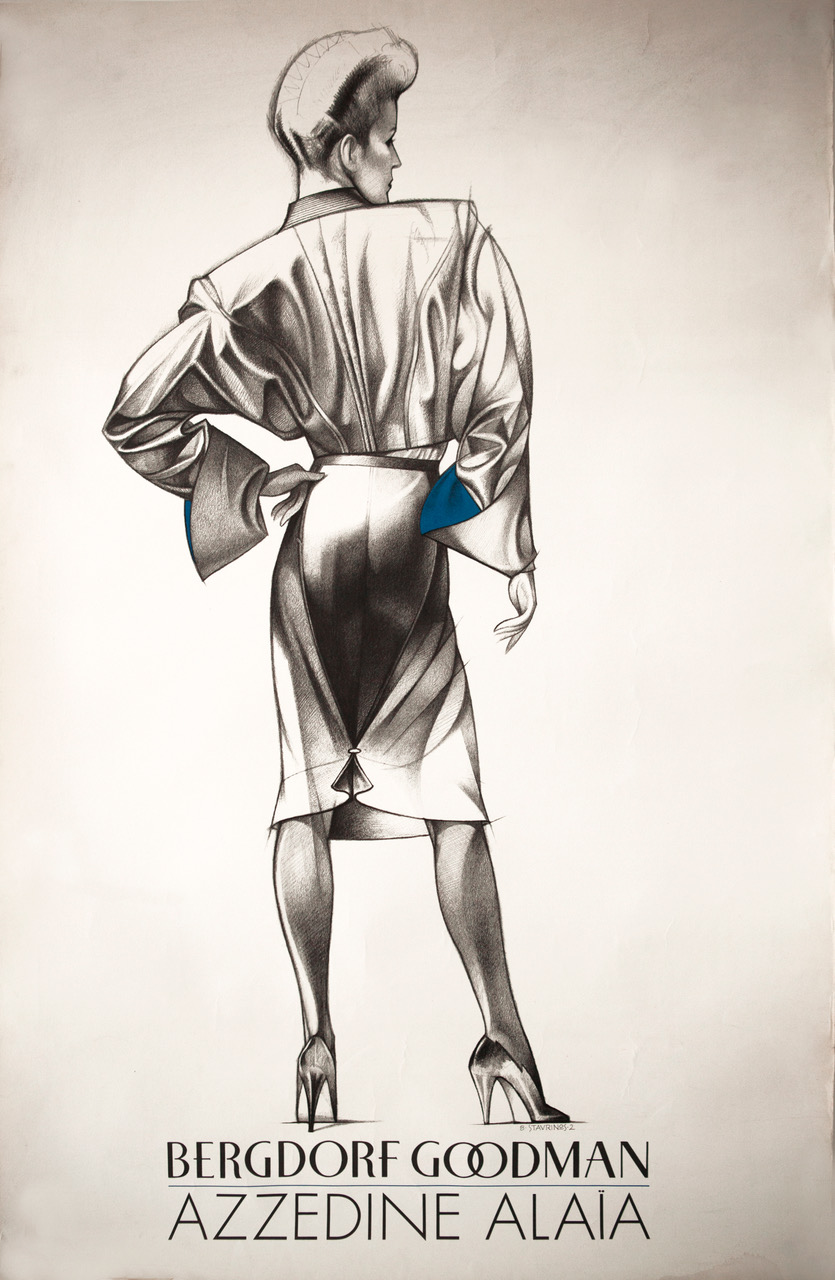 Bergdorf Goodman advertisement for the azzedine alaïa show, new york, september 1982
I created a Parisian silhouette. Only black jersey dresses, no jewelry, no accessories. A collection 'unsullied by any decoration,' as Arletty said! To my great surprise, the show was very successful.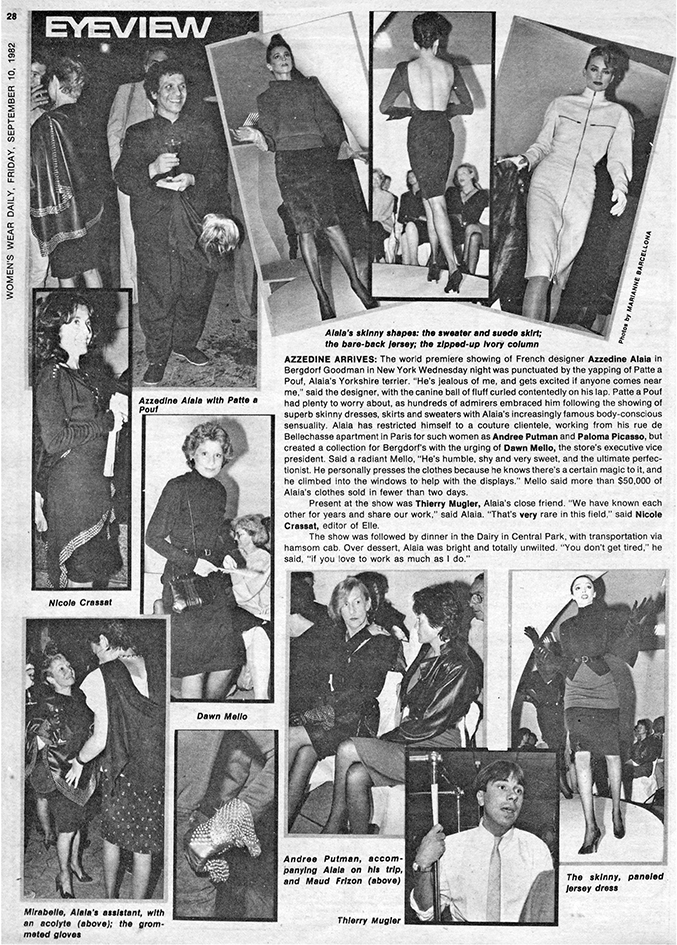 article publié dans le Women's wear daily en septembre 1982. ph. marianne barcellona
Together with Thierry Mugler, he often goes out in the evenings to Le Palace, that mythical meeting place for
everyone who's anyone in Paris. There he meets Sylvie Grumbach, another friend for life.
He meets Prosper Assouline, who writes an in-depth piece on him in Le Palace Magazine. Azzedine Alaïa will be the godfather to his children.
After the New York show, enormous orders came in. So then we had the means to make more samples.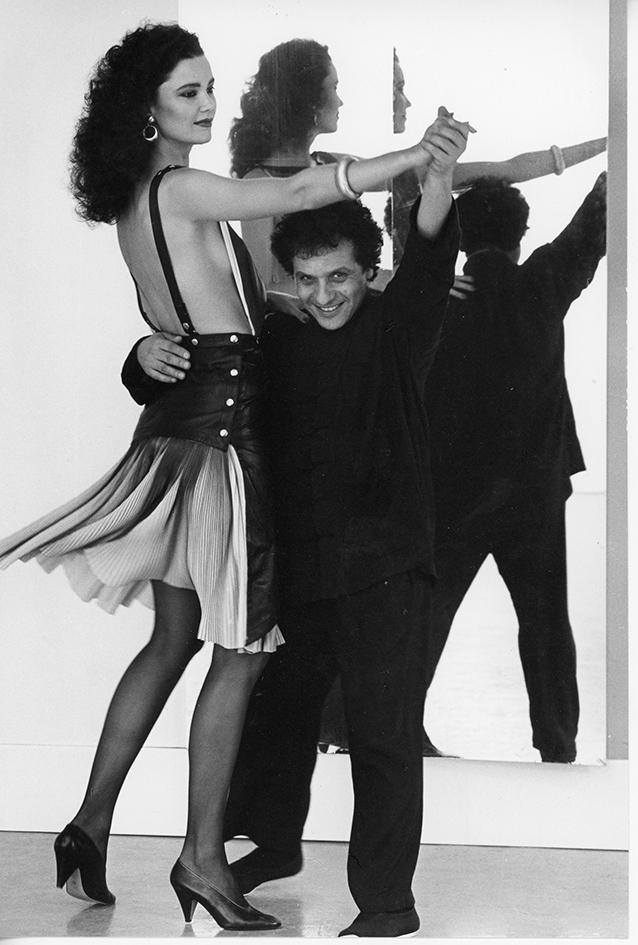 AZZEDINE ALAÏA IN HIS WORKROOM, RUE DE BELLECHASSE. DRESS IN PLEATED CHIFFON WITH A LEATHER APRON, COUTURE FALL–WINTER 1980–81 PHOTOGRAPH BY PETER KNAPP, 1982
A new chapter began for Azzedine Alaïa. He will found his own brand, Alaïa, the following year.
1983
Thanks to Maïmé Arnodin and Denise Fayolle's Mafia agency, he creates a small collection for 3 Suisses, the first brand to offer to a wider public access to luxury designers by reinterpreting their successes and signature designs while producing them at accessible prices.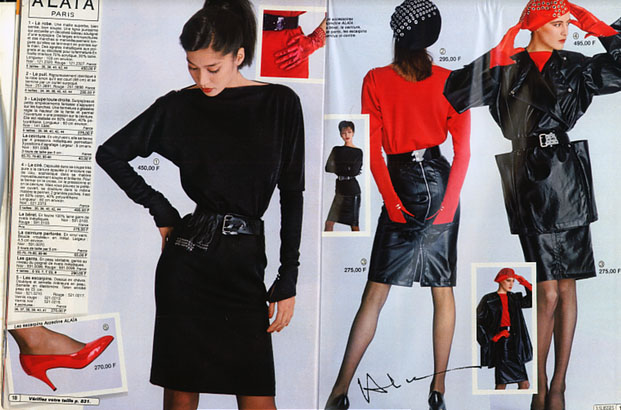 azzedine alaïa's models are made to order
Los Angeles retailer Charles Gallay, opened his Azzedine Alaia boutique on Rodeo Drive in 1983, it's the principal shopping strip in Beverly Hills. It's the only all-Azzedine Alaia store in the United States.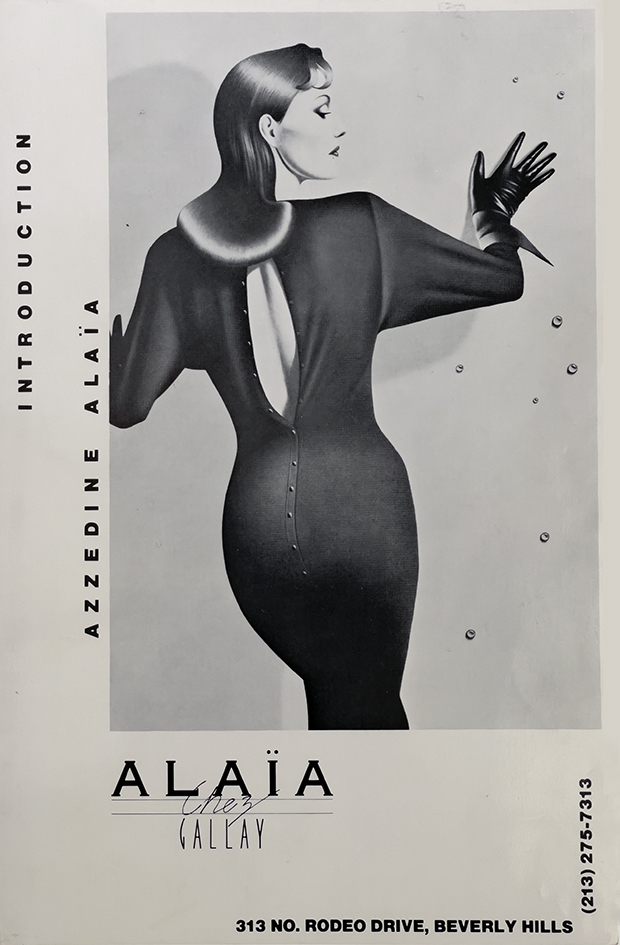 Alaïa chez gallay, rodeo drive, Beverly Hills, postcard
He founds his Maison under the brand "Alaïa" and presents his first fashion show in Paris, the Spring-Summer 1983 collection, at rue de Bellechasse.
His assistant Éric Sartori, who began working with him in 1980, would continue to work alongside him for fifteen years.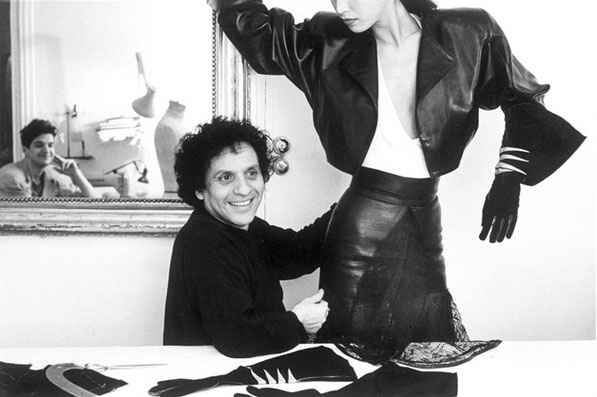 azzedine alaïa, éric sartori, rue de bellechasse ph. peter knapp
The same year he makes several important encounters, future lifelong friends: Franca Sozzani, Carla's sister, the model Farida Khelfa introduced to him by Jean-Paul Goude, the legendary fashion photographers Peter Lindbergh, Sarah Moon and Paolo Roversi.
For the Summer 1984 collection, his models show his designs in a runway show in the street, as the atelier in rue de Bellechasse had become too small a venue.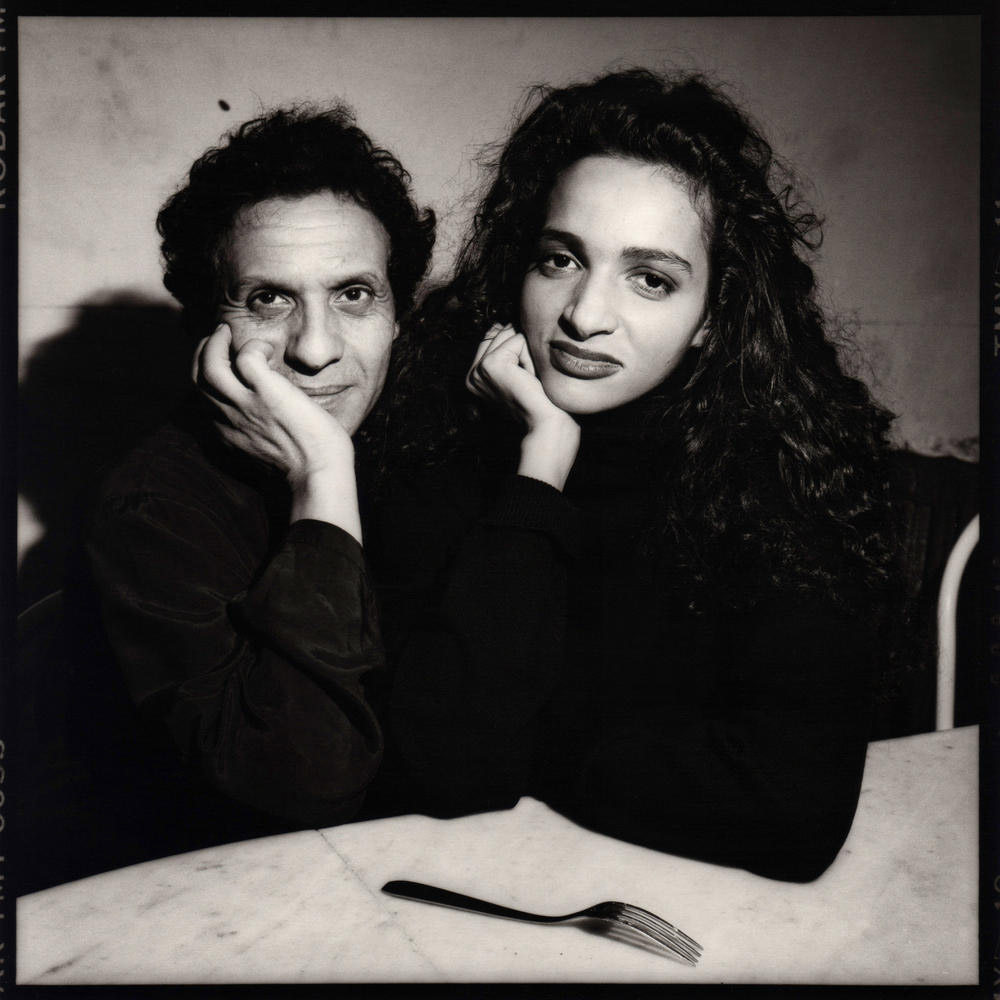 azzedine alaïa and farida khelfa ph. richard dumas
1984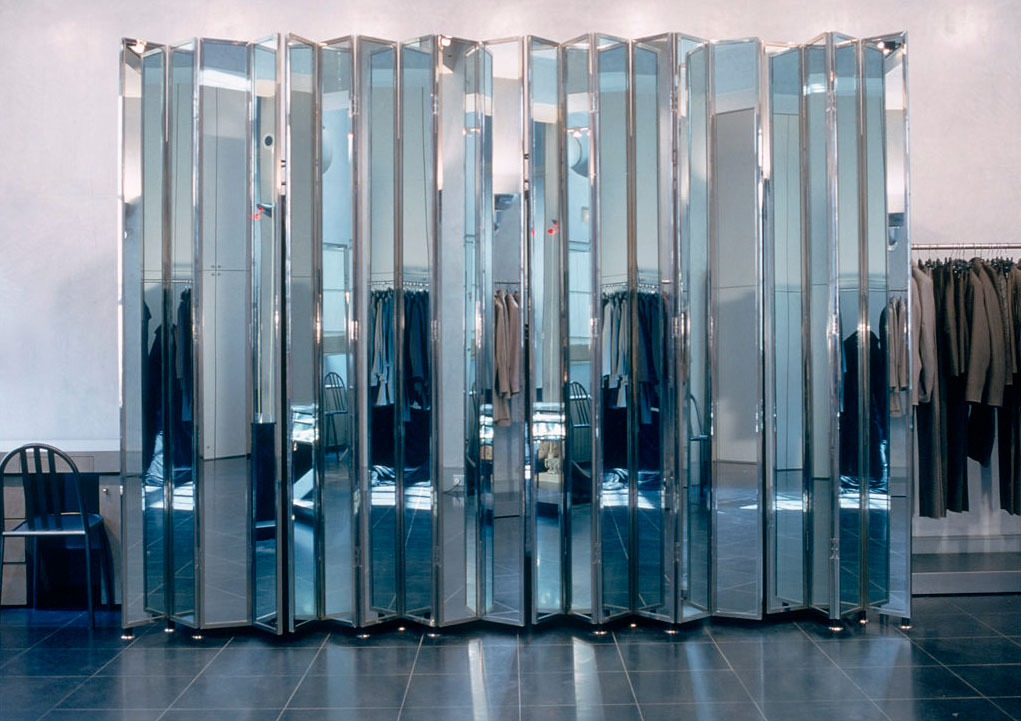 17 rue du parc-royal, mirrors by andrée putman ph. DR.
Alaïa moves into a town house, 17 rue du Parc-Royal, he entrusts the décor to his friend the interior designer Andrée Putman.
Linda Evangelista, Linda Spierings and Veronica Webb start modelling in his fashion shows.
I kept in touch with all the girls, they became friends.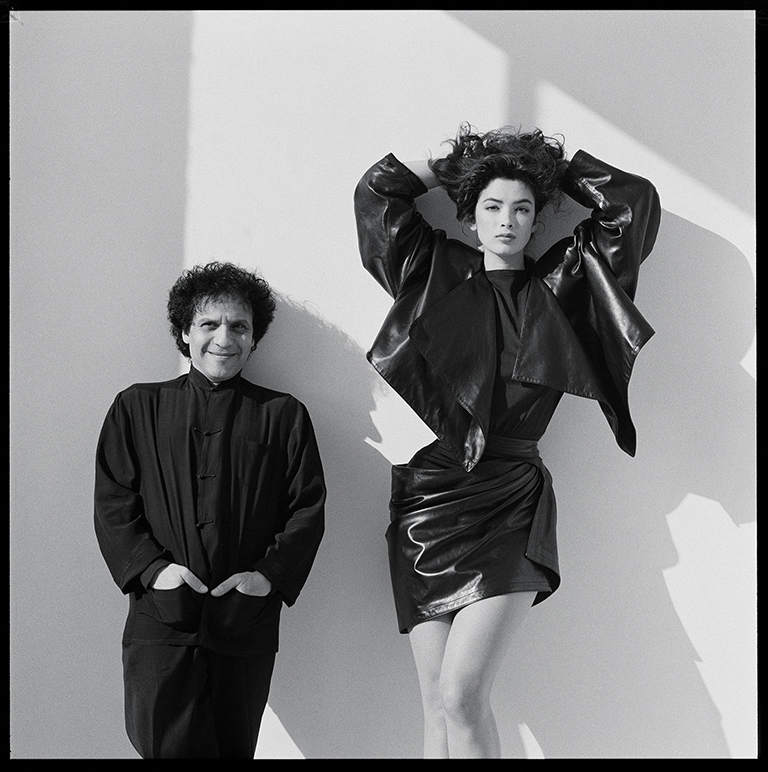 AZZEDINE ALAÏA and LINDA SPIERINGS, 1984. PH. Arthur Elgort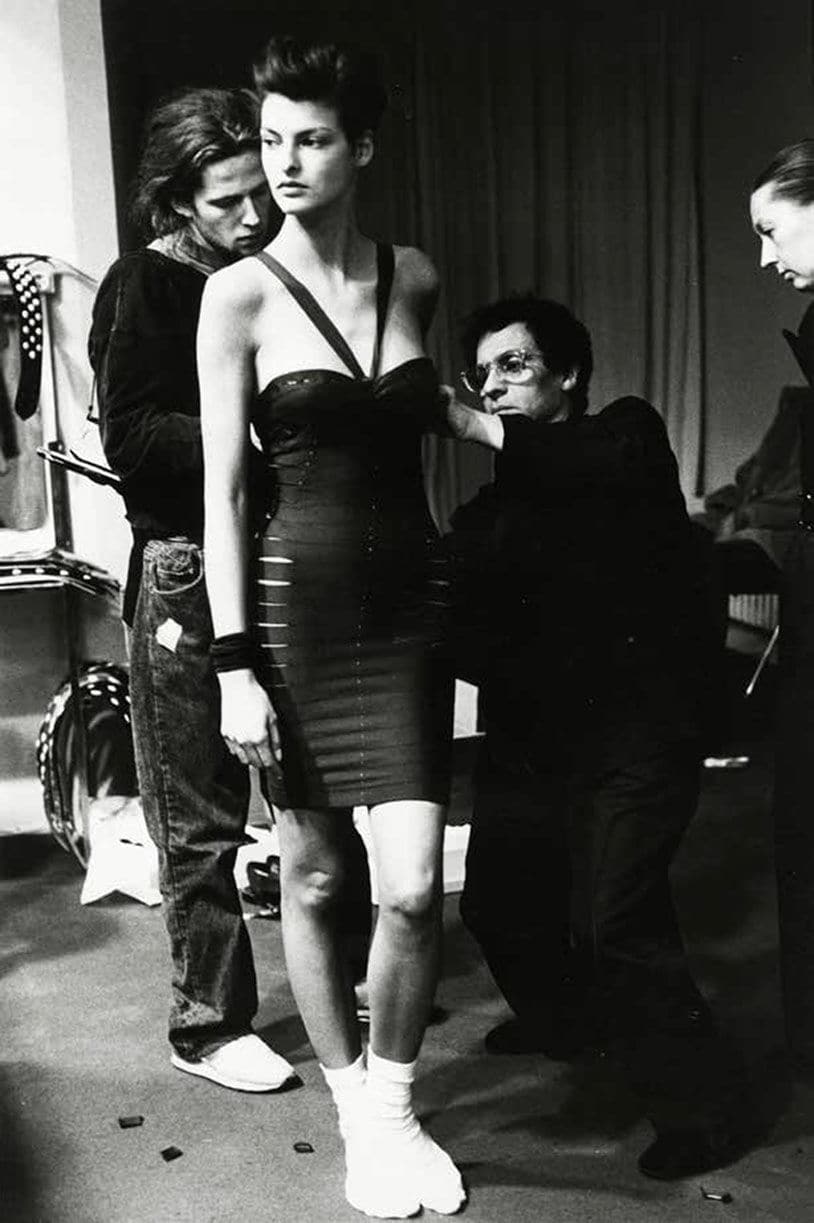 Linda Evangelista and Alaïa, PH. Sante D'Orazio
1985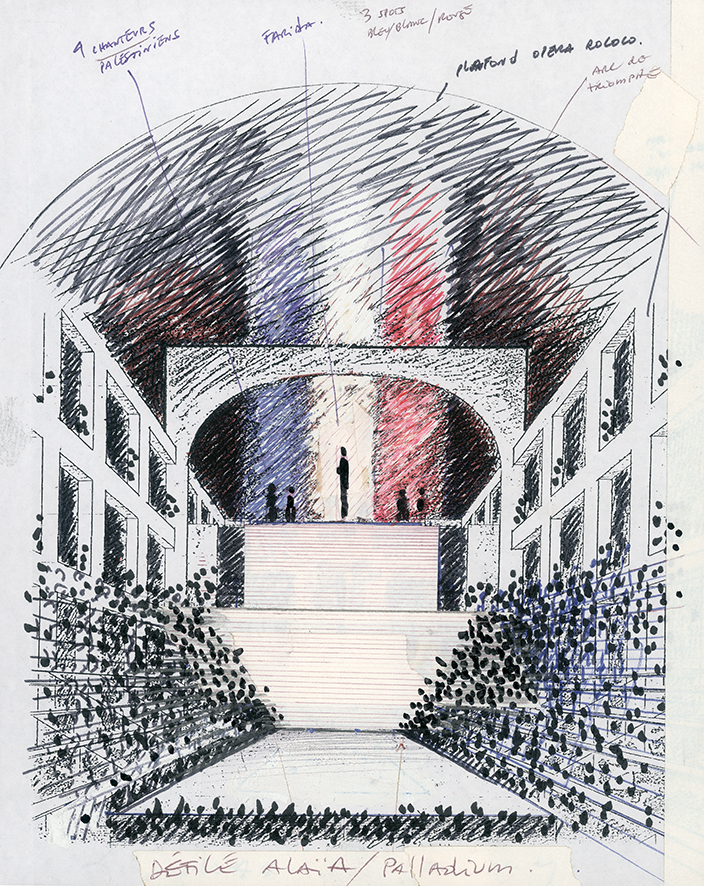 design and set by jean-paul Goude for the azzedine alaïa fashion show at the palladium in New York
He presents his last three years work in a fashion show at the Palladium in New York, in a set designed by Jean-Paul Goude, with over fifty models and more than a thousand guests, including Andy Warhol, all of whom were dressed in black at Mr Alaïa's request. The event, sponsored by Barneys New York, received a standing ovation from the audience.
The French Ministry of Culture honors Alaïa at the Fashion Oscars with two awards, "Best French Collection" and "Best Designer of the Year".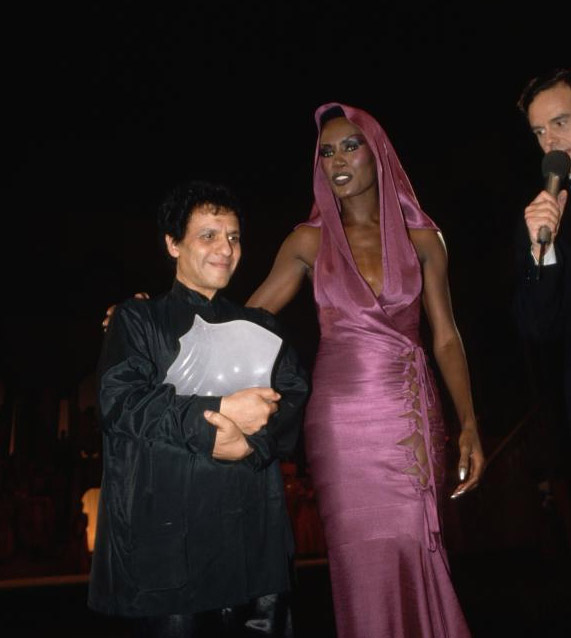 AT THE CEREMONY AT THE PARIS OPERA, ALAÏA ACCOMPANIED BY GRACE JONES WEARING THE FAMOUS "BANDAGES" DRESS. PH. PETER TURNLEY / CORBIS / VCG VIA GETTY IMAGES
The exhibition  "A day with Azzedine Alaïa: Fashion 1980-1985" is presented at the CAPC,  The Contemporary Art Museum of Bordeaux, under the artistic direction of Jean-Louis Froment. Alaïa's creations are presented alongside works by the artist Dan Flavin. Jean-Louis Froment was the first to invite him to a French museum. The two men have enjoyed a long and mutually admiring friendship.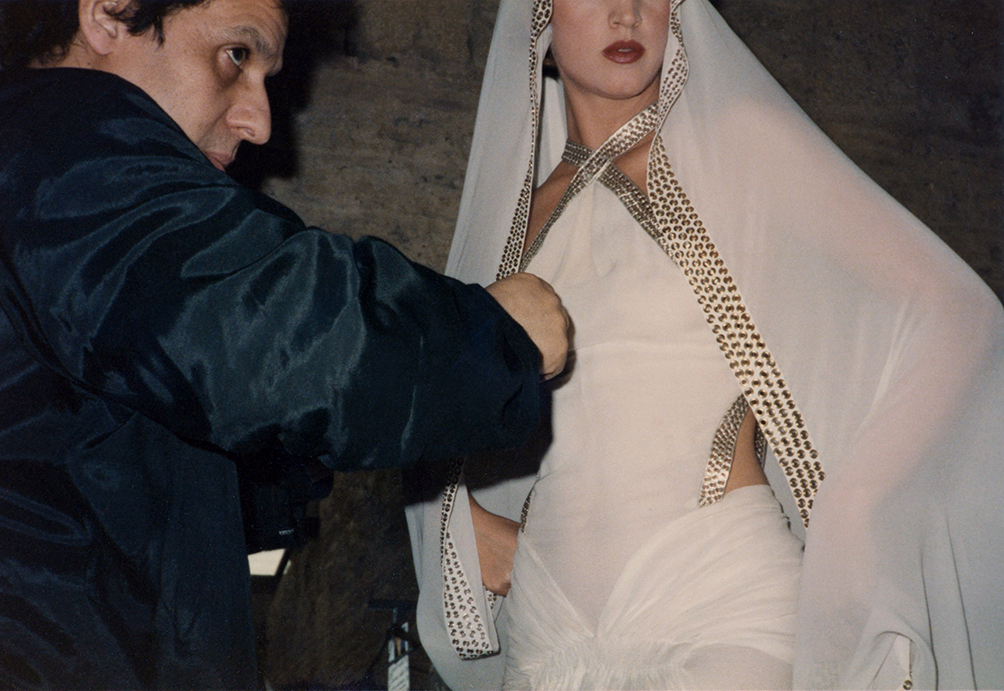 azzedine alaïa during the fashion show at the CAPC, CONTEMPORARY ART MUSEUM OF BORDEAUX ph. DR.
Alaïa dresses Grace Jones in the John Glen film, "James Bond: A View to a Kill".
For the Spring-Summer 1985 collection, he collaborated with César.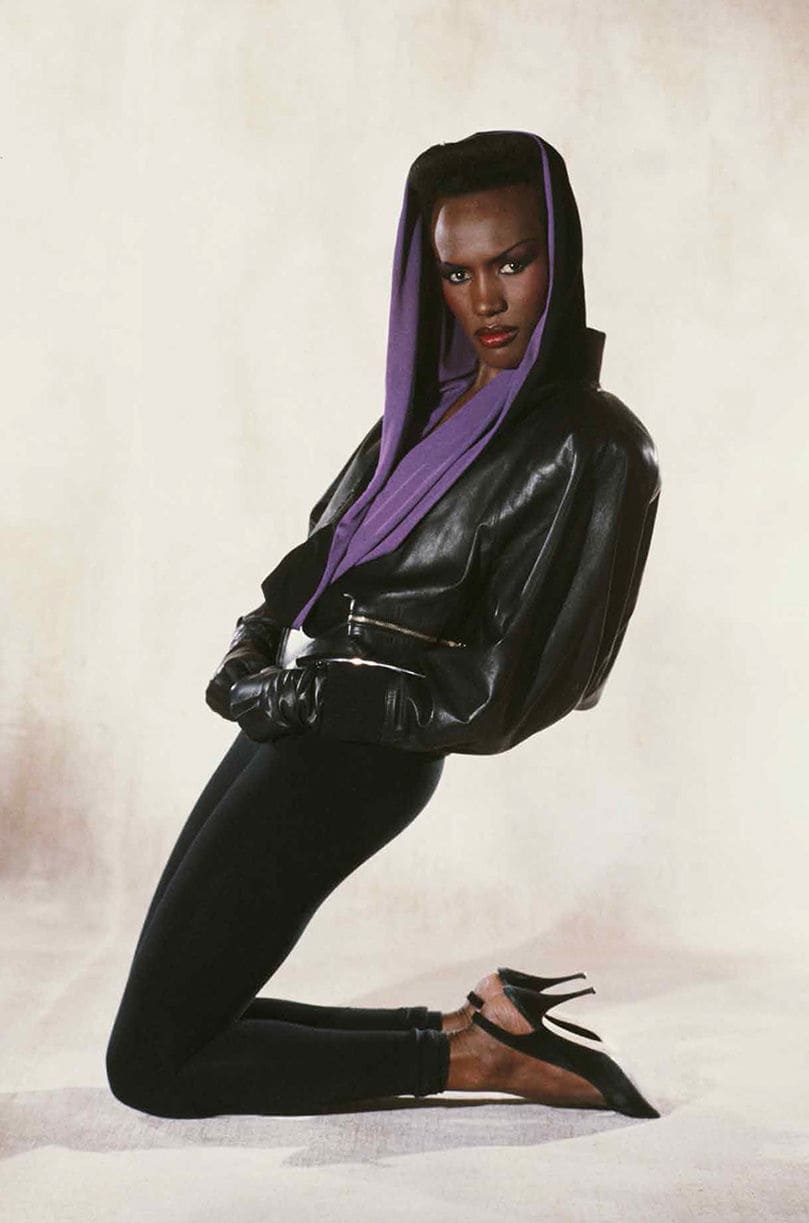 GRACE JONES wearing one of the COSTUMES CREATED FOR THE FILM "JAMES BOND: A VIEW TO A KILL" ph. DR.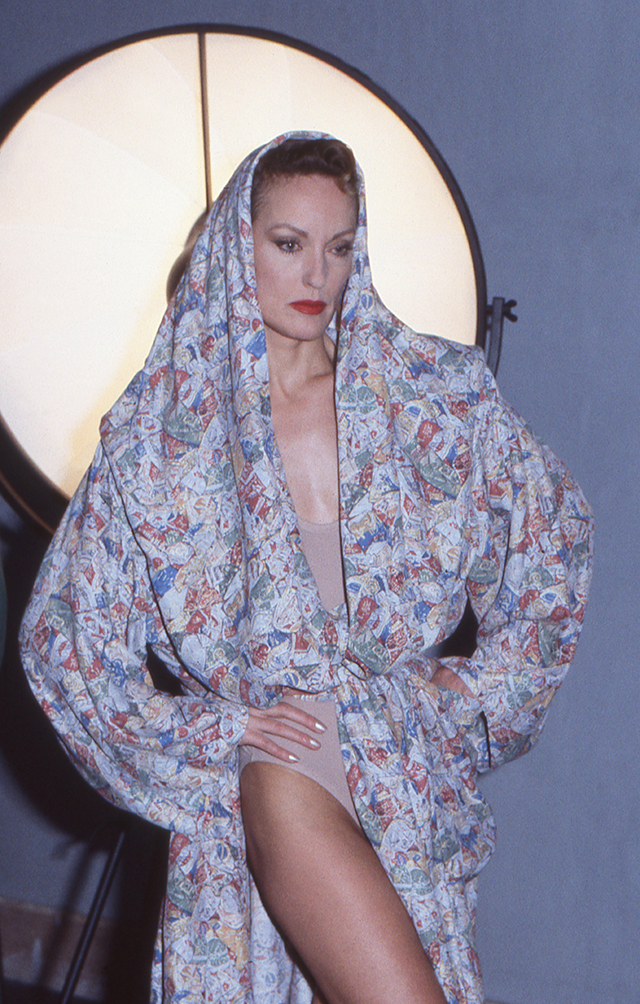 "impression compression" collection, collaboration between Azzedine alaïa and césar. model: zuleika ponsen, 1985. ph. jacques dubussy
1986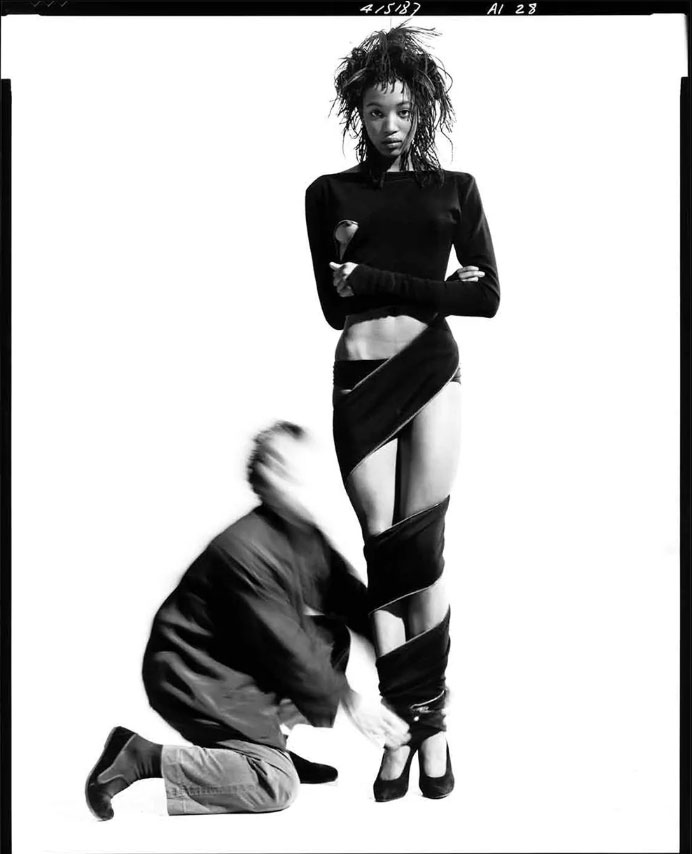 AZZEDINE ALAÏA and NAOMI CAMPBELL, NEW YORK, 1987. PHOTOGRAPHed by ARTHUR ELGORT.
Naomi Campbell makes her runway debut for Azzedine Alaïa.
Spring Summer 1986 collection includes tube dresses made with body-huggin jersey 'bandages', inspired by Egyptian mummies.
He becomes a close friend of Tina Turner and creates original stage outfits for her. He meets Sophie Hicks, a fashion journalist.
I'm proud of the fact that in my life I've managed to have friends, true friends. The rest, not yet.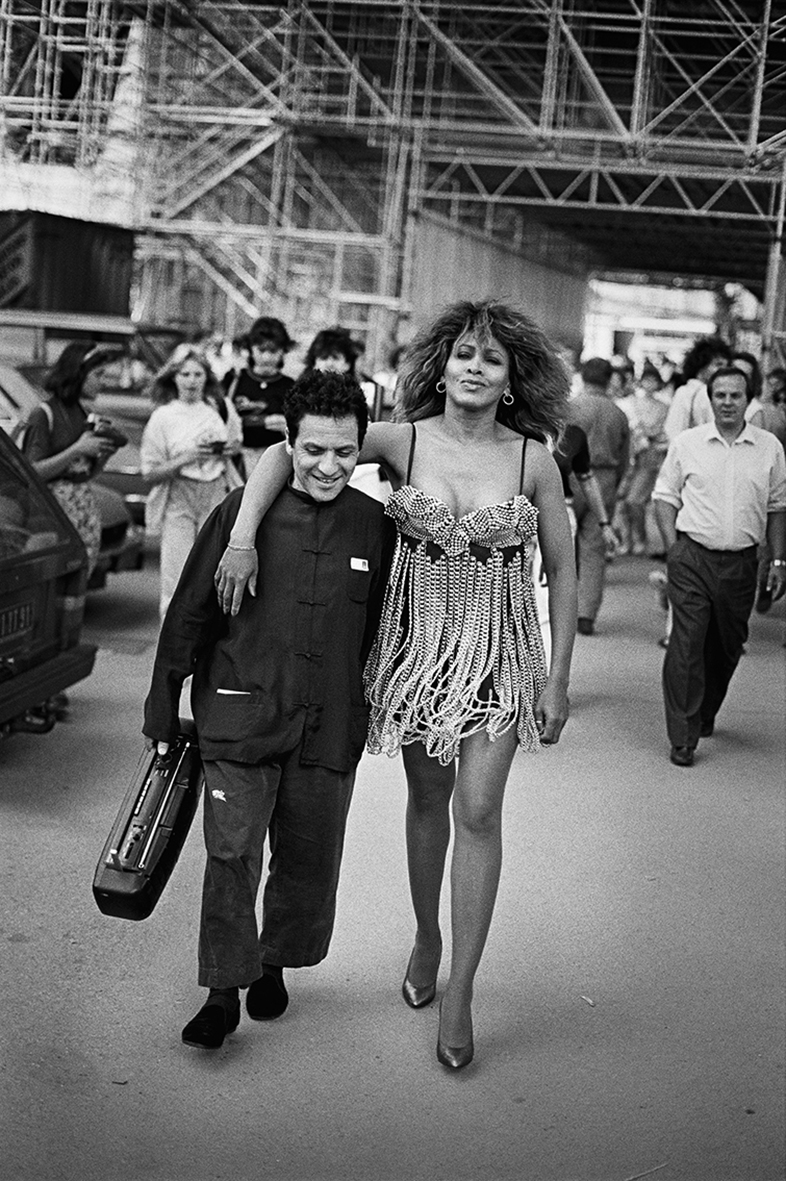 AZZEDINE ALAÏA and TINA TURNER, PHOTOGRAPHed by PETER LINDBERGH.
1987
I am not obsessed with possession: I am here, in this place, in this position, but I am only a passing occupant...
Azzedine Alaïa acquires a group of buildings datingback to the 19th century, situated at 18 Rue de la Verrerie in Le Marais neighbourhood of Paris.  which he restores, creating within it his home and workshop. He carries out restoration works before installing his private apartments, workspaces, and a boutique. He begins to hold his fashion shows in the great glass roofed hall.
He starts holding fashion shows here whilst the building is being restored.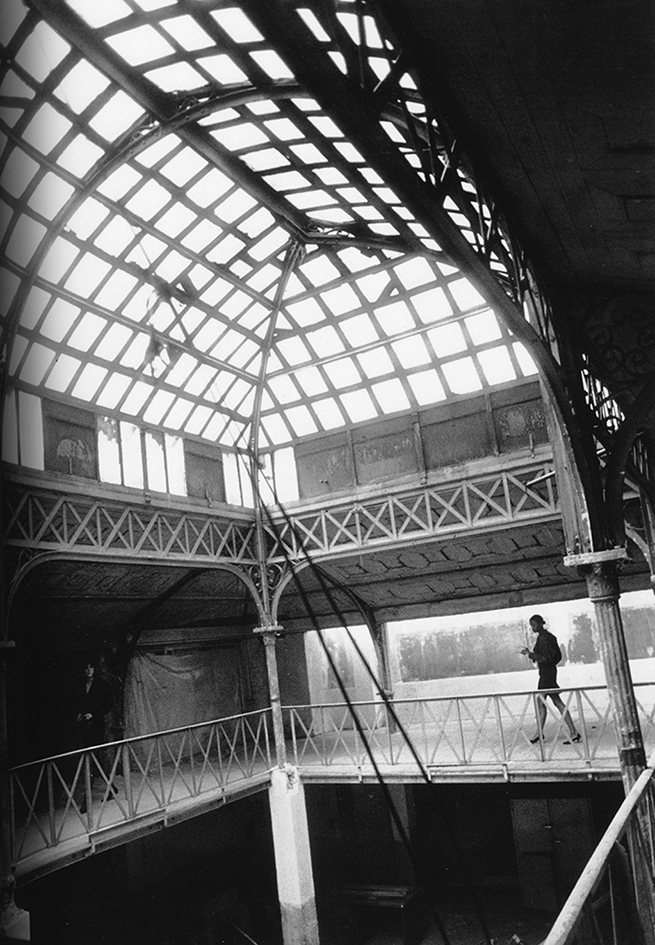 18 rue de la Verrerie Photographed by ARTHUR ELGORT
1988
Azzedine Alaïa and Julian Schnabel, in New York ph. DR.
The first Alaïa boutique in New York opens, with pieces designed by Schnabel. The clothes hang from sculpted bronze rails and a sculptural bronze table bears the letters "AA" like an altar.
The Spring-Summer 1988 collection is presented at rue de la Verrerie in May, two months after the fashion week shows. From then on, he decides to show only when he is ready, and exits the official fashion calendar.
He starts working with the stylist and fashion art director Joe McKenna who becomes a close friend.
Producing, producing, producing, showing collections and producing again is not my objective, I have neither the desire nor the teams to function like that... A stylist is not a creation machine.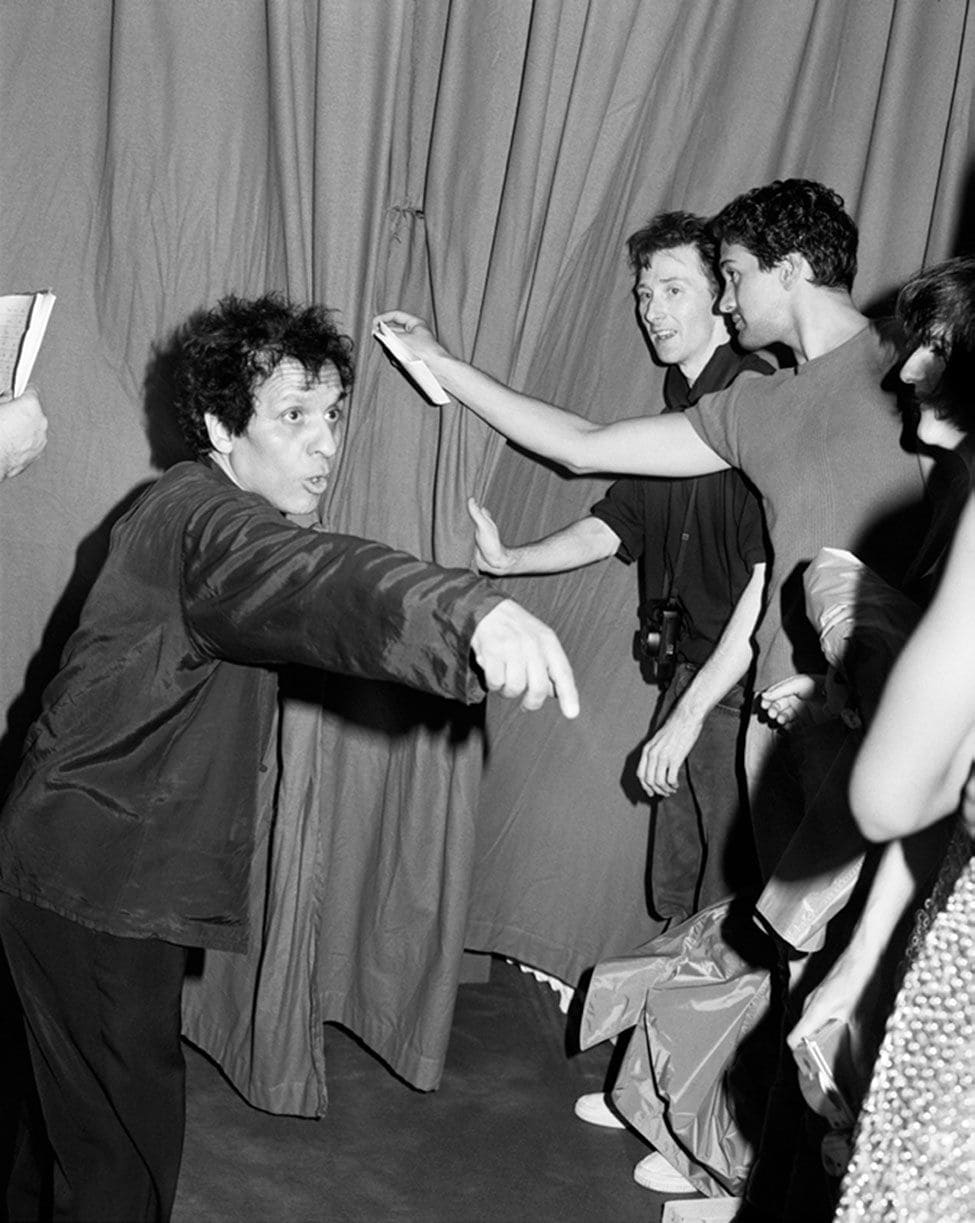 Azzedine Alaïa and Joe McKenna, photographed by Bruce Weber
The most famous models walk the runway for him: Naomi Campbell, Tatjana Patitz, Stephanie Seymour, Yasmin Le Bon, Christy Turlington, Farida Khelfa.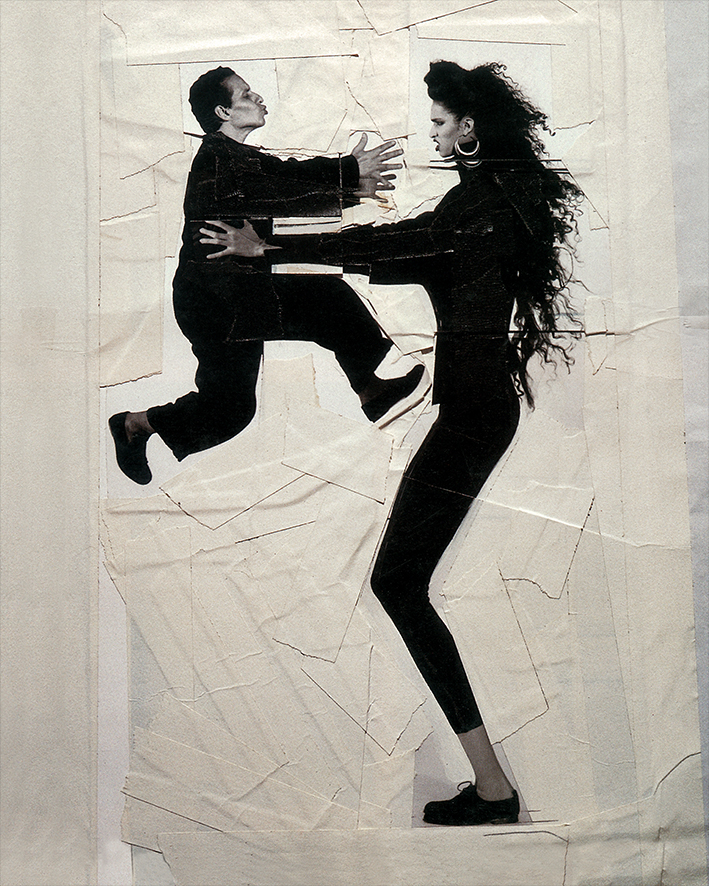 Azzedine Alaïa and Farida Khelfa, photographed by Jean-Paul Goude.
1989
In the French flag, I created the blue-white-red dress of this country that welcomed me so warmly.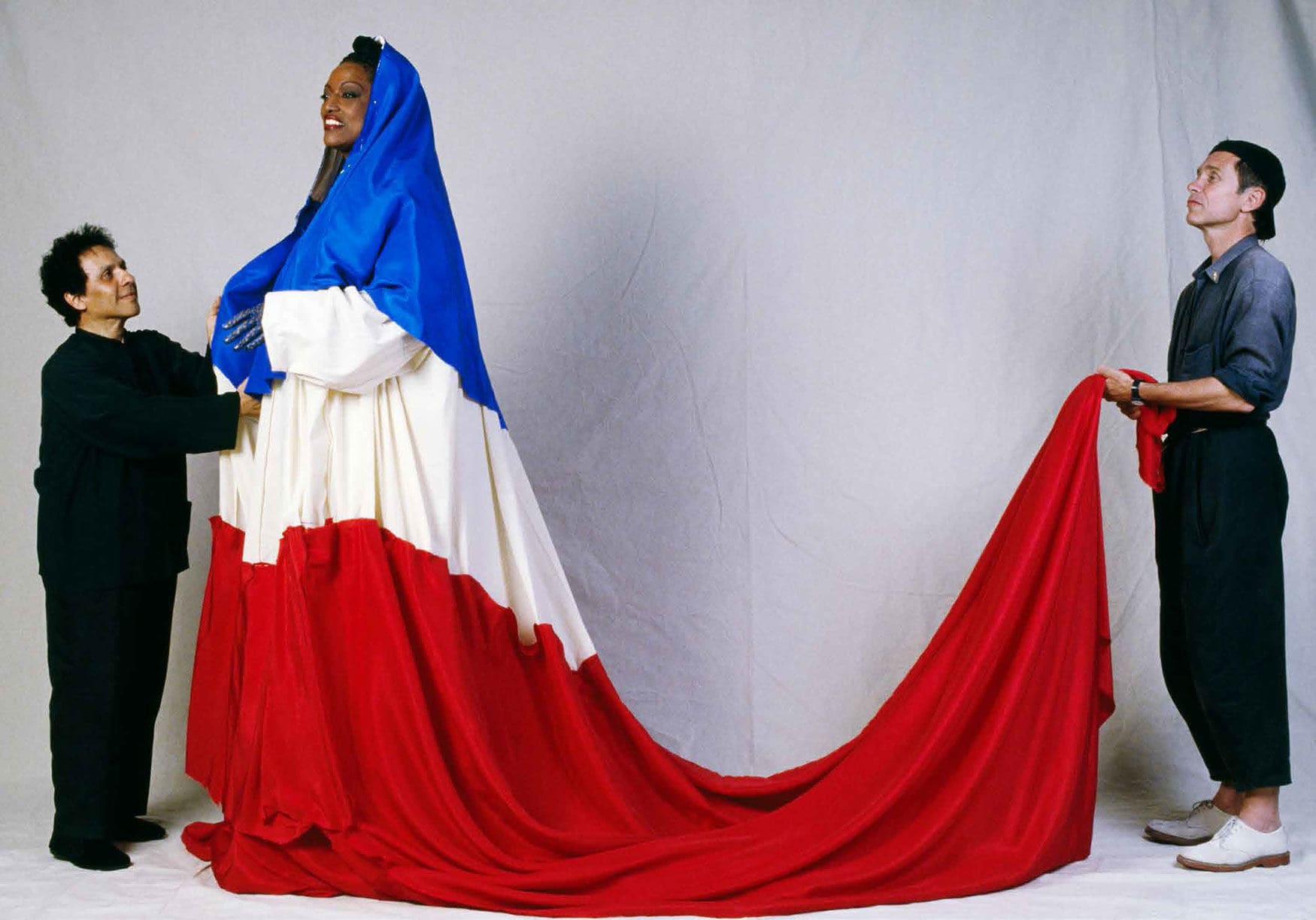 Azzedine Alaïa, Jessye Norman in the tri-colour robe and Jean-Paul Goude, 1989 ph. DR.
The year of the 200th anniversary of the French Revolution, the Minister of Culture Jack Lang entrusts Jean-Paul Goude with the direction of the 14th of July grand parade. Alaïa creates the gown of blue, white and red that Jessye Norman will wear to sing the Marseillaise national anthem at the Concorde square.
The same year, Azzedine Alaïa is granted French citizenship and the next year he moved in rue de Moussy.
1991
In 1991, Azzedine Alaïa once again calls on his friend, the painter and sculptor Julian Schnabel, to create the furniture and decor for the new Parisian store on rue de Moussy. Some elements of the decor, including this sculptural bronze table, were taken from the New York store, which closed the same year.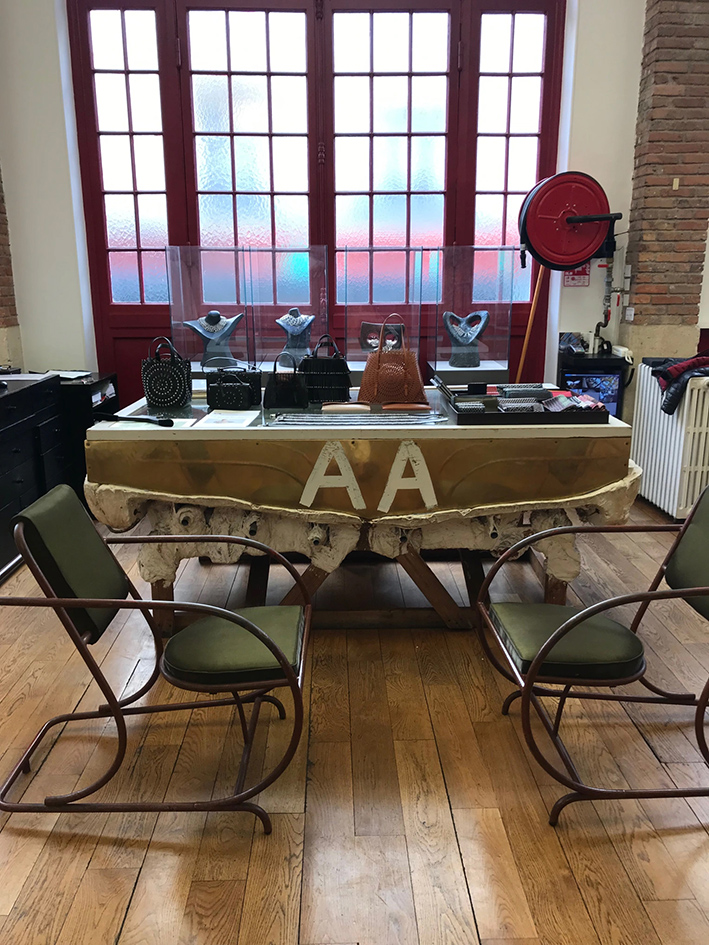 rue de moussy, table made by julian schnabel ph. DR.
Alaïa launches a collaboration with a chain of mass-market shops known for their very low prices, Tati. He takes inspiration from Tati's famous pink and white Vichy check motif to create a collection. He makes a bag, a T-shirt and a pair of espadrilles. It is the first time a couturier joins a mass-market brand in a collaboration.
I wanted Tati to remain Tati and not lose its spirit.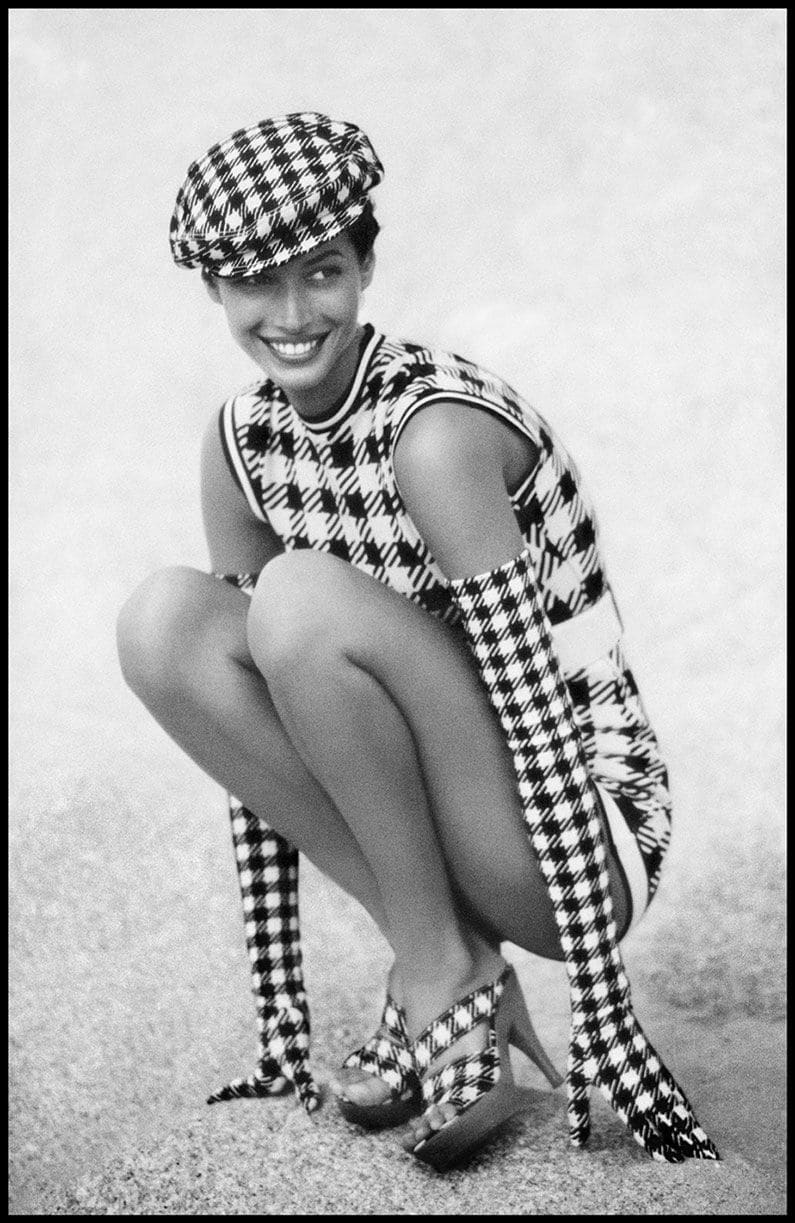 Christy Turlington collection Tati,1991. Ph. Patrick Demarchelier and Carlyne Cerf de Dudzeele
The Autumn/Winter 1991 collection is a homage to leopard print.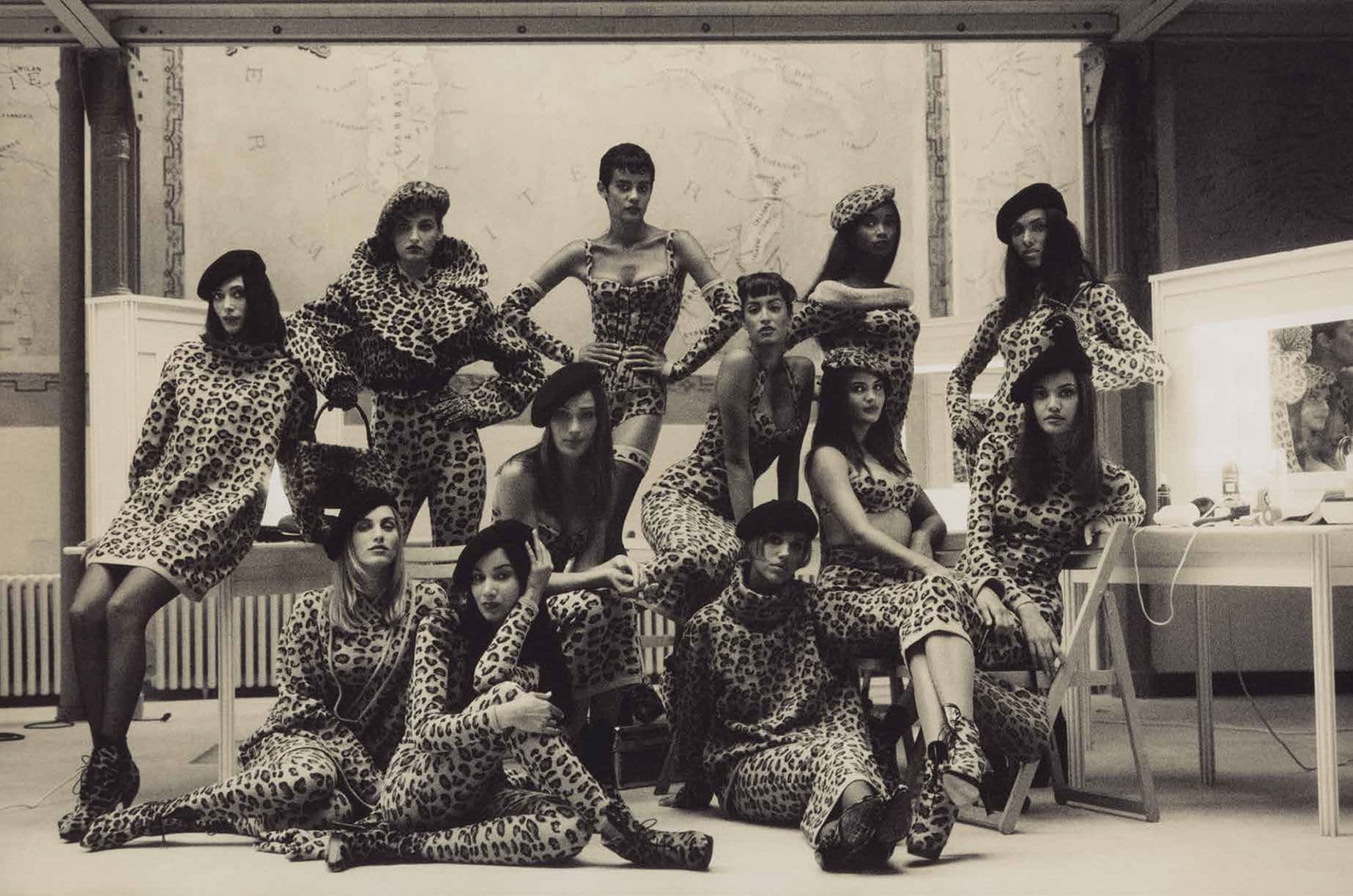 1991 Fall / winter Collection. Ph. Jean-Baptiste Mondino and Carlyne Cerf de Dudzeele
1992-1999
With corset belts, you stand up straight, you have to, you don't slouch. They highlight the waist, giving the attitude of a powerful woman.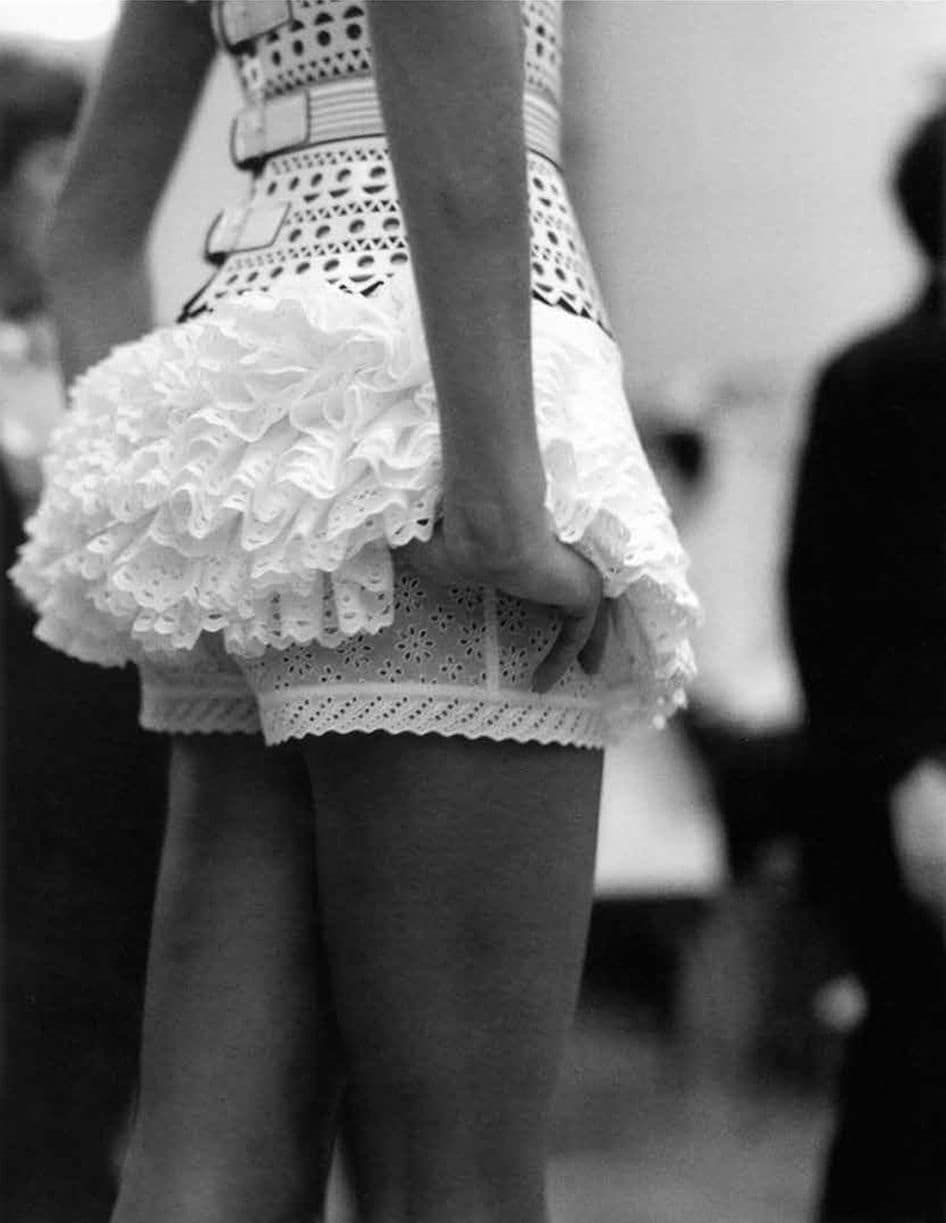 Spring / Summer 1992 collection. Ph. Prosper Assouline
The Spring-Summer 1992 collection is highlighted by the first book on the couturier's work, edited by Prosper Assouline.
Hafida, his beloved sister passes away. Azzedine Alaïa takes a step back from fashion for a time. Though the couturier is not presenting runway shows, he continues to create Couture clothes for a private clientele and sell ready-to-wear in a small number of boutiques. These were years of research and experimentation for the couturier.
Creates costumes for Carolyn Carlson's ballet "Vue d'ici, the View" presented at the Théâtre de la Ville in Paris. The "powder puff" dress is used in the ballet.
The dancers are always moving. They need to be comfortable, they need to flow.
In 1996, the Palazzo Corsini in Florence presents, under the artistic direction of Carla Sozzani, the first retrospective of Azzedine Alaïa's work.
On the occasion of the Biennale of Fashion and Art in Florence, a dress of Azzedine Alaïa is shown with the paintings by Julian Schnabel.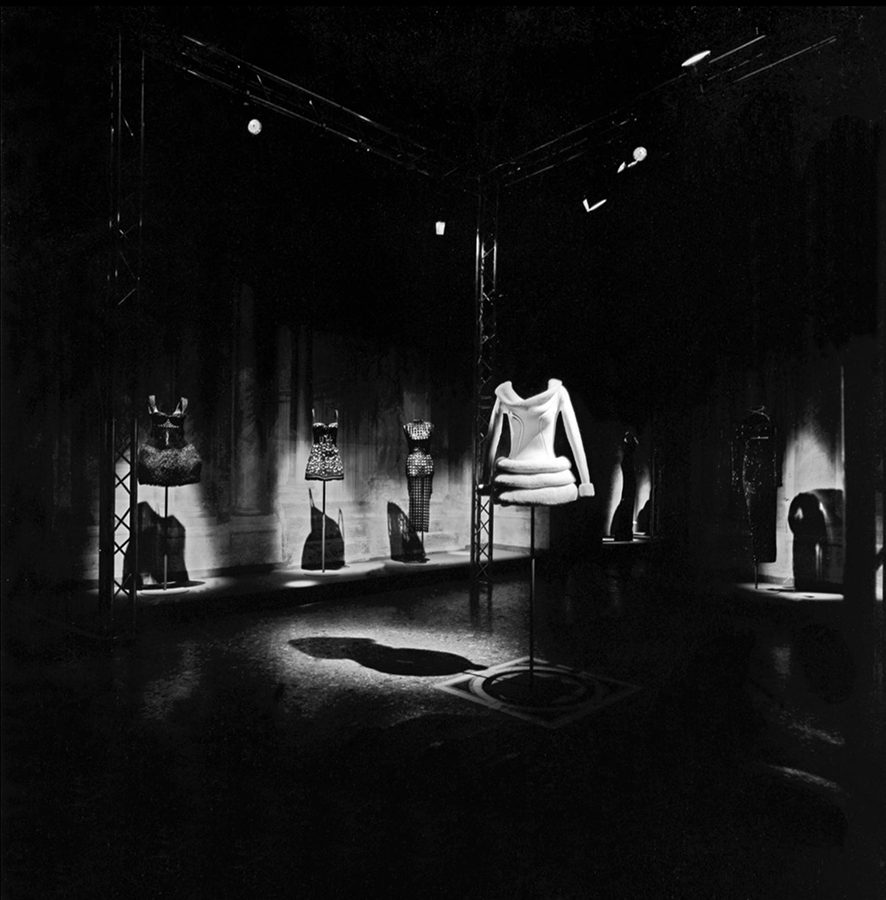 PALAZZO CORSINI, FLORENCE 1996. ph. ilvio gallo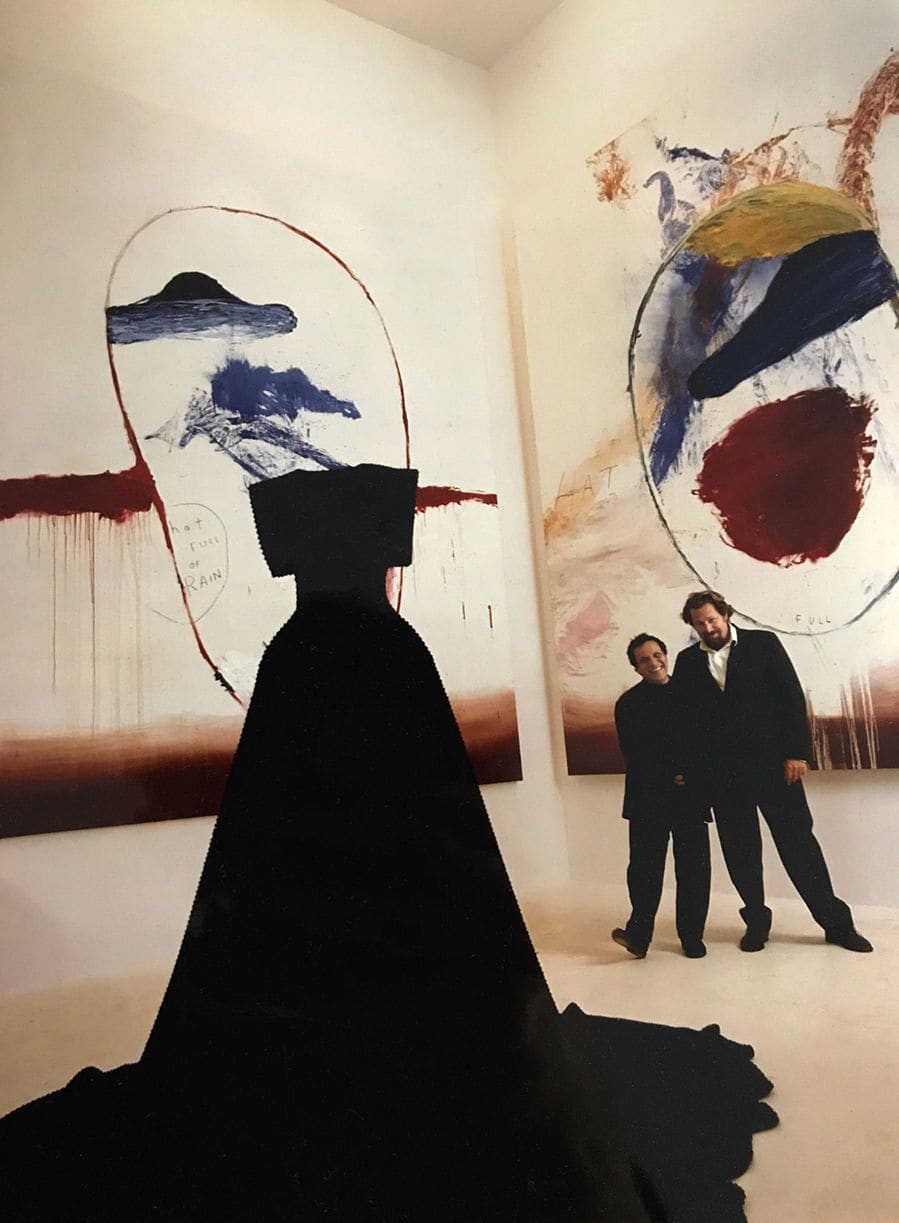 AZZEDINE ALAÏA and JULIAN SCHNABEL at Biennale of Fashion and Art in Florence, 1996. ph. DR.
In 1997 follows another exhibition at the Groninger Museum, under the artistic direction of Mark Wilson, who presents Alaïa's designs alongside works by Basquiat, César, Pablo Picasso, Julian Schnabel and Andy Warhol.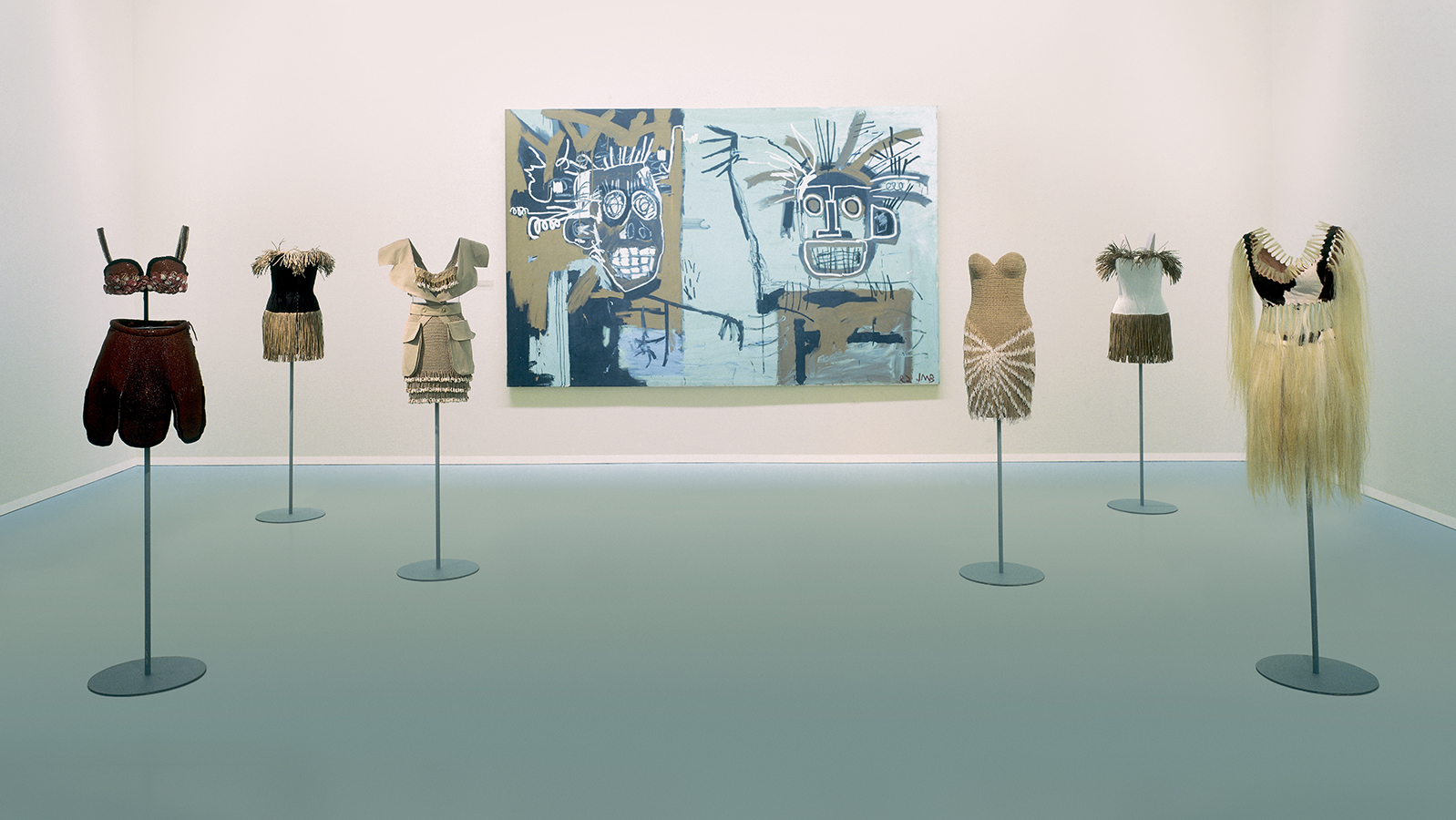 exhibition At GRONINGER MUSEUM, painting of Jean-Michel Basquiat, 1982. ph. Peter Tahl
Publication of his book of images taken by his famous photographer friends: Peter Lindbergh, Helmut Newton, Paolo Roversi and Bruce Weber. Michel Tournier provides the text, Julian Schnabel paints the A of the cover.
In 1999, Carla Sozzani supports him in the relaunch of his Maison, with the financial support of Giuliano Coppini, owner of Lineapiù, with whom in the years he had developed the most revolutionary yarns.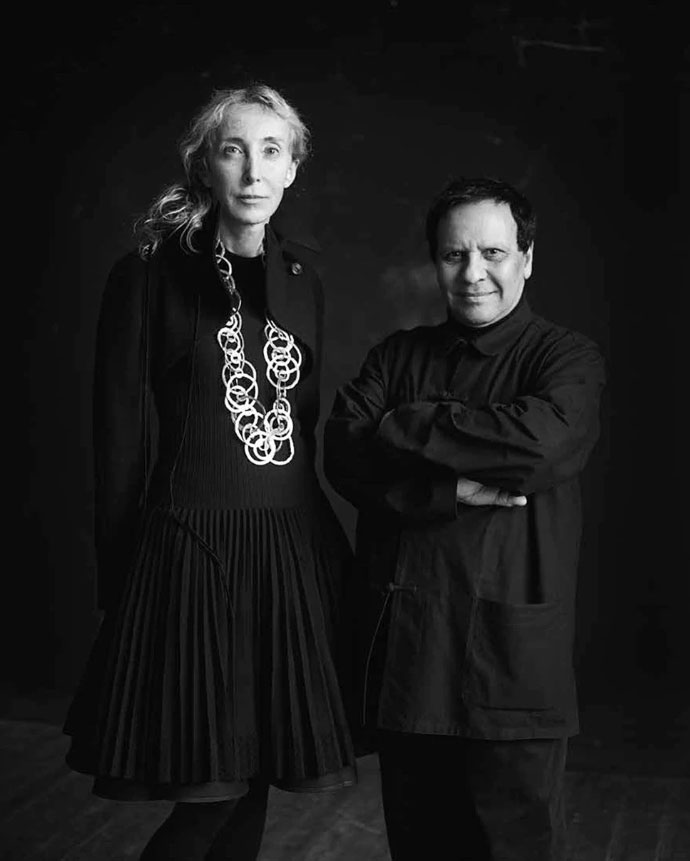 carla sozzani and azzedine alaïa ph. Paolo Roversi
Azzedine Alaïa is named Honorary President of the Institut Mode Méditerranée, at the invitation of Maryline Vigouroux. He collaborates with Olivier Saillard, director of the Fashion Museum of the city of Marseille.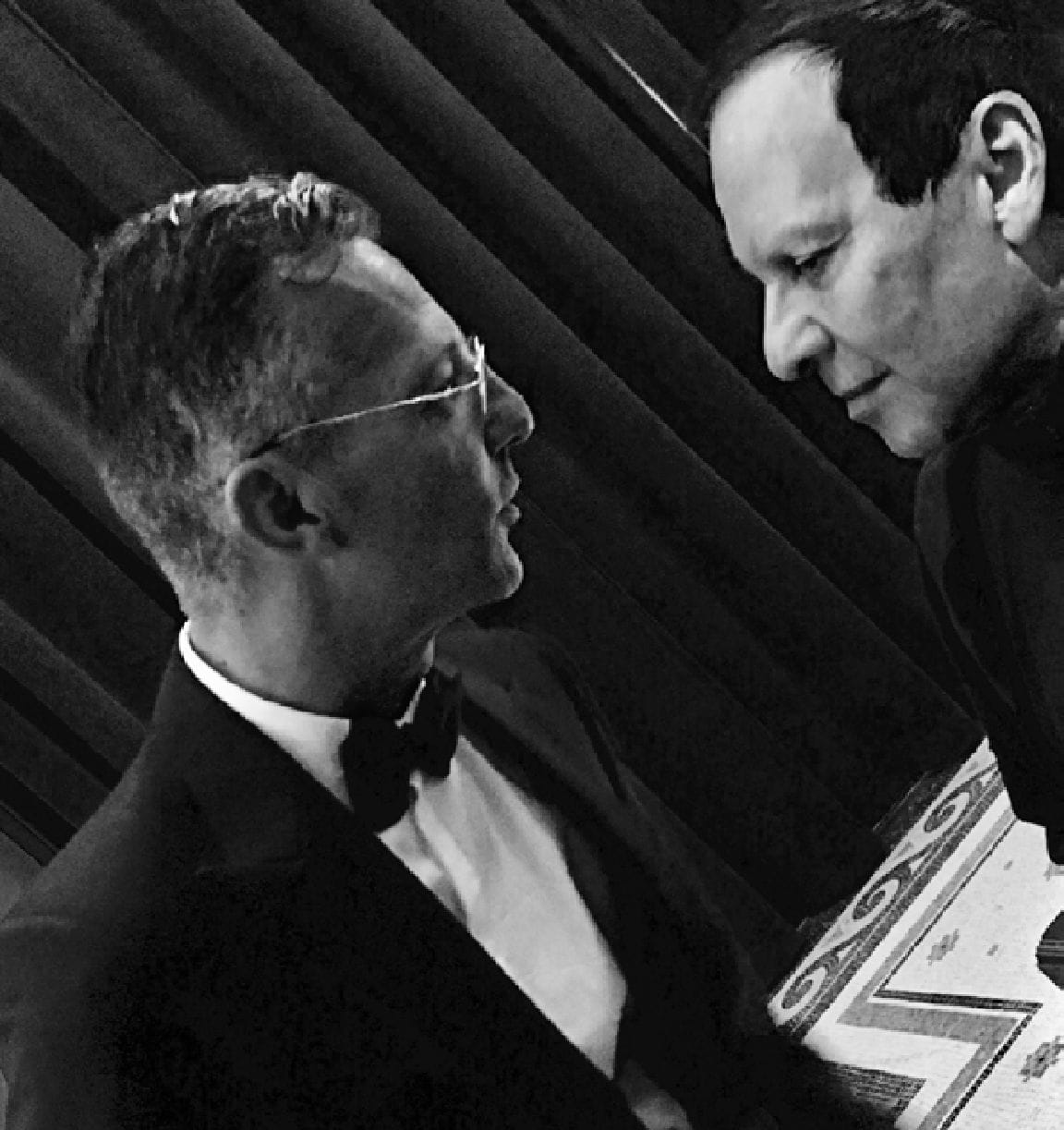 OLIVIER SAILLARD and AZZEDINE ALAÏA ph. fondation azzedine alaïa
2000-2002
Carla Sozzani introduces him to the Prada group who invests in Maison Alaïa.
Alaïa exhibits his work at the Guggenheim, Downtown New York, in dialogue with the series of paintings "Last Supper" by Andy Warhol, under the artistic direction of Mark Wilson.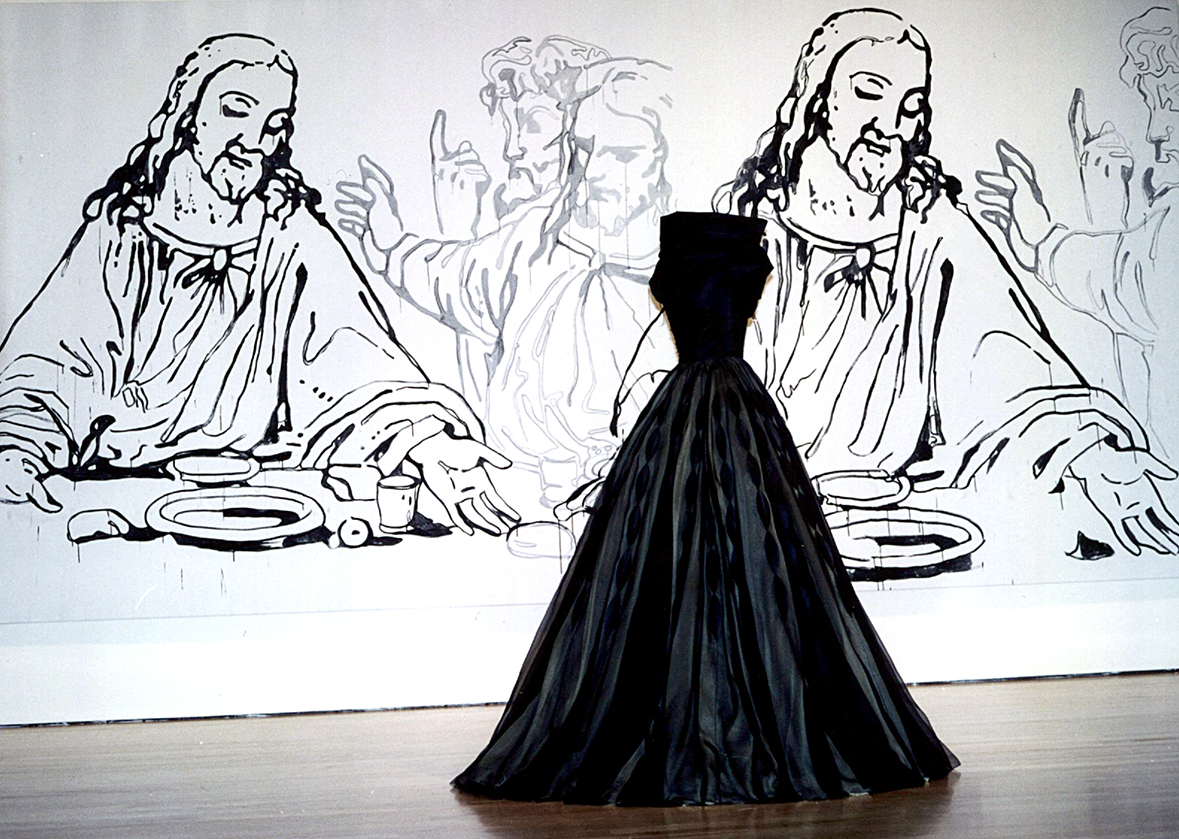 EXPOSITION AU GUGGENHEIM, DOWNTOWN NEW YORK, TABLEAU DE ANDY WARHOL, 2000. ph. DR.
Alaïa returns to runway presentations, with the Summer/Winter collection 2002, shown in his boutique at 7 rue de Moussy.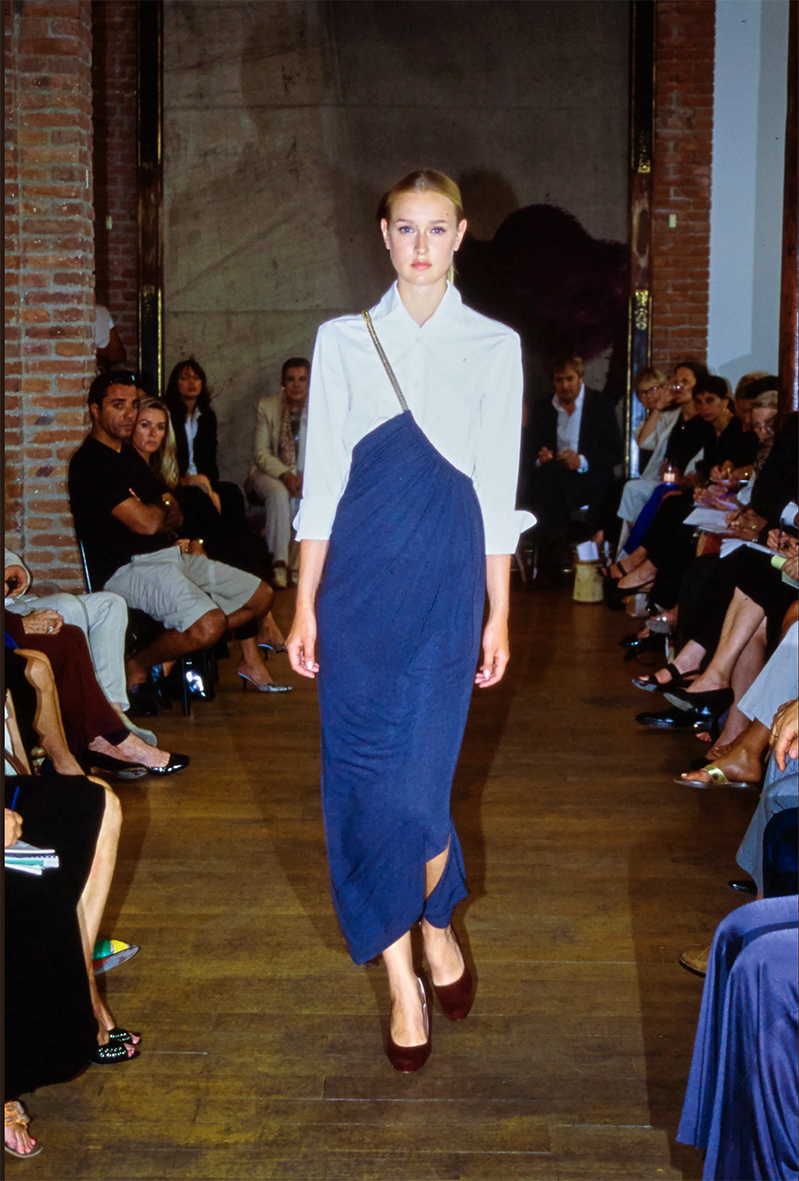 Summer-Winter collection 2002
2003
Something has to happen with a garment, it has to trigger something.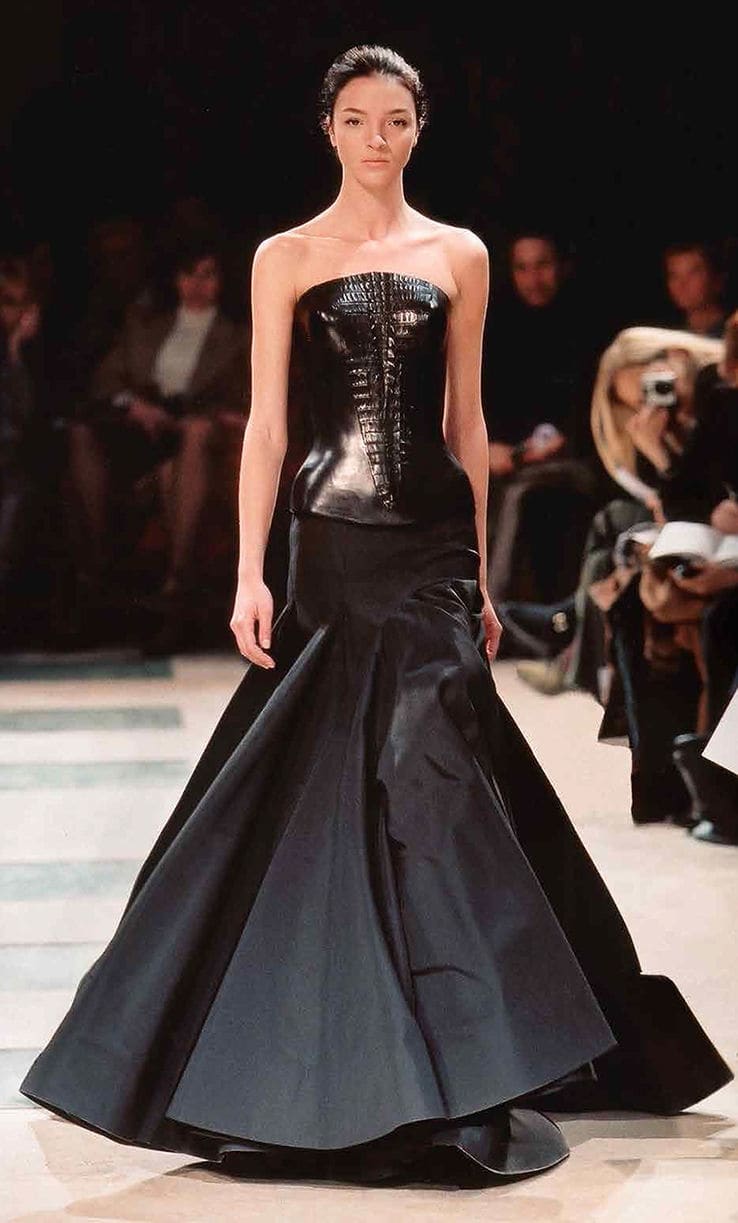 The 2003 haute couture collection ph. DR.
He presents his first exclusively Haute Couture runway show, revisiting the most iconic pieces of his body of work in fashion.
2004
It is important not to restrict yourself to fashion.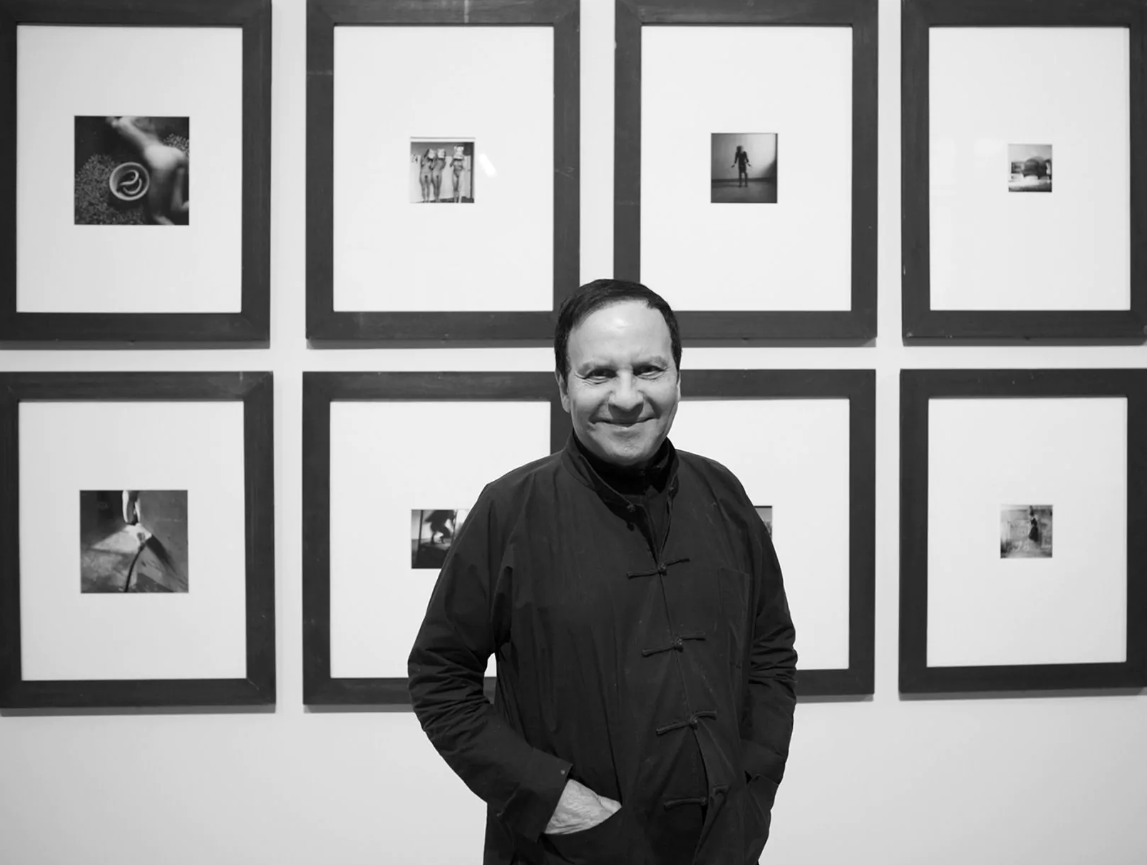 Azzedine Alaïa in his gallery Ph. Sylvie Delpech
He starts Galerie Azzedine Alaïa at 18 rue de la Verrerie. Opening his Maison to exhibit artists in the fields of art, fashion, design, photography and literature: World Press Photo, Paul Poiret, Shiro Kuramata, Pierre Paulin, Schiaparelli, Memphis Blues, Andrea Branzi, Sottsass, Bettina, Adonis, Kris Ruhs, Jean Nouvel and Claude Parent, Pierre Guyotat, Luigi Serafini, Between Art and Fashion, the Carla Sozzani collection, Pascalejandro, Richard Wentworth.
2006
He creates furniture like sculpture.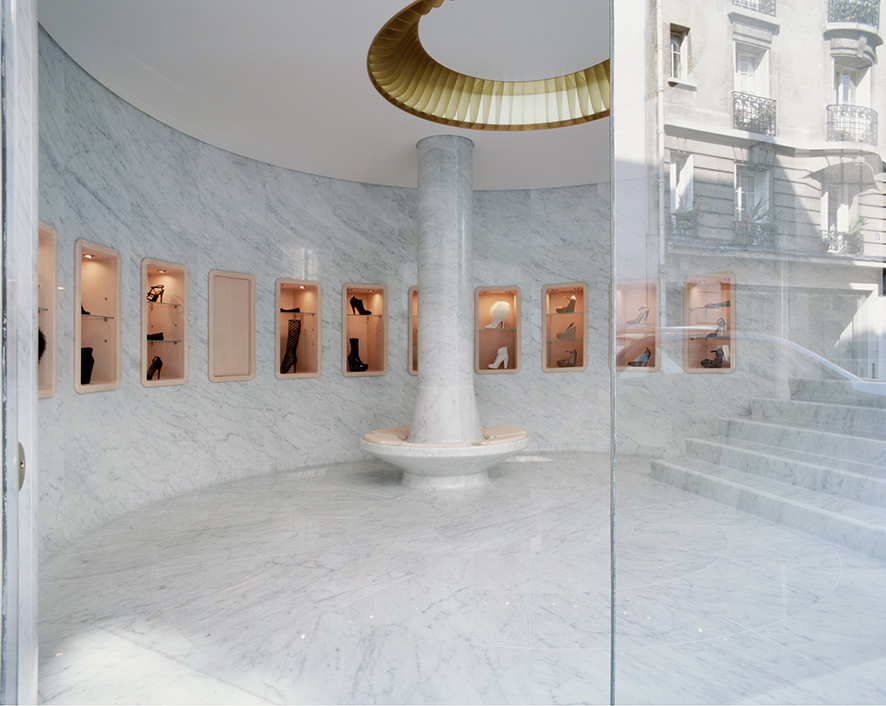 store designed by marc newson ph. DR
Marc Newson is asked by his friend Azzedine Alaïa to design the shoe extension to his Parisian store. The designer creates a circular space with a glass facade overlooking the street: the minimal space is features only two principal materials.
2007
You have to leave a lasting trace of your life.
Azzedine Alaia buys back his company from the Prada Group. Carla Sozzani introduces him to the Richemont Group. The company and later the brand become part of the Group.
Azzedine Alaïa founds with Christoph von Weyhe and Carla Sozzani the Azzedine Alaïa Association with the aim of preserving his collection of fashion, design and art. He choses as a logo the A with the two dots by Julian Schnabel.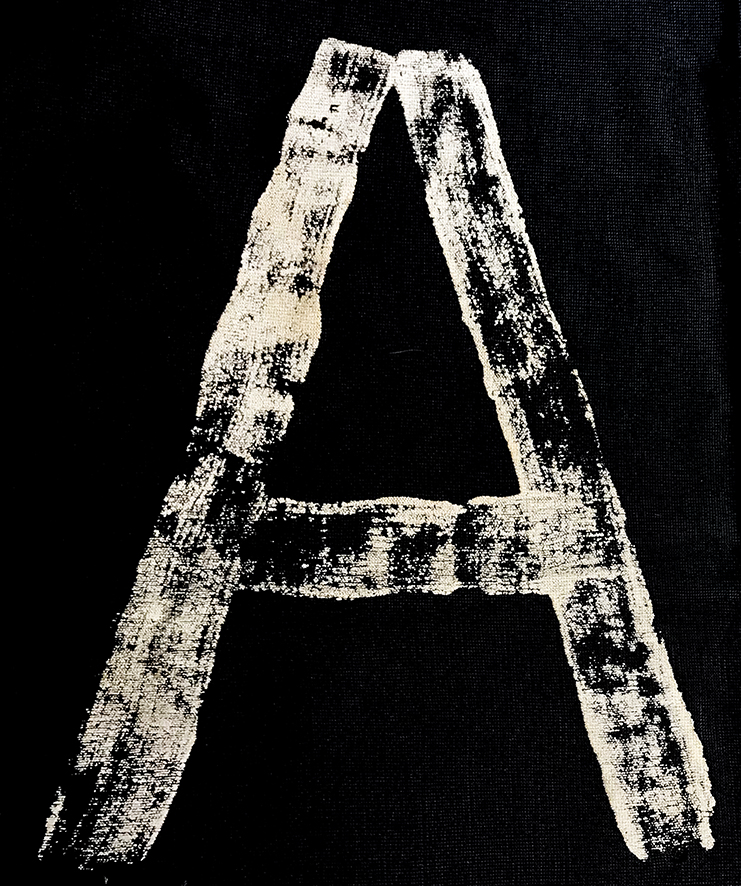 A logo of l'association azzedine alaïa painted by julian schnabel, 1996
2011-2013
Under the direction of his friend Marc Wilson, an exhibition entitled "Azzedine Alaïa in the 21st Century"
is presented at the Groninger Museum in December 2011 then at the Kunstpalast in Düsseldorf in 2013.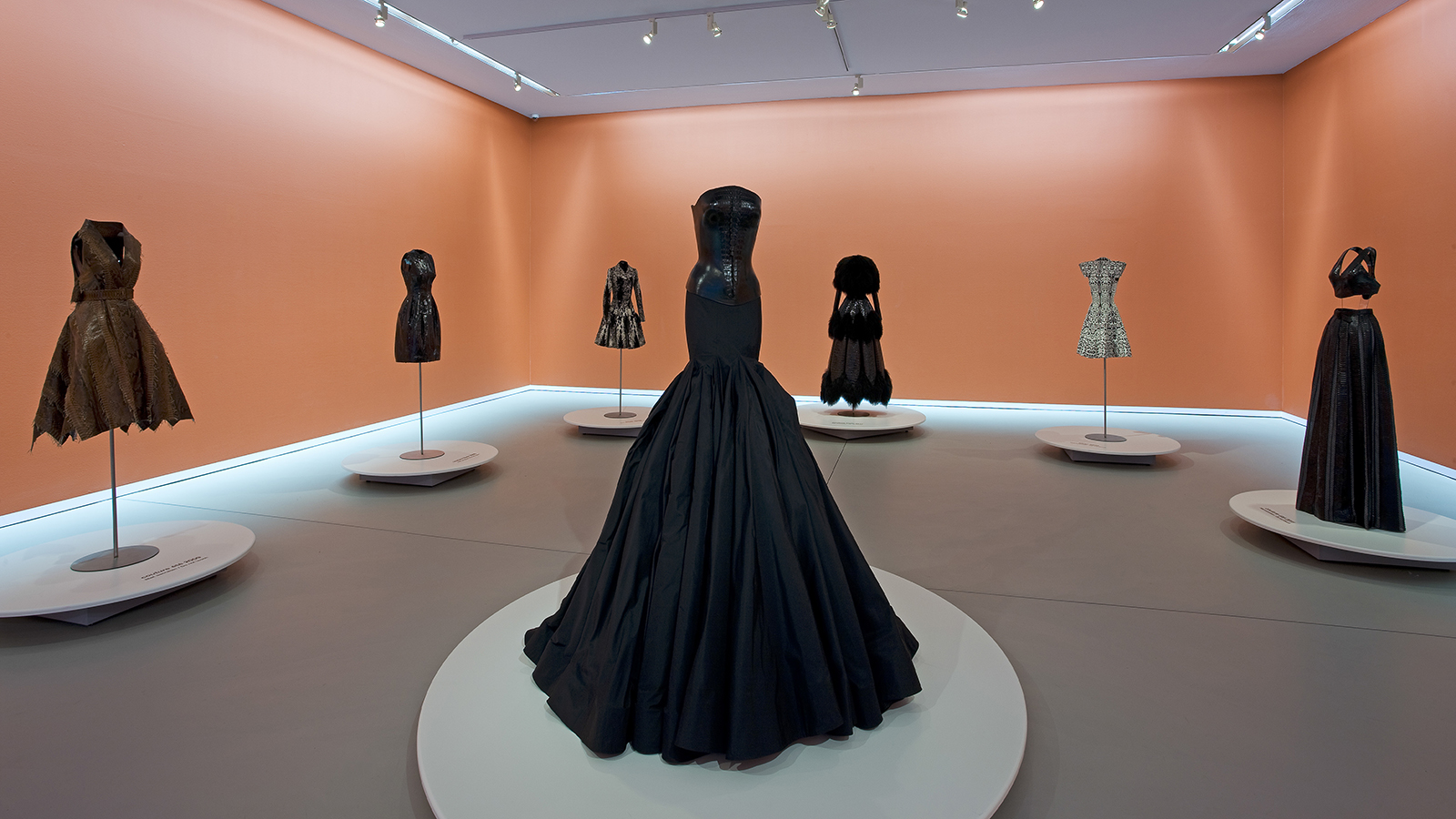 Exhibition « Azzedine Alaïa au 21ème siècle » at Groninger Museum, 2011. Ph. Robert Kot
In July of 2011 he presents his second exclusively Haute Couture runway show, which receives a standing ovation from the public.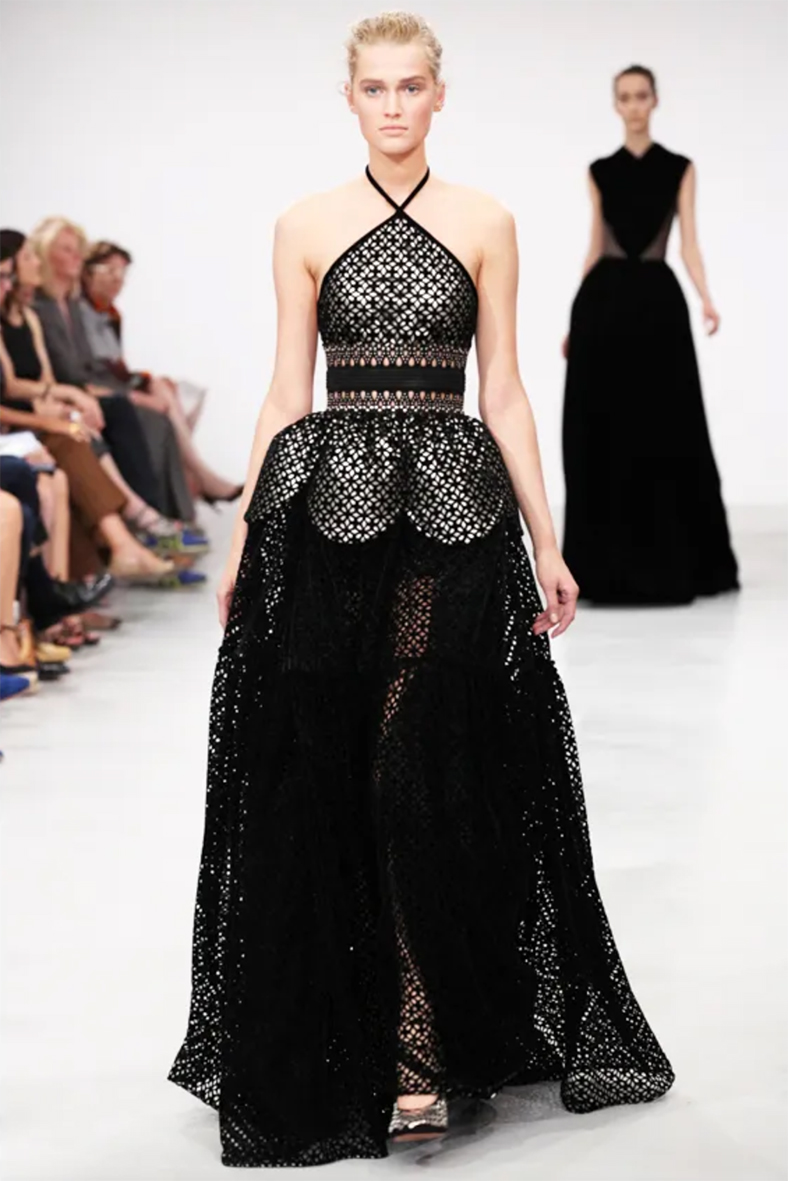 Collection Haute Couture 2011. Ph. Ilvio Gallo
In 2013, Alaïa creates the costumes for Mozart's opera "The Marriage of Figaro", directed by Christopher Alden with the Los Angeles Philharmonic and set design by Jean Nouvel.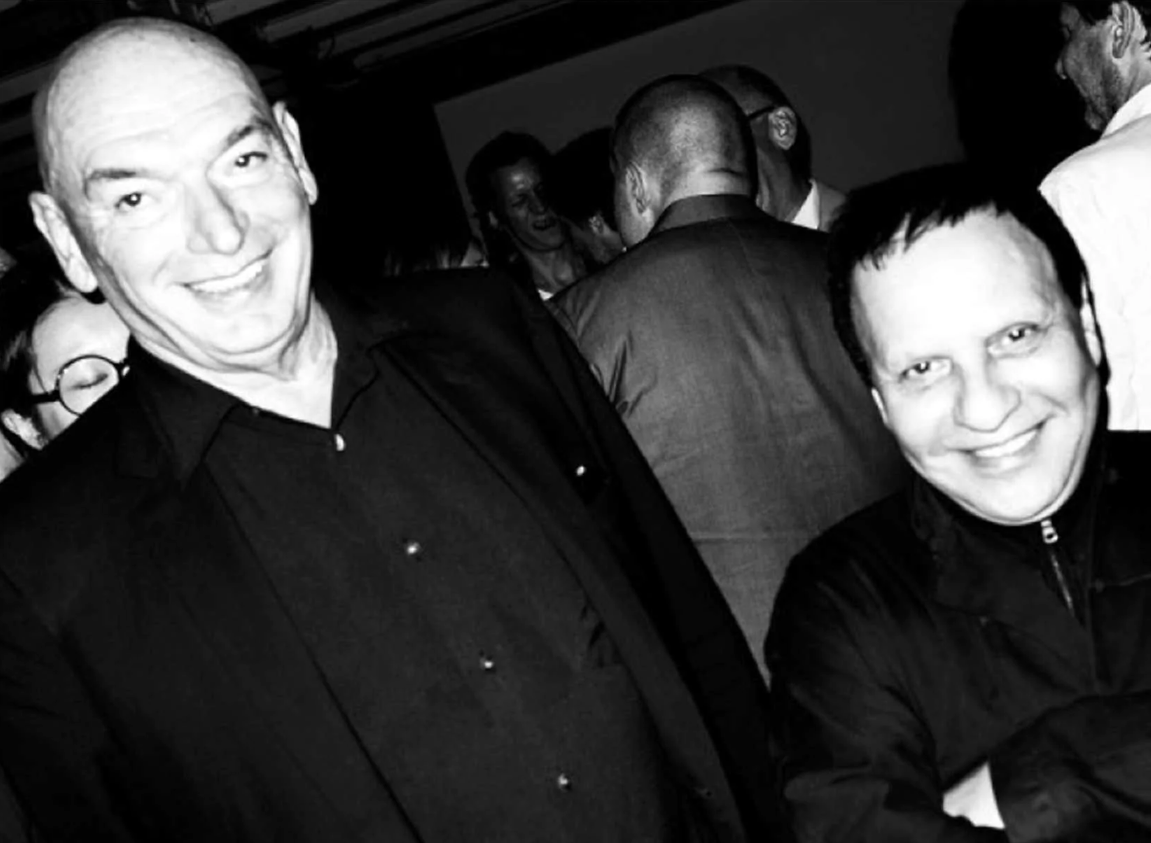 Azzedine Alaïa and Jean Nouvel, Paris 2013
Following a number of years of closure and a complete renovation, Palais Galliera, the Museum
of Fashion of the city of Paris, presents the first retrospective in Paris of Alaïa's work, under the artistic direction of Olivier Saillard. This exhibition is a real success with nearly 130.000 visitors.
Simultaneously, the Museum of Modern Art exhibits iconic pieces by the couturier in the "Matisse Room".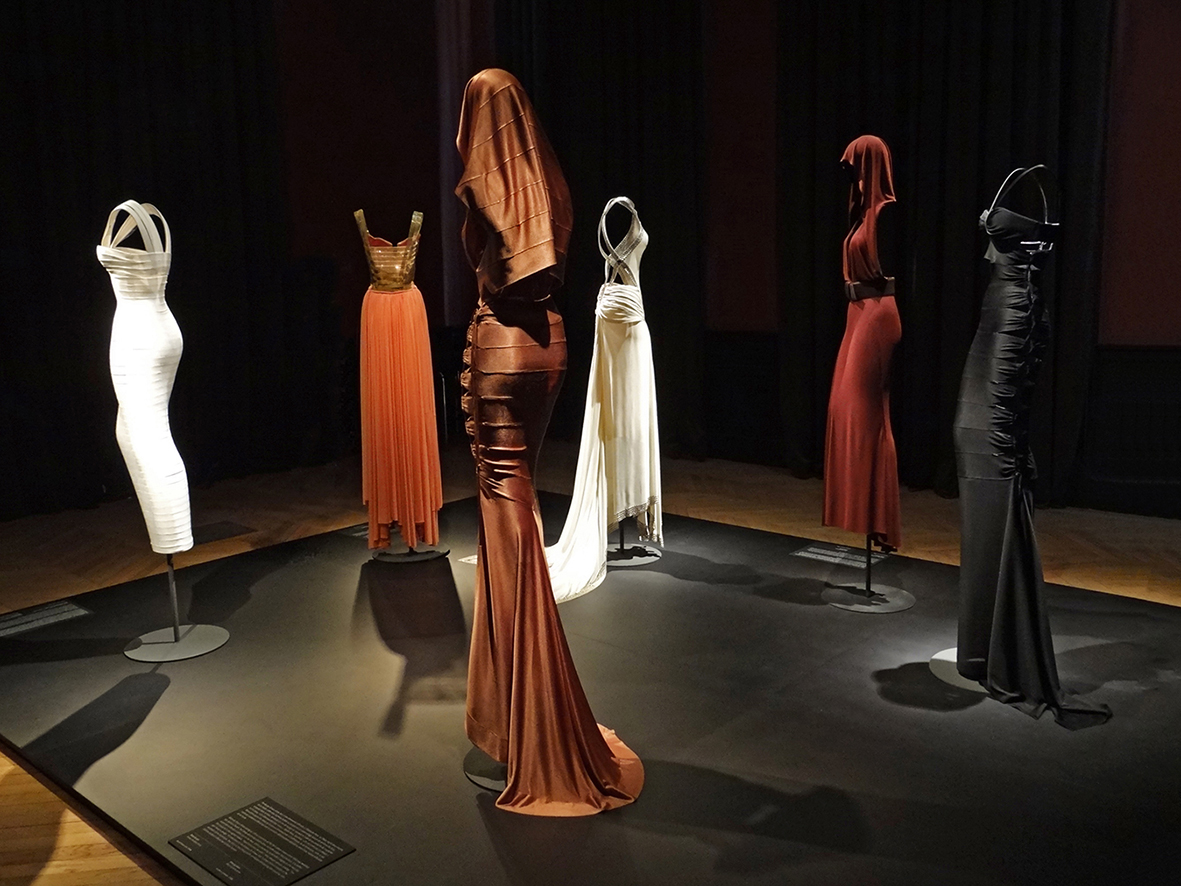 Palais Galliera, Museum of fashion of the city of Paris, 2013. Ph. Ilvio Gallo
The Museum of Modern Art is also providing me with the Matisse room at the same time as the Galliera exhibition. I think this is the first time they have shown fashion there.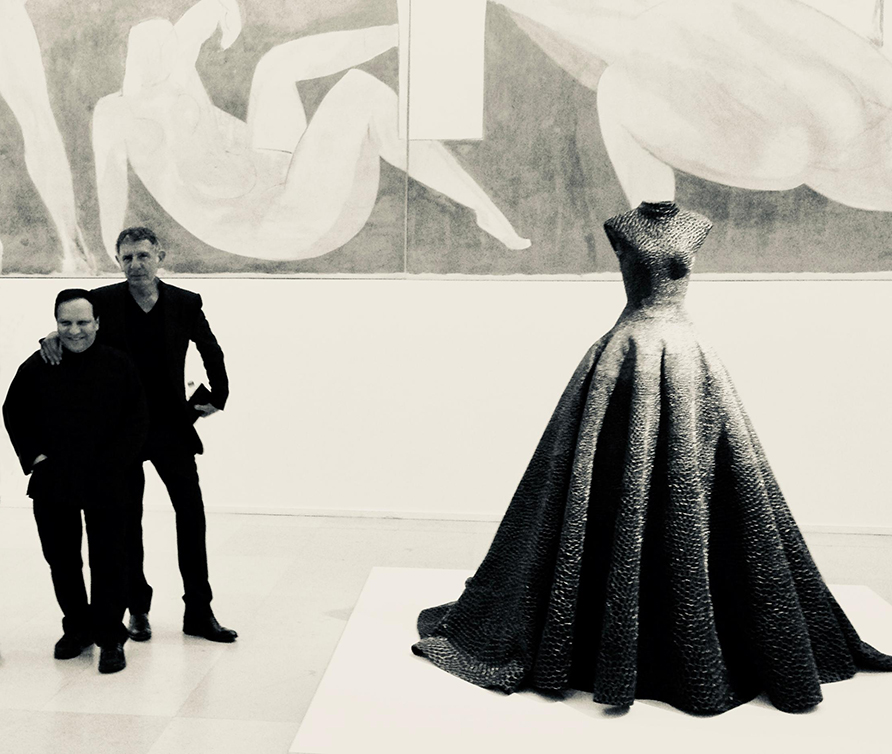 Azzedine Alaïa, Jean-Louis Froment, Musée d'Art Moderne « Salle Matisse », 2013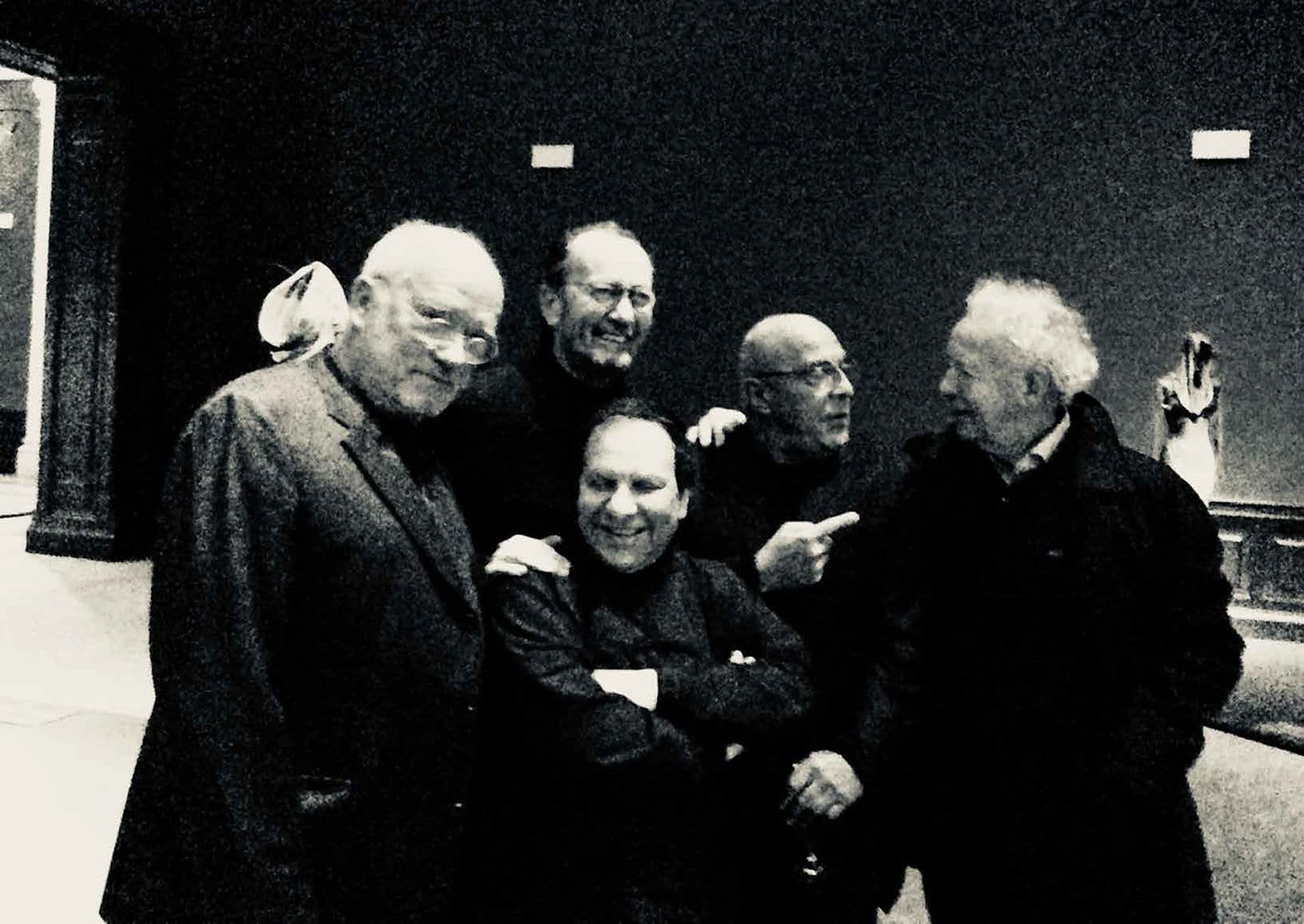 Peter Lindbergh, Paolo Roversi, Azzedine Alaïa, Jean-Baptiste Mondino, Gilles Bensimon, at the Galliera, Paris 2013
The same year, the couturier's new store opens its doors on rue de Marignan, a few steps from avenue Montaigne. Decorated by artists and great names in design. Amongst the works included are serpentine sofas and 'cathedral' tables by Pierre Paulin, a chandelier the length of the three floors by Kris Ruhs, shelves by Martin Szekely.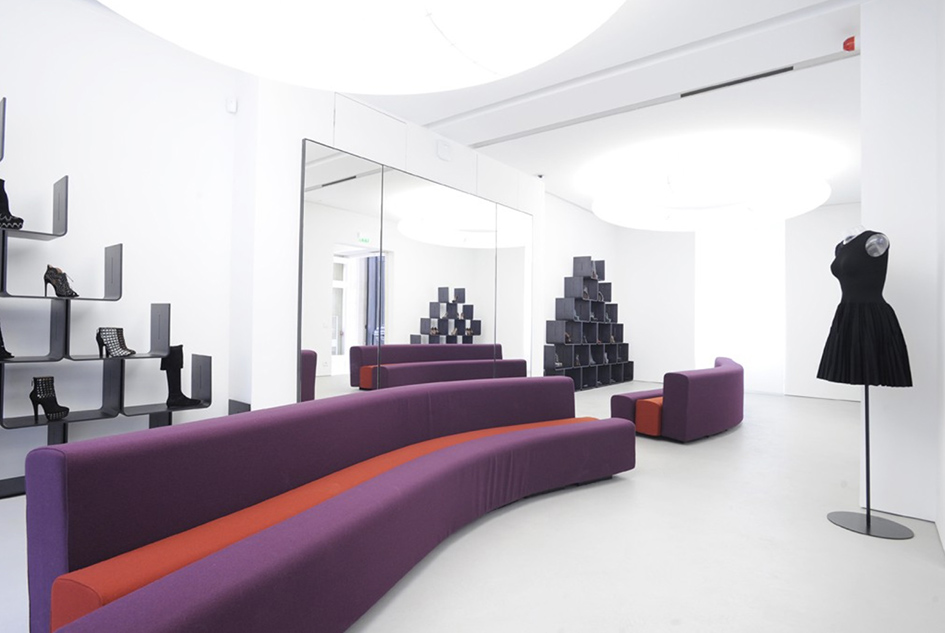 Alaïa Store, rue de Marignan ph. Dominique Maitre
2015-2017
The exhibition "Couture/Sculpture" is presented in Rome at the Galleria Borghese, under the direction of
Anna Coliva and the artistic direction of Mark Wilson.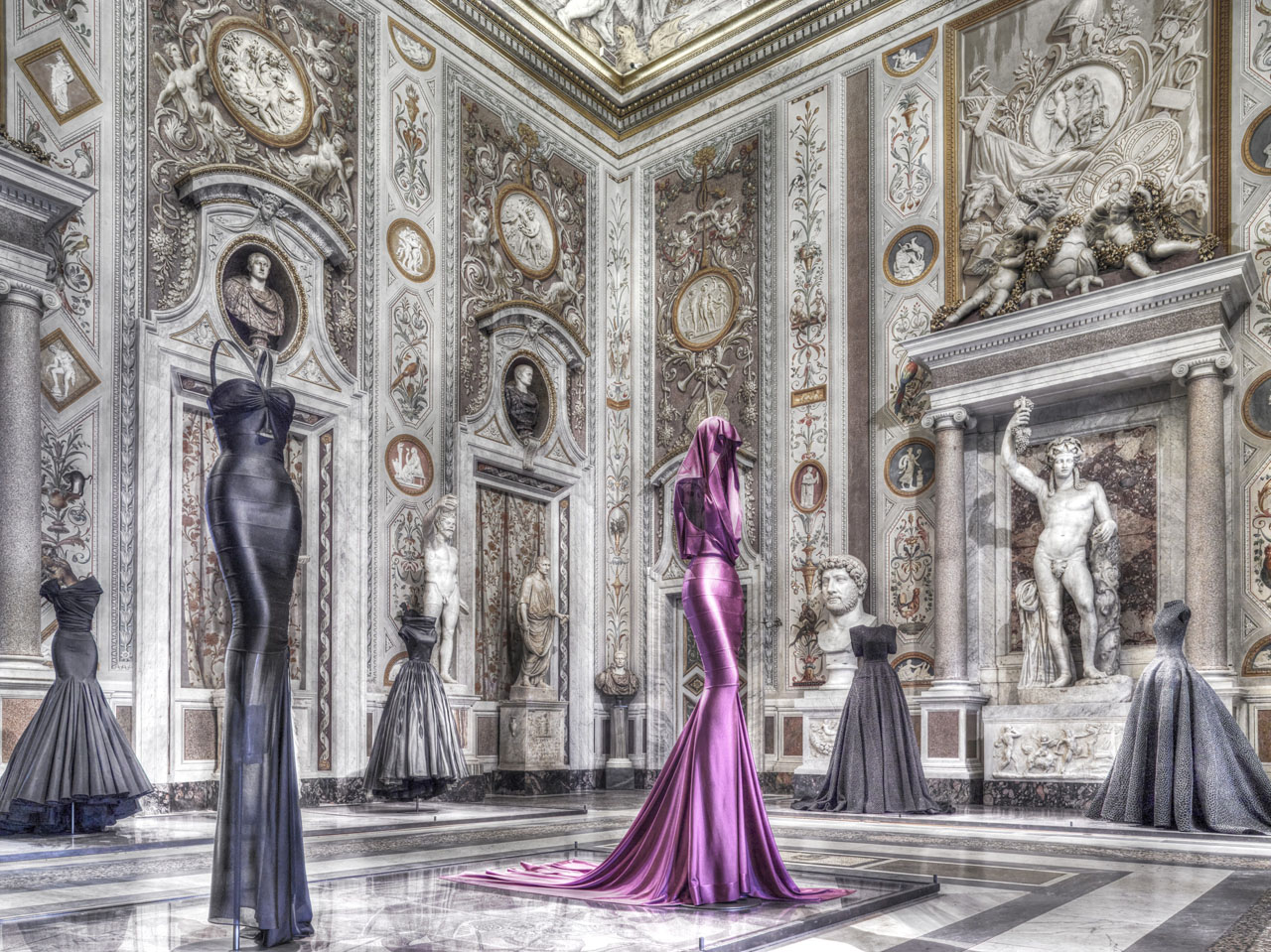 Galleria Borghese, Rome 2015. PH. ANDREA&VALENTINA
Joe McKenna makes a documentary film about the life and work of Azzedine Alaïa.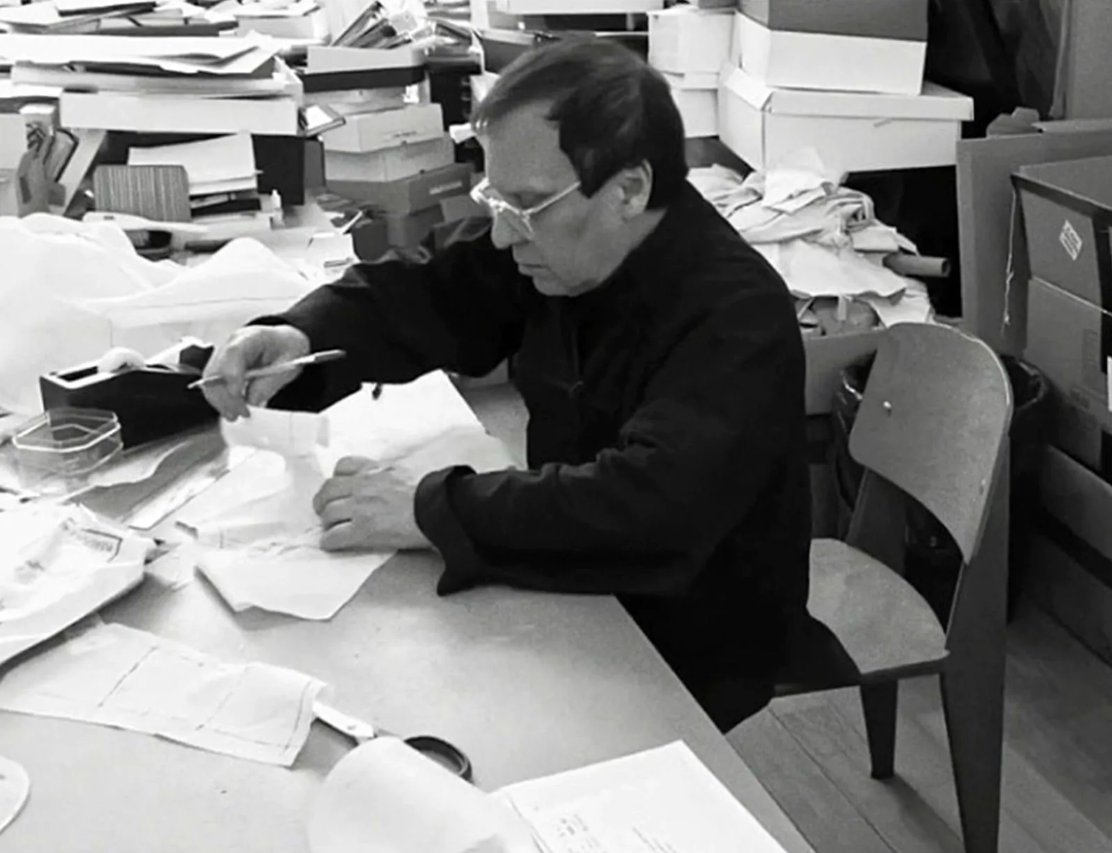 Azzedine Alaïa in his atelier, Paris, 2016
In July, Alaïa presents his third exclusively Haute Couture runway show, the Winter 2017 collection. Naomi Campbell opens and closes the show.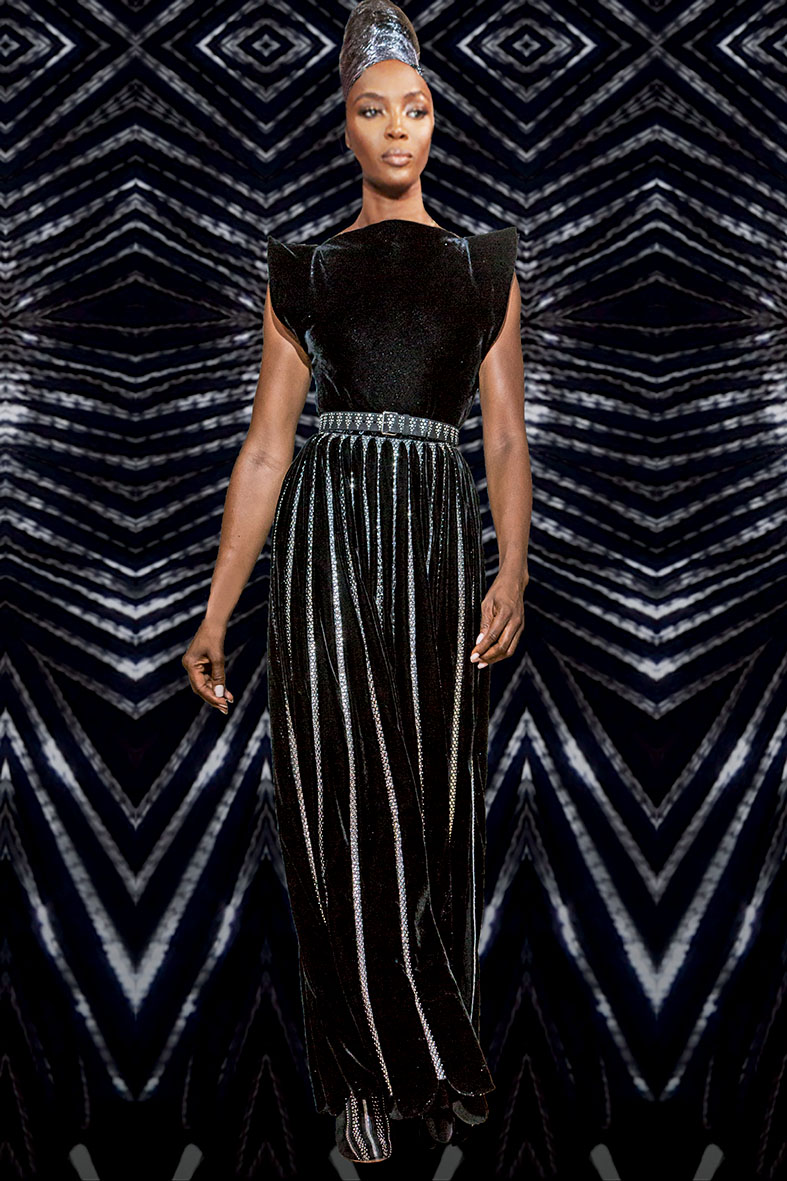 Naomi Campbell, Collection Haute Couture 2017. Ph. Ilvio Gallo
At the end of October, he presents the Summer 2018 collection.
Azzedine Alaïa dies in Paris on the 18th of November. He is buried in the cemetery of Sidi Bou Saïd.
Sarah Moon makes a short film about Azzedine Alaïa last Couture show.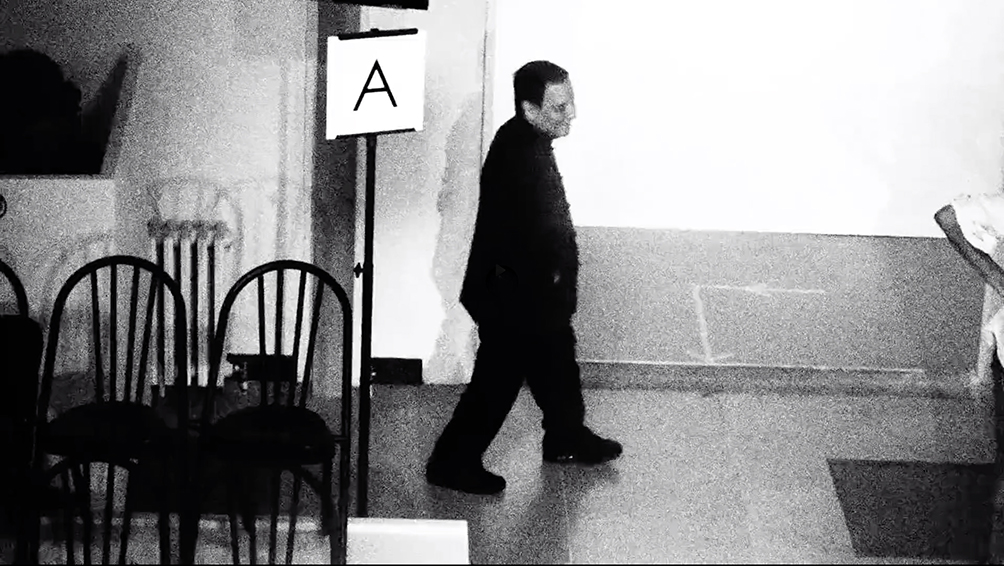 Azzedine Alaïa, from the film by Sarah Moon