Fashion is a cultural heritage: it is important to give young designers the opportunity to discover the work and techniques of their predecessors. Azzedine Alaïa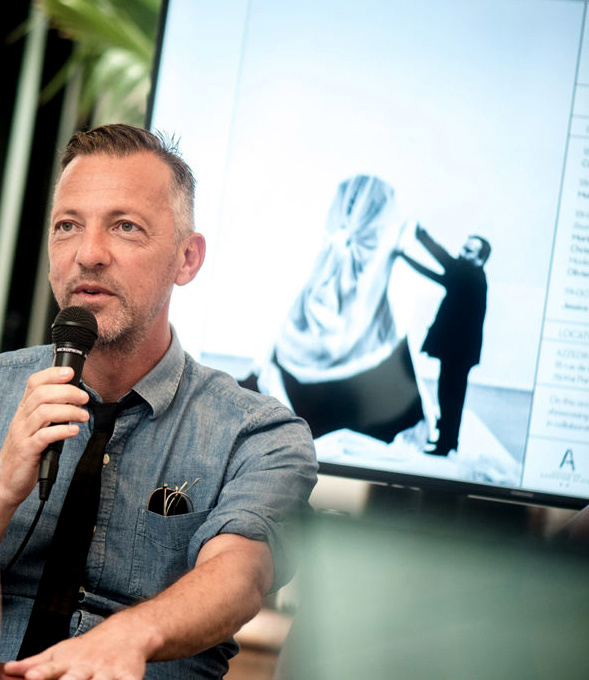 Olivier Saillard ph. Julien Mouffron-Gardner
While being attentive to Azzedine Alaïa's desires in the preservation of his memory and a commitment to education, the Foundation proposes a program of conferences on the study and preservation of costume and fashion archives, as well as teaching the history of fashion. 
 THE NETWORK CULTURE(S) DE MODE.
The Foundation supports the network "Culture(s) de Mode" in its initiatives for research and the promotion of the diffusion of knowledge with conferences on the study and preservation of costume and fashion archives.
The association "Culture(s) de Mode" was founded in 2018 with the support of the French Ministry of Culture following a report submitted to the ministry on the subject of Public and Private Collections of Fashion. Under the leadership of its President Olivier Saillard, it reunites all individuals, teachers and archivists, who have chosen the study and preservation of costume and fashion archives in France. This network, rich in over 450 members, develops, encourages and supports all initiatives for fashion research in France. The association intends 'fashion research' to cover a wide spectrum of all those who analyze, decipher, write about, preserve, restore and create fashion.
This network welcomes students, professors, researchers, museum curators, archivists, designers, engineers, theoricians, praticians, philosophers, historians, sociologists, anthropologists, writers, journalists, and enthusiasts alike. In the same vein, the term 'fashion' is meant in the broader sense, encompassing clothing, accessories, textiles, appearance, and consumer practices.
AN OPEN SCHOOL
An open school for the teaching of fashion history, the Foundation aims to promote the teaching of fashion history. Still today, fashion history is not always systematically present in higher education, nor held in high regard. Olivier Saillard, author of Bouquin de la mode published by Robert Laffont Editions, plans to commit to the diffusion of the history of fashion and costume through a series of conferences that may focus on a particular theme or the study of a garment from the Foundation's collections.
THE AZZEDINE ALAIA PRIZE
The Azzedine Alaïa Foundation, according to the wishes of its founding couturier, plans to turn its attention and benevolence towards all professional schools engaged in the rigorous transmission of the methods and practices of the crafts of cut and couture.
The Foundation, together with the Association of Friends of Azzedine Alaïa and the Cercle des Métiers de la Mode, under the patronage of Farida Khelfa, means to foster the learning and knowledge of the techniques of cut that the founder embodied to the highest level.
By identifying, recognizing and rewarding each year one or more students of cut from schools all over France, the Foundation also chooses to reward students whose social or geographical backgrounds have been underprivileged or disadvantaged.
A prize, a residency (a bursary) will be granted to the most gifted of the students identified on these terms and the Foundation will contribute their building of a bright future.