Exhibition
01.28.2022 - 10.23.2022
alaïa afore alaïa
The genesis of a style
I work on a [woman] model_It's as if I'm moulding clay. I shape it, I pull it up, I pull it down, I sew it and unpick it. I'll redo a sleeve ad infinitum. Through endless trial and error, working by hand, I've learned about tailoring, and I think I've come close to understanding some of it's mysteries. Azzedine Alaïa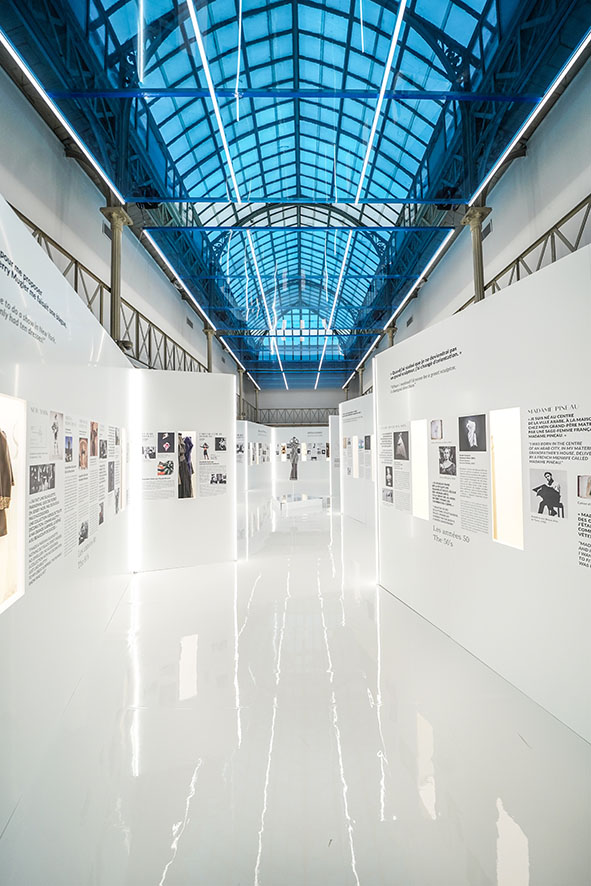 exhibition view ph. Stéphane Aït Ouarab
"Alaïa Afore Alaïa" is an unprecedented and original exhibition, conceived and produced by the Foundation wanted by the designer some years before his death.
Through archive documents, photographs and drawings, the exhibition analyses the formative years between the 1950s, just before the budding couturier would leave Tunis and move to Paris, to the early 1980s and the emergence of the Alaïa phenomenon.
A rigorous selection of pieces from the beginning of his career, a selection of designs that revealed to the public something far beyond a singular style, a founding body of work dating from the late 1970s dialogues with timeless clothes, truly an intimate map of his eternal sources of inspiration.
alaïa afore alaïa - video sylvie delpech
alaïa, autumn winter 1981-1982 ph. Stéphane Aït Ouarab

alaïa, autumn winter 1985-1986 ph. Stéphane Aït Ouarab

alaïa, zipped knitted dresses, autumn winter 1986-1987 ph. Stéphane Aït Ouarab

alaïa, autumn winter 1991-1992 ph. sylvie delpech

alaïa, spring-summer 1992 dresses, autumn winter 1986-1987 ph. sylvie delpech

alaïa, couture autumn winter 2009-2010, autumn winter 2008-2009 ph. sylvie delpech
"Alaïa Afore Alaïa" brings to light a portrait of the talented couturier, modest on the subject of his younger years, a twenty-year long period throughout which the world would be his school, and women his greatest teachers. Whilst others of his generation developed their design skills within the walls of a school, or in the workrooms and studios of existing fashion houses, Azzedine Alaïa was perfecting his technique, a technique that would become unparalleled over the course of his encounters with the growing circle of women that surrounded him. They were his protectors, supporters, select clients, they would become paths of inspiration for his entire body of work.
Leila Menchari's room ph. sylvie delpech

Leila Menchari's room ph. sylvie delpech

Leila Menchari's room ph. Stéphane Aït Ouarab
During these edifying decades, a veritable underground archeology of his ambitions, Azzedine Alaïa met many important figures who would remain faithful to him for the rest of his life. From his sister Hafida to his lifelong friend Latifa, from Leila Menchari to Nicole de Blégiers, encounters favored only by fate when talent and friendship are combined. They are also the result of journeys that coincide, encouraged by the exchange and development of art in all its forms.
To his bedside couture atelier, the greatest names came rushing. For Greta Garbo, he made oversized masculine coats in which she could wrap herself in anonymity. Arletty was a devoted and unconditional fan. His close relationship with the literary figure Louise de Vilmorin invited him into artistic circles and guided him in the ways of high society. He would be her mirror.
In addition to the growing number of client orders which accumulated daily at rue de Bellechasse, Azzedine was constantly experimenting, barely sleeping, and always working. Working with the great furriers, he perfected his technique. A collection of studded, cinched leathers was turned down by Charles Jourdan, but paradoxically, this collection was the seed that would grow and bloom into the Alaïa phenomenon. The pioneers of the fashion world swore by him. He was invited to New York where he was universally acclaimed. The designer Thierry Mugler, a close friend, further encouraged him. Azzedine had become Alaïa.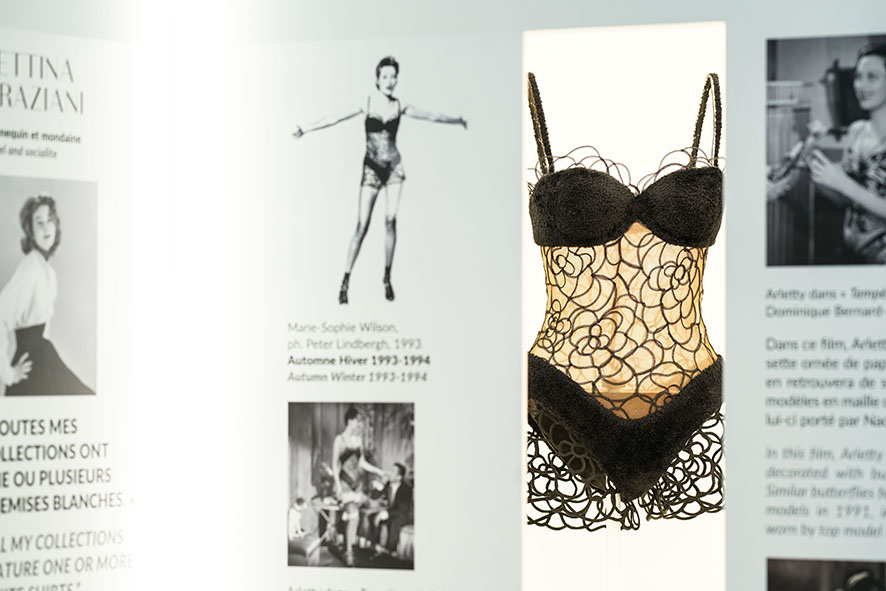 exhibition view ph. Stéphane Aït Ouarab
Beneath the great glass roof of the gallery, at the very heart of his posthumous foundation where he hoped that the exhibitions would bring together as many people as possible from all walks of life to meet, "Alaïa Afore Alaïa" shares rare accounts, delicate stories, and archive documents. Dresses, born from these three seminal decades, alongside more recent creations inspired by his eternal subjects, reveal a gallery of portraits of those who, certain of his great and unique talent, supported him in the growth and development of his art.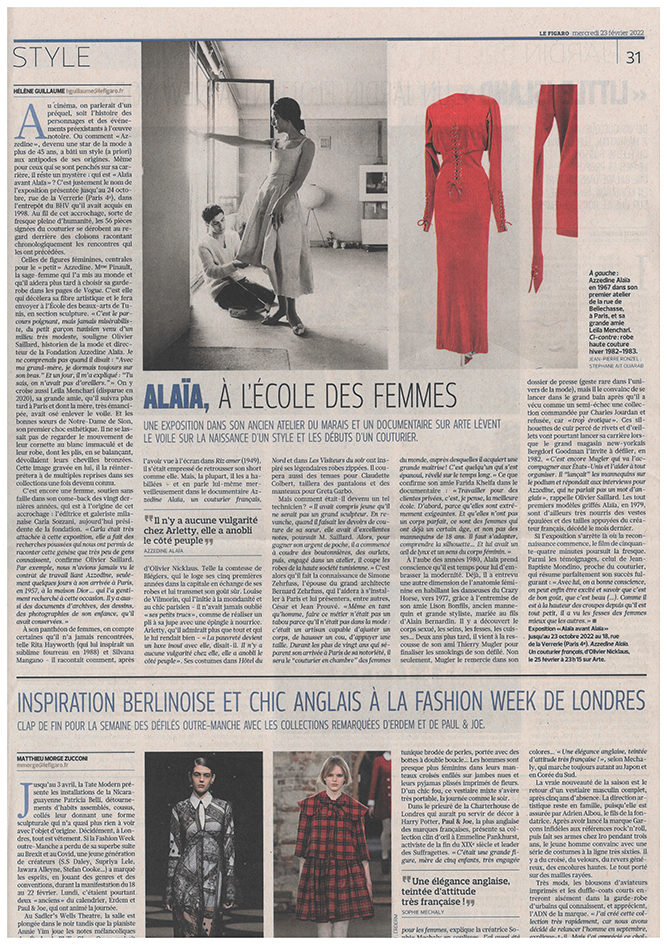 Alaïa à l'école des femmes by hélène guillaume, le figaro, 23 February 2022
Guided tours of the exhibition are organised in partnership with the cultural mediation agency Des mots et des Arts, to register click on the link below: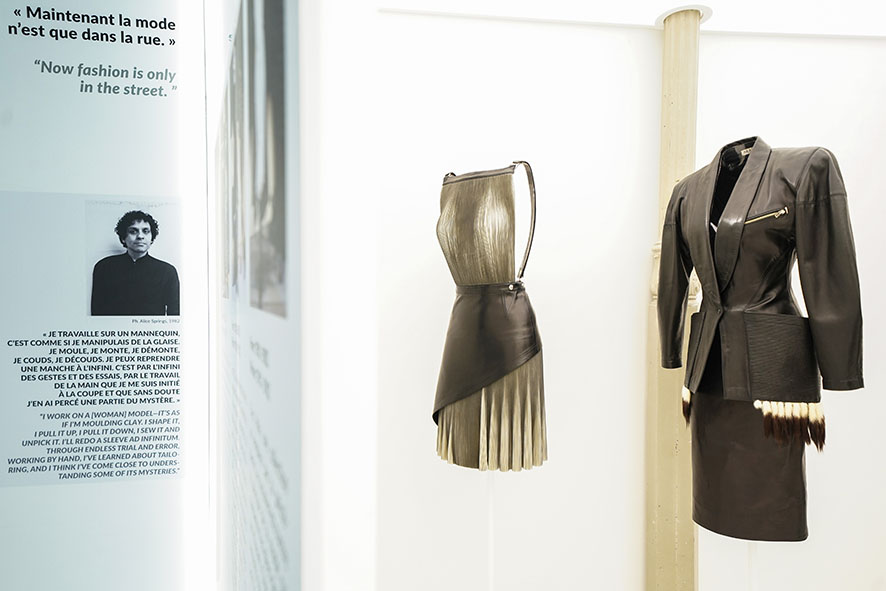 exhibition view ph. Stéphane Aït Ouarab
AS PART OF THE EXHIBITION "ALAÏA AFORE ALAÏA" THE FOUNDATION PROPOSES A PROGRAM OF CONFERENCES AROUND THE EXHIBITION
Conference programme (dates to be announced):
THIERRY MUGLER, AZZEDINE ALAIA – Of friendship and inspiration – MARCH
Thierry Mugler was more than just a friend to Azzedine Alaïa. In the late 1970s he encouraged Alaïa to develop his own expressive style, and he was both a supporter and an architect of Alaïa's success. Thanks to Mugler, Alaïa achieved a new level of notoriety.
The talk on Mugler and Alaïa analyses how their styles influenced one another and looks at how they came to be friends.
GRETA GARBO, Meeting the Divine Garbo – APRIL
One day, under cover of anonymity, Greta Garbo stepped into Azzedine Alaïa's studio. Alaïa made trousers and men's coats for her, and they were to have a lasting influence on his work.
The talk on Garbo and Alaïa analyses Garbo's wardrobe, which was famously sold at auction in 2012, providing Alaïa with the opportunity to buy back some of the clothes he had created for her.
BETTINA, Muse and Friend – MAY
Bettina was the first model whose celebrity reached beyond the confines of fashion in the 1950s. A friend and muse of great couturiers such as Jacques Fath and Hubert de Givenchy and a favourite model of the most talented photographers of the day from Henry Clarke to Irving Penn, Bettina became a faithful friend of Alaïa and donated her collection of photographs to him.
The talk looks at Bettina's career, her relationship with Alaïa and the decisive influence she had on him.
YVES SAINT LAURENT, An Unprecedented Commission – JUNE
Alaïa stood apart for his mastery of tailoring and stitching, and was the darling of his faithful clients. His name circulated in fashion houses, which occasionally called on him to help with the delicate exercise of designing dresses. One day, the Yves Saint Laurent fashion house asked him to design pieces for the famous Mondrian collection.
The talk looks at this little-known period in Alaïa's career, when his experience of different fashion houses and clients shaped his unique expertise.
ELSA SCHIAPARELLI, Art and Fashion – JULY
Azzedine Alaïa was the greatest ever private collector of fashion archives. Of all the hundreds of creations he collected, Elsa Schiaparelli's designs stand out for their unique quality. Alaïa loved the extravagance of her designs, but he also recognised her technical mastery and free-spirited style. He met her as a young man, and often referenced his attachment to the Surrealist couturière of the 1930s in his own work.
LEILA MENCHARI, Lili, a Lifelong Friend –  SEPTEMBER
Leila Menchari and Azzedine Alaïa met in Tunisia. They studied art and moved to Paris. Both worked for a time at Guy Laroche, Leila as a model, Alaïa in the workshops.  Leila was to become the queen of colours and combinations, elevating window-dressing to an art form. Alaia was to become a great Parisian couturier. Their friendship stood the test of time.
The talk analyses their careers and looks at how their styles influenced one another.
ARLETTY, Muse and Friend – SEPTEMBER/OCTOBER
Arletty taught Alaïa the Parisian art of how to look, which is all about making the right choices and using clever artifice. He admired her in Hôtel du Nord and Les Enfants du Paradis, and some of her costumes inspired entire collections. They met, and were to remain firm friends.
The talk looks at their friendship and analyses the style of Arletty, who in her early career worked as a model for Paul Poiret and Elsa Schiaparelli.
JELLAL BEN ABDALLAH, A Painter of Tunisian Life – OCTOBER
Jellal Ben Abdallah's paintings sometimes echo Alaïa's creations, and Alaïa's clothes sometimes inhabit a symphonic world that recalls Jellal's work. The story of their friendship, which was inseparable from that of Latifa, Jellal's wife, speaks of the early careers and hopes of two artists and the fame that would never alter their relationship with the world at large.