Exhibition
09.25.2021 - 01.09.2022
P.LACE.S
regards entrelacés sur la dentelle anversoise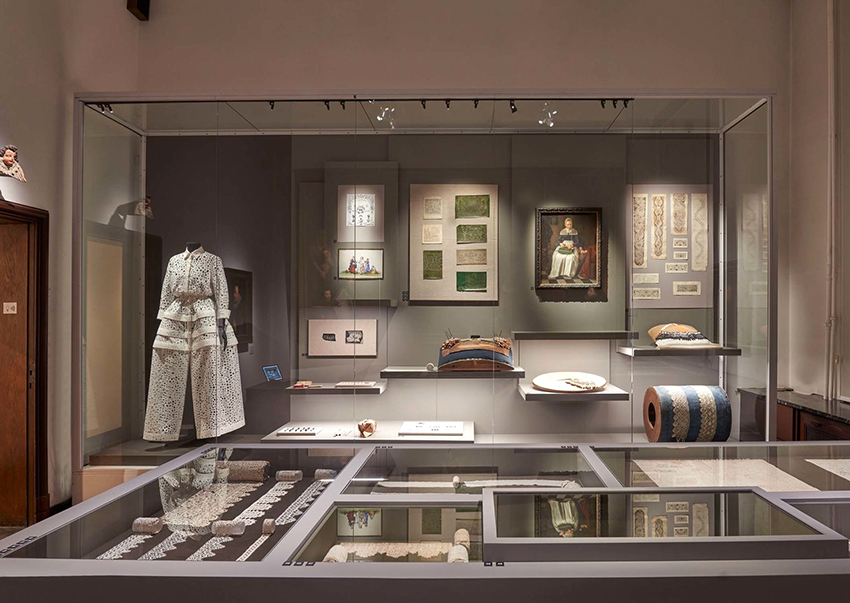 P.LACE.S at Maagdenhuis, azzedine alaïa dress, S/S 2014 ph. DR
From the mid-16th to the mid-18th century, Antwerp played a leading role in the manufacture and distribution of lace.Through a unique dialogue between historical craftsmanship and current fashion, the MoMu explores this subject through an exhibition route that links five sites in the city.
For this exhibition, the MoMu has brought together lace, paintings and archives from Europe and the United States and placed them in their context, showing the ubiquity of lace in clothing, interiors and churches. The MoMu traces this rich history of lace in dialogue with contemporary creations, often using high technology. 
In the Maagdenhuis, where orphan girls used to learn sewing and lacemaking, the exhibition tries to draw parallels between historical and current techniques.Visitors will learn how designers are experimenting with transparency using 3D printing and laser cutting. He may take a fresh look at designers and fashion houses such as Azzedine Alaïa, Chanel, Iris van Herpen, Prada and Louis Vuitton, who do not hesitate to apply new techniques to explore the conceptual boundaries of lacemaking.
azzedine alaïa, couture 2017, detail ph. sylvie delpech

azzedine alaïa dress, S/S 2014 ph. andrea&valentina

azzedine alaïa dress, couture winter 2011 ph. robert kot

azzedine alaïa dress, couture winter 2011, detail ph.dr