Exhibition
03.09.2017 - 03.26.2017
luigi serafini
codex seraphinianus
curator: donatien grau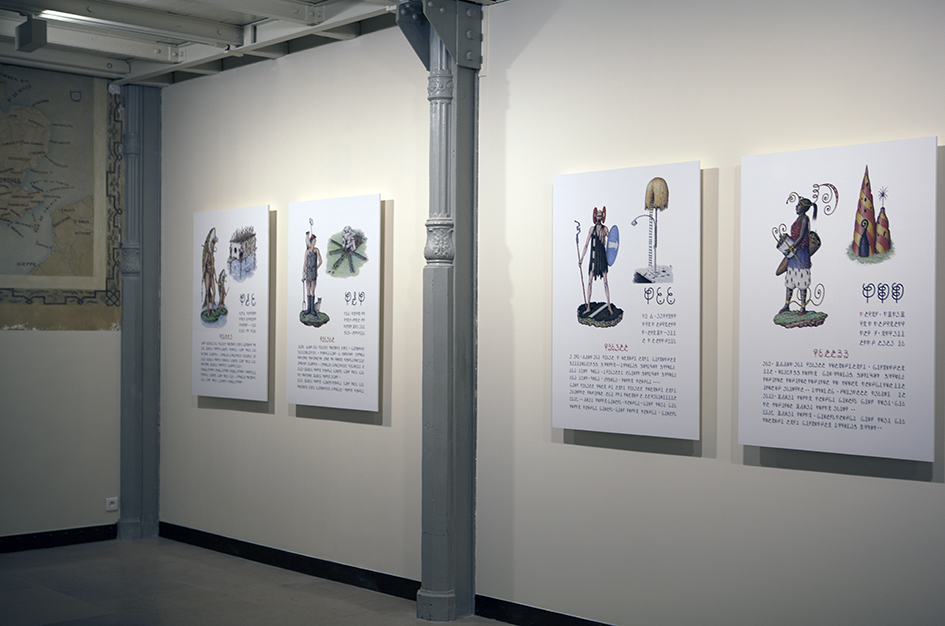 codex seraphinianus, exhibition view ph. Sylvie delpech
The Azzedine Alaïa Gallery hosts a presentation of plates from the Codex Seraphinianus, in dialogue with the House.
This presentation will be the first dialogue ever organized with this legendary book, which, since its publication in 1981, has ceaselessly sparkled fascination and admiration. Its author, Luigi Serafini (born in 1949), featured the encyclopedia of an unknown world, in an unknown language, integrating all aspects of a civilization still to be born. It was immediately praised by the great figures of the time, from Italo Calvino and Umberto Eco to Federico Fellini.
Since then, many researches have been undertaken to crack the Codex's code, to this day unsuccessfully. The reprint of the book by Rizzoli in 2006 was spread in dozens of countries around the world and sold in dozens of thousands of copies, inspiring many artists, from Southern California to Canada and China.
In the original Codex, ten plates were devoted to fashion. Since he met Azzedine Alaïa, in his hometown, Rome, at the opening of the exhibition devoted to the couturier by Galleria Borghese, Luigi Serafini has reflected on a conversation between his world and this body of work in clothing. This conversation is made visible in this presentation.
dialogue plate, codex seraphinianus, 2017 © Luigi Serafini

codex seraphinianus, seraphinian tattoos and alaïa dress, 2017 © Luigi Serafini

plate from the codex seraphinianus, 1981 © Luigi Serafini
Here will be found plates evoking the encounter between Luigi Serafini and Azzedine Alaïa, a new presentation of the Roman genesis of the Codex, a brief history of potential fashion, fashion plates extracted from the Codex, their continuation, and even images inspired by Luigi Serafini's own universe, and appropriated by himself.
This encounter between two ever-expanding universes highlights how much fashion touches on human life, throughout history and geography.
making of the exhibition luigi serafini, codex seraphinianus - video: sylvie delpech