Exhibition
04.22.2016 - 06.12.2016
pierre guyotat
la matière de nos œuvres
curator: donatien grau - scenography: claudio dell'olio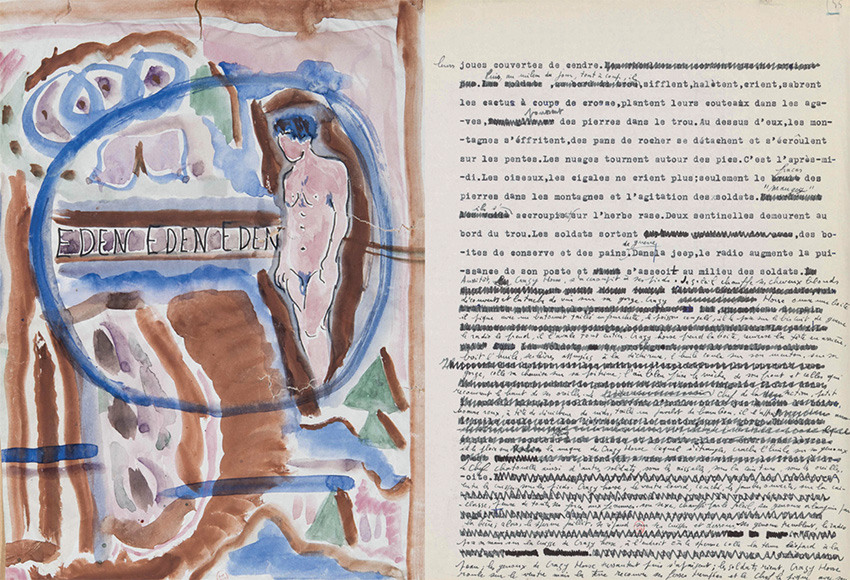 eden, eden, eden © pierre guyotat
Azzedine Alaïa is pleased to present the exhibition Pierre Guyotat, La matière de nos oeuvres, highlighting the outstanding vitality of the great French author's creation. Pierre Guyotat's (born 1940 in Bourg-Argenta) poetic endeavour is widely acknowledged as ranking amongst the most powerful in today's world. He was celebrated already in 1967 with his epic Tombeau pour cinq cent mille soldats (Tomb for five hundred thousand soldiers), censored in 1970 with Eden, Eden, Eden, for which Roland Barthes, Michel Foucault, Michel Leiris, Philippe Sollers and many others, stood with their writings. Since then, he has traced a path of revolution in language and in the making of a world, in full freedom, shaping a unique space in the history of literature, with Prostitution (1974), Le Livre (1984), Progénitures (2000), Joyeux animaux de la misère (2014), Coma (2006), Formation (2007), Arrière-fond (2010; translated as In the Deep).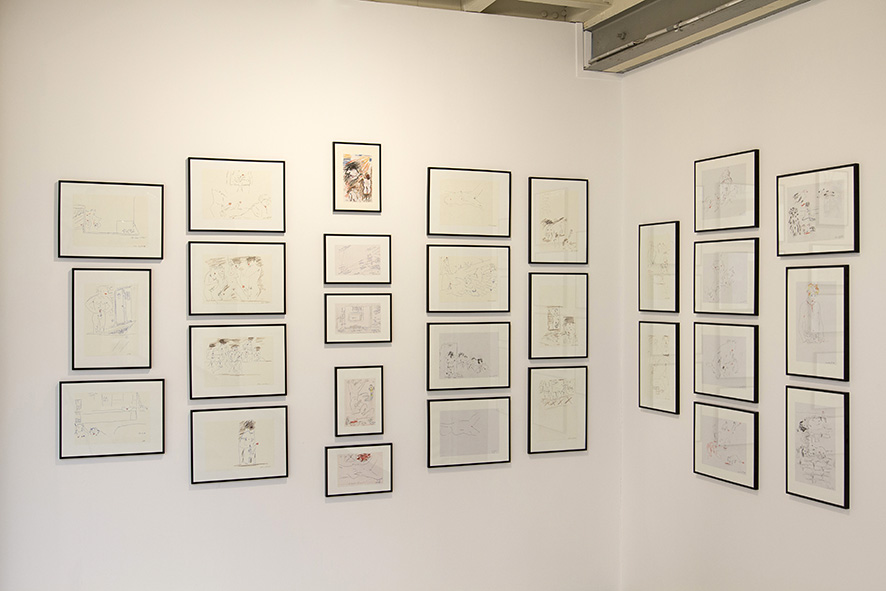 drawings by pierre guyotat specially created for the exhibition
The exhibition is placed in the framework of a series of manifestations designed to feature the strength of Pierre Guyotat's work across 2016, bringing together with the Galerie Azzedine Alaïa the legendary journal Critique, which devoted him a special issue, France's leading theatre l'Odéon, and four major publishers in France, Switzerland, and the United Kingdom, including Pierre Guyotat's main publisher Gallimard, which will publish two major new works. This exhibition brings to the public the great manuscripts of the oeuvre, with the exceptional contribution of the Bibliothèque nationale de France, which lent them: they are fascinating visual documents, crossed out, organised around colours, and witness the visionary energy of a poet who considered being a painter.
miquel barceló ph.DR

Juliette Blightman ph.DR

Paul McCarthy, klaus rinke ph.DR

elijah burgher ph.DR
Admiring artists take on each of those manuscripts and place them in dialogue with one of their works; artists close to the author participate in this project, such as Bernard Dufour, Eric Rondepierre, and Klaus Rinke ; others known for their admiration, such as Daniel Buren and Jean-Luc Moulène, and artists who follow the work in the secret of their studio: Miquel Barceló, Cerith Wyn Evans, Paul McCarthy ; and a whole generation who grew up reading this work – Juliette Blightman from London, Elijah Burgher from Chicago, Michael Dean from Leeds. Pierre Guyotat also generously lent to the exhibition drawings made by him – precious images created for the occasion, which will be shown for the first time.
What comes out of it is the unique fertility of a manifold œuvre– a true creative universe, a resource open for all.
making of the exhibition pierre guyotat, la matière de nos œuvres - video: Sylvie Delpech