Exhibition
09.02.2005 - 10.02.2005
shiro kuramata
curators: mieko kuramata, carla sozzani, azzedine alaïa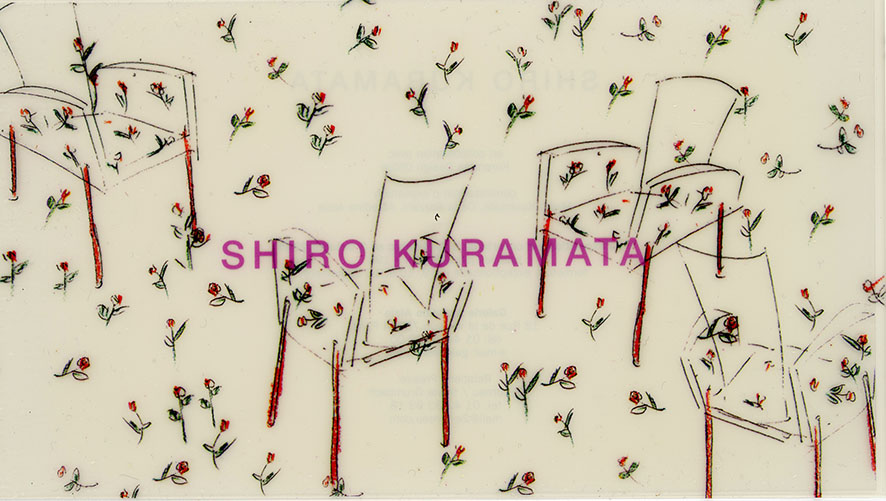 invitation card of the exhibition shiro kuramata © azzedine alaïa foundation
Trained in sculpture before turning to fashion, Azzedine Alaia, who is passionate about design, has hosted a retrospective exhibition of Shiro Kuramata's work this autumn. Co-sponsored by Carla Sozzani, who had previously exhibited Kuramata in Milan, and the late designer's wife, Meiko Kuramata, who lent rare pieces,  Azzedine Alaïa has brought together some thirty major pieces by the Japanese designer, mostly from his own collection. Among them, Comme la lune est haute dans le ciel (How High The Moon, 1986), one of the emblematic armchairs of the Tokyo master, made of expanded steel mesh, the famous "Miss Blanche" seat from 1988 made of transparent acrylic in which rose petals are included, a luminous armchair like a ball of light….
miss blanche, 1988 by shiro kuramata ph. DR

how high the moon, 1986 by shiro kuramata ph. DR

acrylic stool, 1990 by shiro kuramata ph. DR

laputa, 1991 by shiro kuramata ph. DR
Born in 1934 in Tokyo, Shiro Kuramata trained at the Kuwazawa Design Institute, which incorporated Western design theories. Shiro Kuramata opened his own agency in 1965, the Kuramata Design Office. Close to Ettore Sottsass, founder of the Italian design group Memphis in the early 1980s, he designed some furniture for the group. He designs interiors, bars and restaurants, boutiques, notably for Issey Miyake. In 1988, Kuramata set up his studio in Paris, and two years later he was made a Chevalier des Arts et des Lettres.
Recognised as one of the great designers of the 20th century, his creations are now part of the collections of major museums (MoMa, Musée des Arts Décoratifs de Paris, etc.).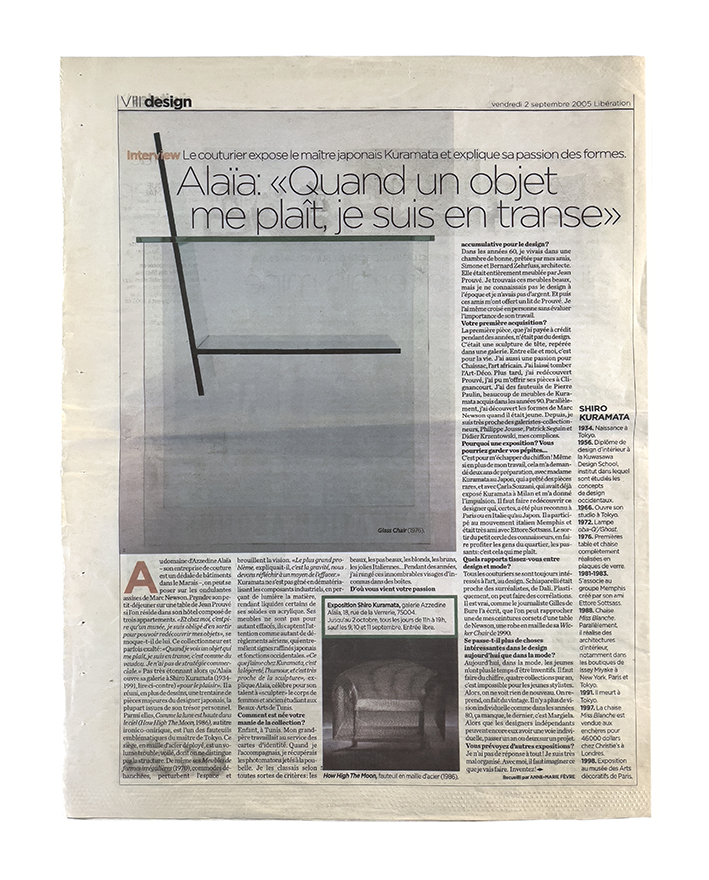 liberation, 2 September 2005