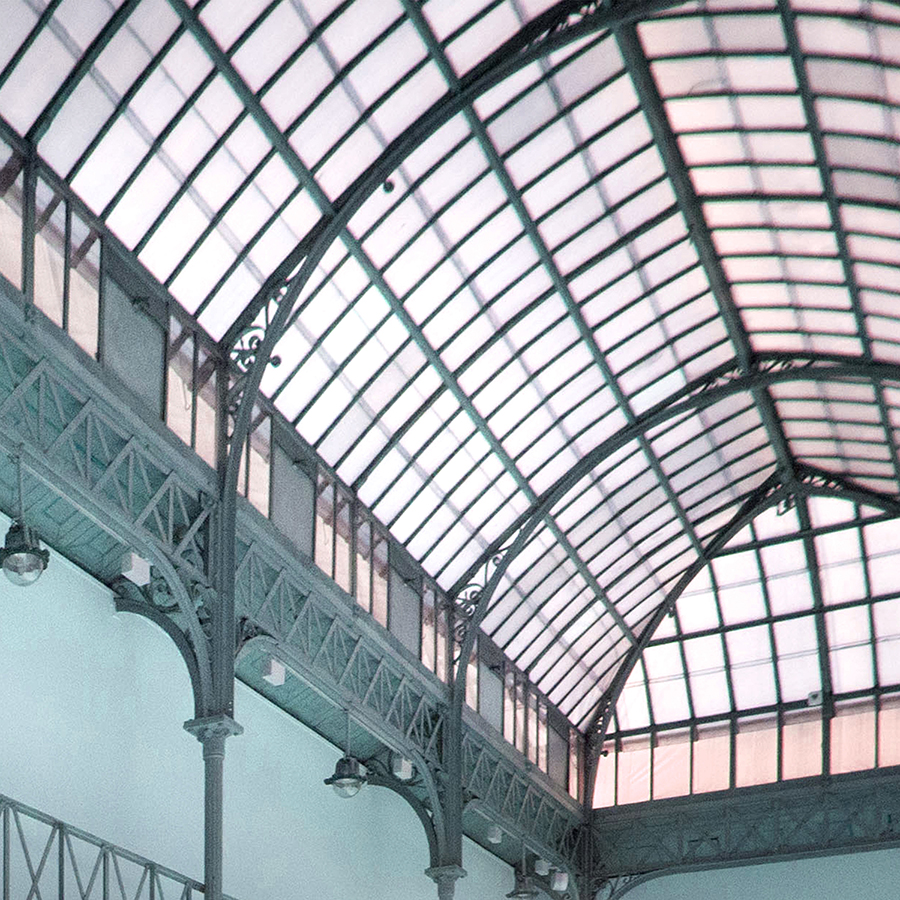 the veranda © azzedine alaïa foundation
The biannual and original exhibitions presented within the glass-roofed gallery, where Azzedine Alaïa held his runway presentations, highlight this inestimable heritage which has never been shown to the public before. The Azzedine Alaïa Foundation also aims to support it's first-time, or frequent visitors, with an authentic pedagogical and educational program.
GUIDED TOURS OF THE EXHIBITIONS
The Foundation offers guided tours of the current exhibition at 18 rue de la Verrerie in partnership with the cultural mediation agency Des Mots et des Arts  which organizes tours led by professionals specializing in fashion history. They offer visitors an overview of the current exhibition, the life and work of Azzedine Alaïa, as well as the location's history and architecture. These visits are open to all audiences and the registration and payment can be processed only online.
Des Mots et des Arts have integrated the Foundation into the route of the heritage tour in the Marais district.
These visits are open to all audiences and the registration and payment can be processed only online. They last approximately 1hour and 15minutes.
The visit comes to a close in the bookshop where participants can further discover Monsieur Alaïa's universe.
Des Mots et Des Arts is an agency of cultural mediation and artistic visits born from a desire to give to as many people as possible the keys to unlock the interpretation of the history of classic, modern, and contemporary art.
Morgane Pfligersdorffer and Laure Benacin run the agency with the aim of bringing together neophytes and art lovers and in so doing, render the diversity of artistic creation more accessible.
They have surrounded themselves with a team of specialized speakers interested in sharing their passion for the arts. Their visits do not ressemble complexe academic lectures, on the contrary it is with a free and personal touch that they will open to you the doors of museums, galleries, and artists' ateliers.
For each of their events, Des Mots et Des Arts takes particular care to meet with rigor and inventivity the needs of each of their clients.
VISITS TO EXHIBITIONS, EDUCATIONAL AND SOCIAL MISSION
Educational, the mission of the Foundation is also social. It offers free guided tours for social associations, aimed at audiences far from the culture. The Foundation has a vocation, according to the Azzedine Alaïa's wishes , to contribute to teaching and transmission, fundamental for the future of the most disadvantaged people.
contact: galerie@fondationazzedinealaia.org