My grandmother, Monoubia, managed everything in our kitchen,and there was always an extra cutlery at our table in case someone would show up unexpectedly hungry. Azzedine Alaïa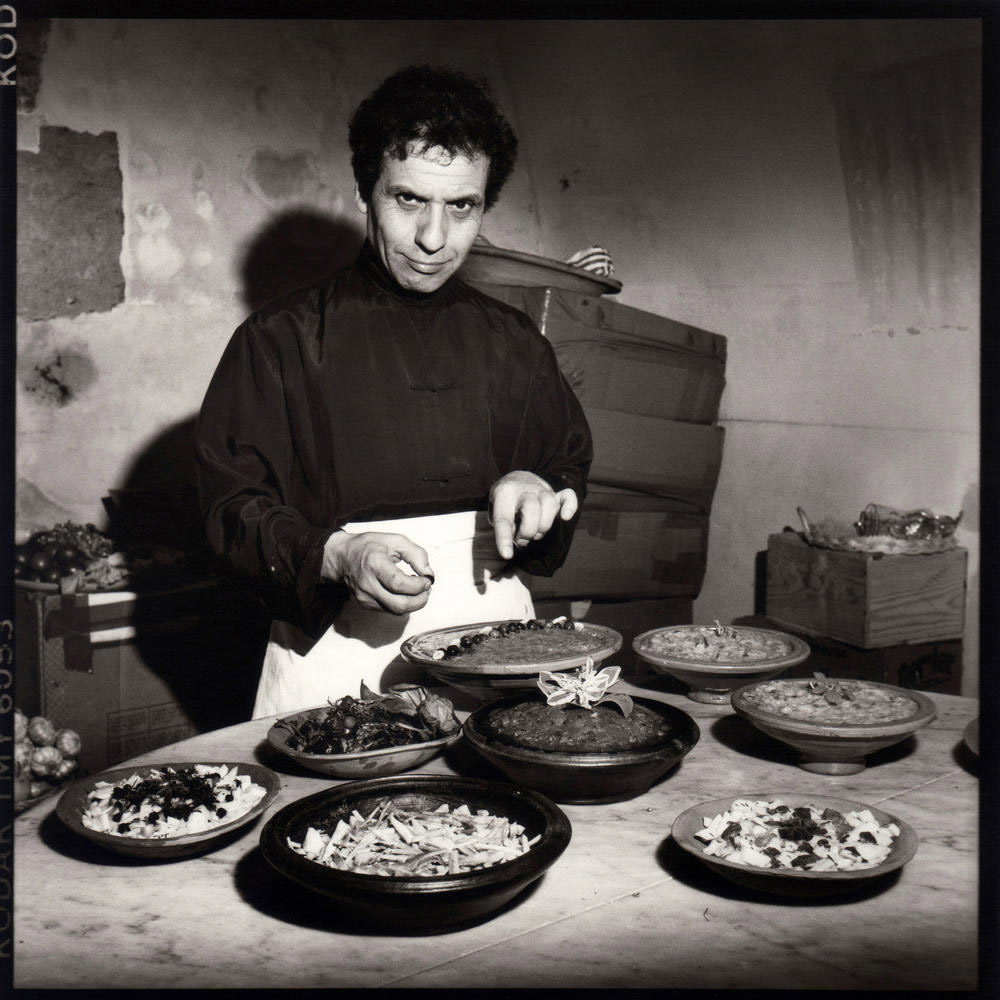 Azzedine Alaïa in his kitchen ph. Richard Dumas
Staying true to the tradition of Mediterranean hospitality and generosity, Azzedine was known for organizing legendary meals. Since the 1980s, in his small apartment on rue de Bellechasse (later transformed into a workshop) to 17 rue du Parc Royal, his kitchen hosted famous guests such as Grace Jones, Andrée Putman, Jean-Paul Goude, Miles Davis, Serge Gainsbourg, Tina Turner, Patrick Modiano, Julian Schnabel …sitting at the table was the assurance of shared intimate moments and stimulating conversation.
"Sharing food has always been important to him."Veronica Webb
"At Alaïa's, you could sleep, eat,and dress at his place – it is my home. There is always an open seat at his table. We sit down and there is Tina Turner having lunch with les petits mains of the atelier. Everyone mixes up, it's real life, and it's a lot more fun."Farida Khelfa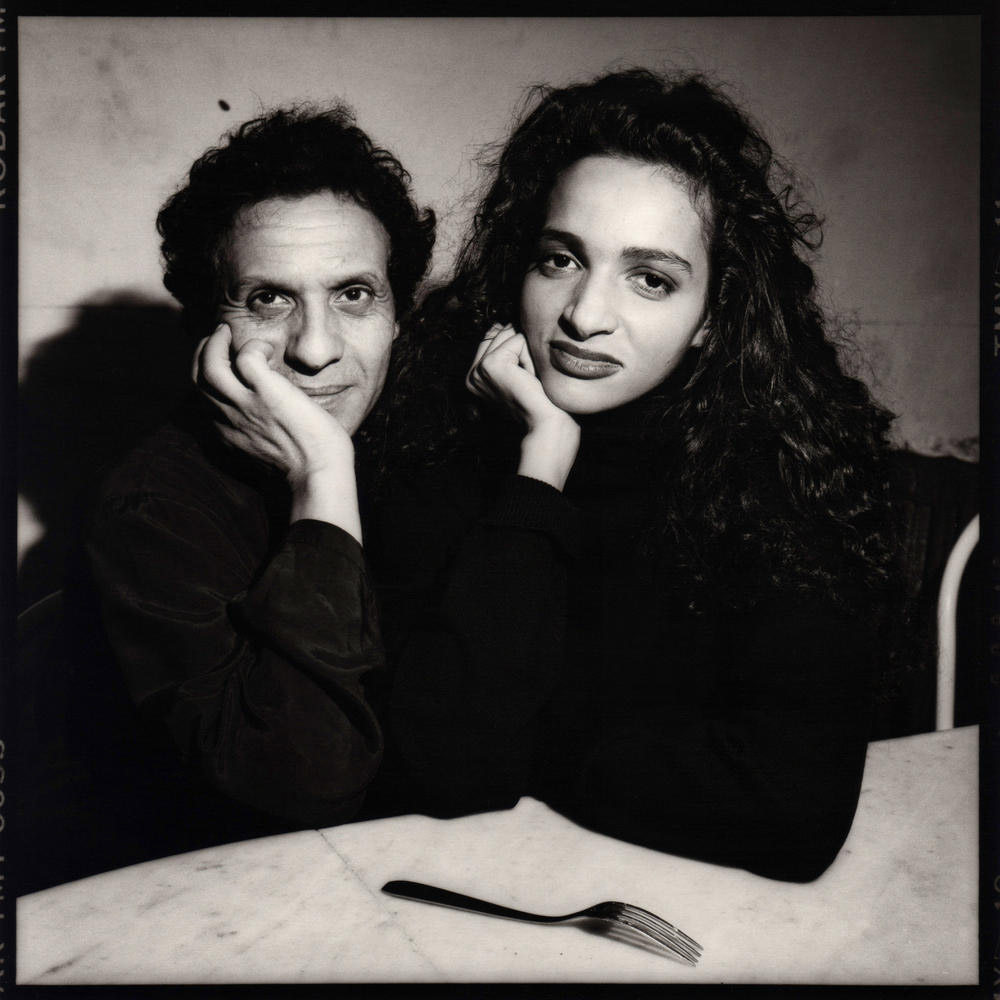 azzedine alaïa and Farida khelfa ph. Richard Dumas
The meal tradition continued once he settled down at 7 rue de Moussy.The kitchen was very small and Azzedine Alaïa continued to prepare meals for everyone with the help of Soumaré, who has been by his side since the 1970s. He liked to go to the market himself and his food was always simple with fresh products, fish or grilled meat.
I remember my grandfather would go get 20 baguettes every day, because everyone landed at my grandmother's. She cooked all the time. Azzedine Alaïa
In 2000, the kitchen was enlarged and became a reception room with a large frosted glass table that could accommodate up to 30 guests. Invariably, at lunchtime, all activity ceased in the studio and the sewing workshops. In a merry hubbub, in the middle of dogs running around and barking, the guests settled in:friends, clients, editors, the staff of the house, models, actresses and politicians, writers, painters and musicians. Standing at the stove, Azzedine served himself and was always the last to sit.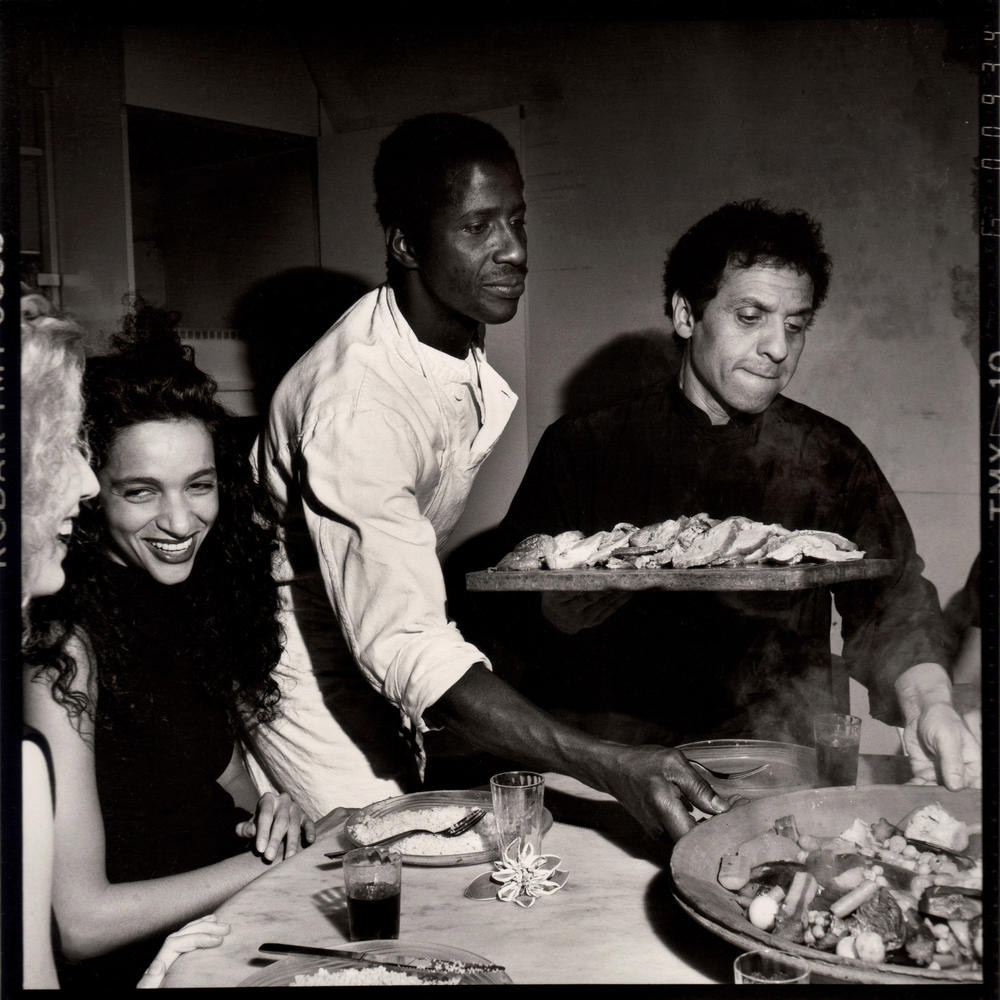 azzedine alaïa and soumaré ph.Richard Dumas
I like to be surrounded. Even now, every day it's the same thing, we all eat together. Everything is mixed:people from the workshop, famous personalities, young people, old people ... it comes from my childhood and my education. I was raised by my grandmother in Tunisia, and her house was always open.The whole family arrived for lunch and there were always around twenty of us at the table. As soon as I moved to Paris, I reproduced the exact same thing. Azzedine Alaïa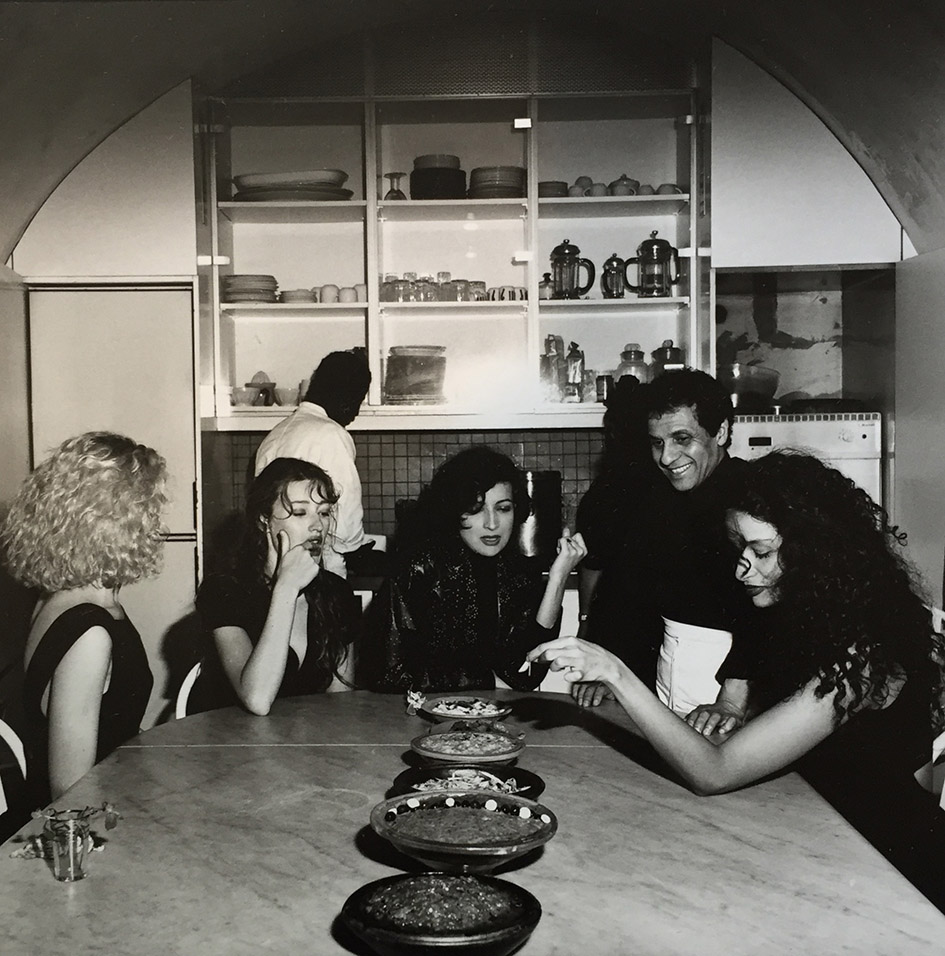 Azzedine Alaïa in his kitchen with marie-sophie Wilson and Farida Khelfa ph. Richard Dumas
"It's there in this kitchen that all of Paris dined, drank,sang, devoured and, above all, laughed. It was all of Azzedine's Paris. People were chosen for their character, their background, their spirit,  their humor and their outspokenness. The table overflowed with Tunisian cuisine, French specialties, and exchanges of secrets. We met his dogs, his dear dogs, sometimes bigger than him, Christoph, his painter companion, and alter ego, a model of Germanic distinction, interns from everywhere who would pay the price of his boyish and playful pranks, books, paintings, people from all over the world, the icons of fashion by the side of the petits mains – in short, it was a joyful mess in which we immediately felt welcome." Vanity Fair, France
"He liked to cook and entertain around a large frosted glass table. He invited not only his workshop managers, but also international stars and renowned intellectuals. Without any sense of hierarchy, politicians, top-models, intellectuals, artists, designers, actresses, shared the table with his team. Over time, his table has become as legendary as his collections." Olivier Saillard
I travel through the people I meet around my kitchen table. Azzedine Alaïa
Azzedine Alaïa in his kitchen with Grace Jones ph. Bruce Weber

Azzedine Alaïa in his kitchen © azzedine alaïa foundation