I only draw to jot down my work so that I don't forget. I make a pattern on calque paper, and I cut it out and attach it to a piece of paper with a pin. Then I begin working on a tailor's dummy, but I need a person for the fittings. Because a woman walks, her body moves, and I need to see how the fabric behaves on her. Azzedine Alaïa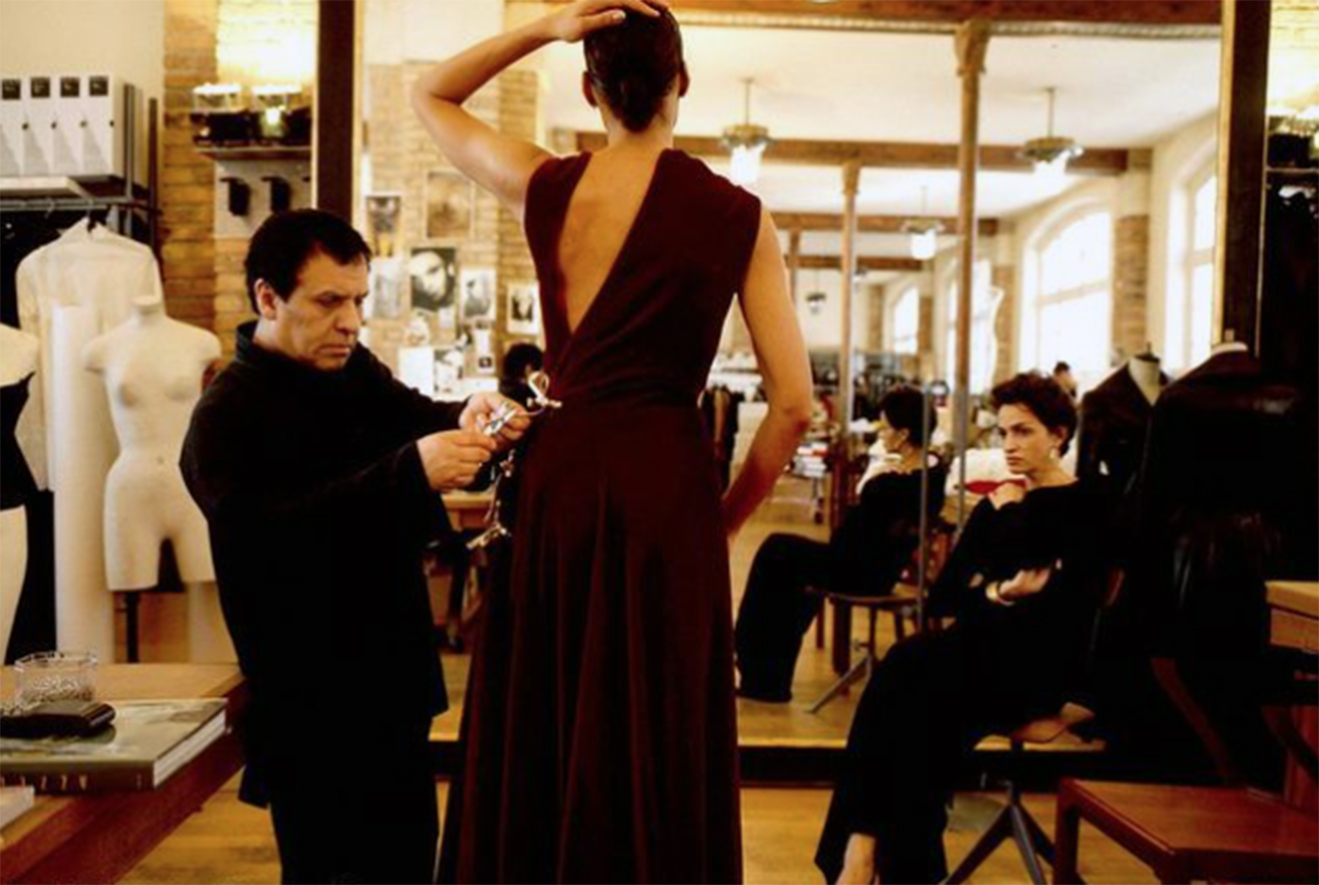 azzedine alaïa in his studio with farida khelfa ph. jean-marie périer
His studio is located on the first floor, between his fitting room and his private living apartments. The studio remains exactly as he left it, with the last dress he was working on, on the tailor's dummy.
It was always very overcrowded with things. There are shelves and hangers full of clothes, unfinished toiles, stacks of boxes piled up against the walls, rolls of fabric, things everywhere spread out on or under the tables, catalogues from auction houses… On the wall directly in front of his work table, photographs of his closest friends and the photograph of Oum Kalthoum. On the wall beside him, a large mirror for fittings.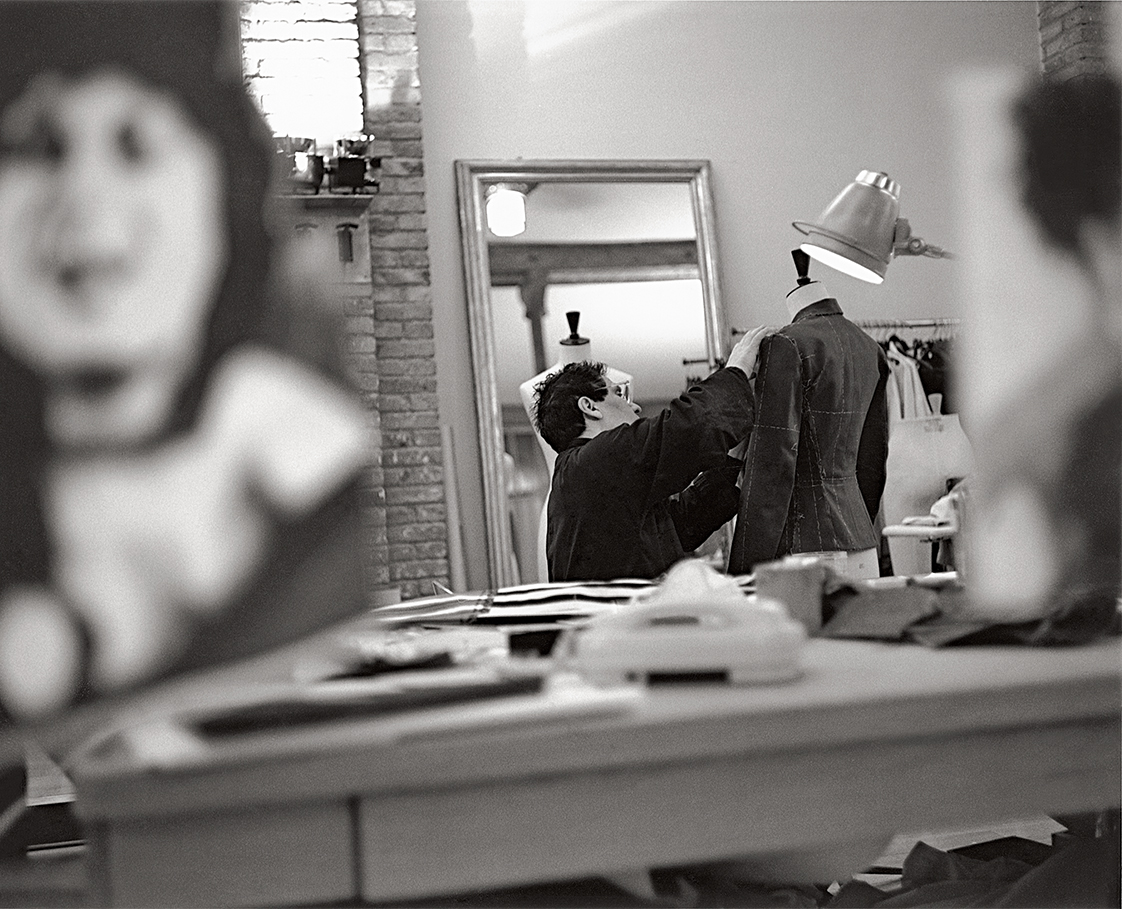 azzedine alaïa in his studio ph. Prosper assouline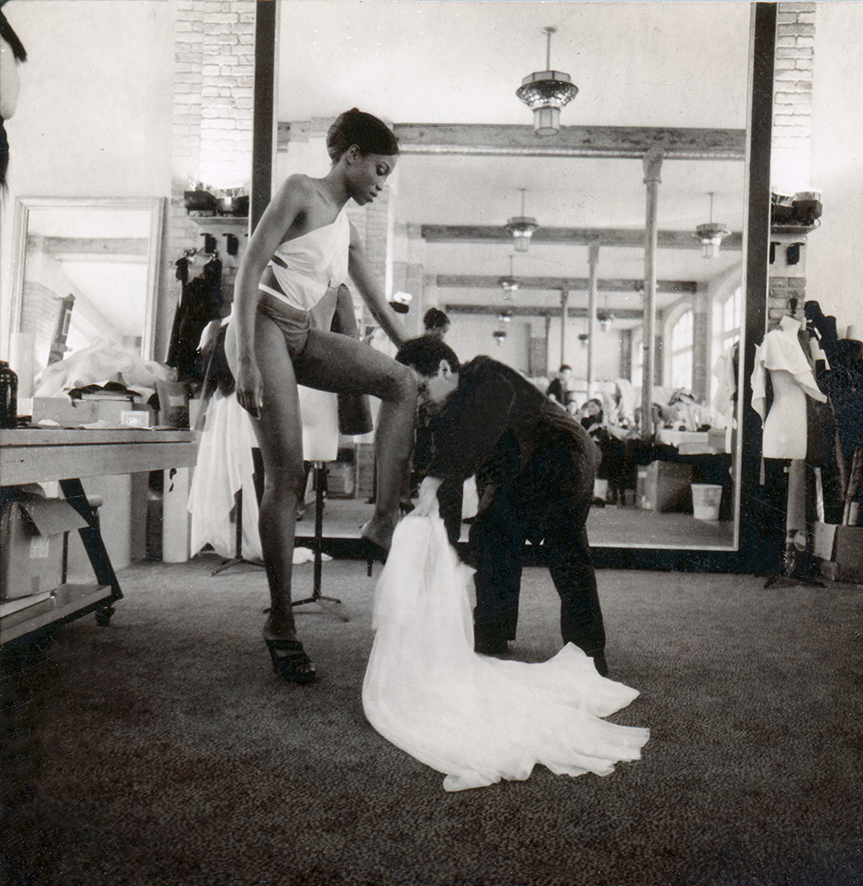 Naomi Campbell and Azzedine Alaïa, fitting © azzedine alaïa foundation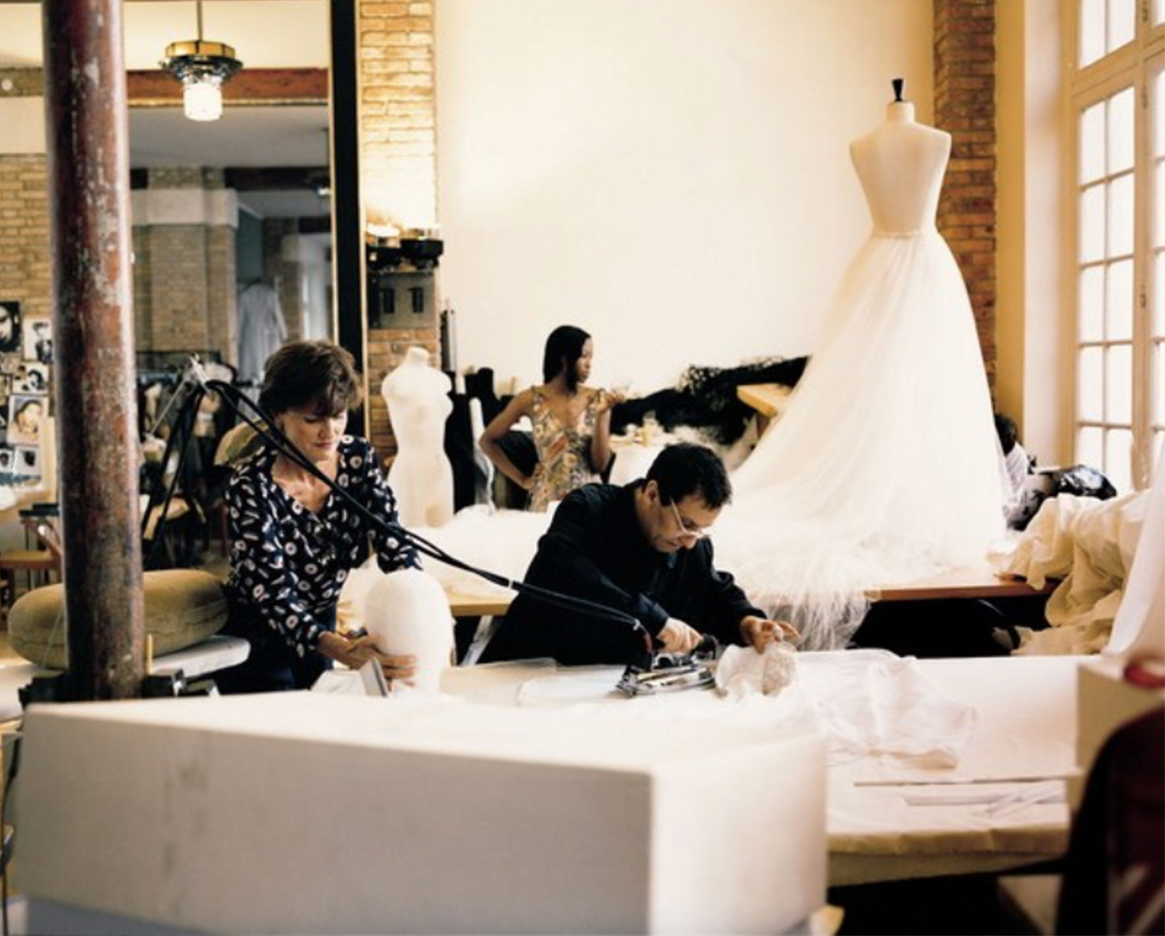 azzedine alaïa in his studio ph. jean-marie périer
For the fittings, I always ask the model to walk and to sit. My dresses must vibrate on their own. Women help me a lot ! The clothes must move in accordance with the body.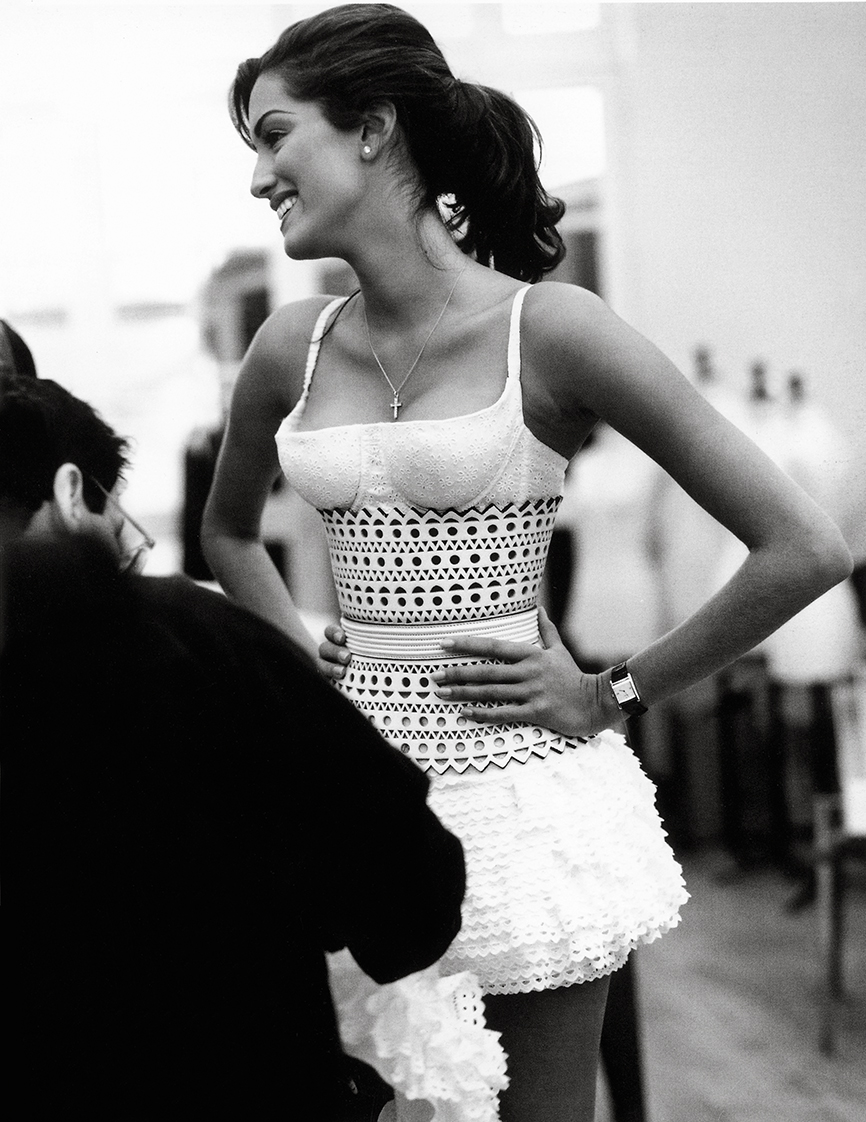 Azzedine Alaïa, fitting ph. Prosper assouline
Azzedine Alaïa, fitting, 1998 ph. prosper Assouline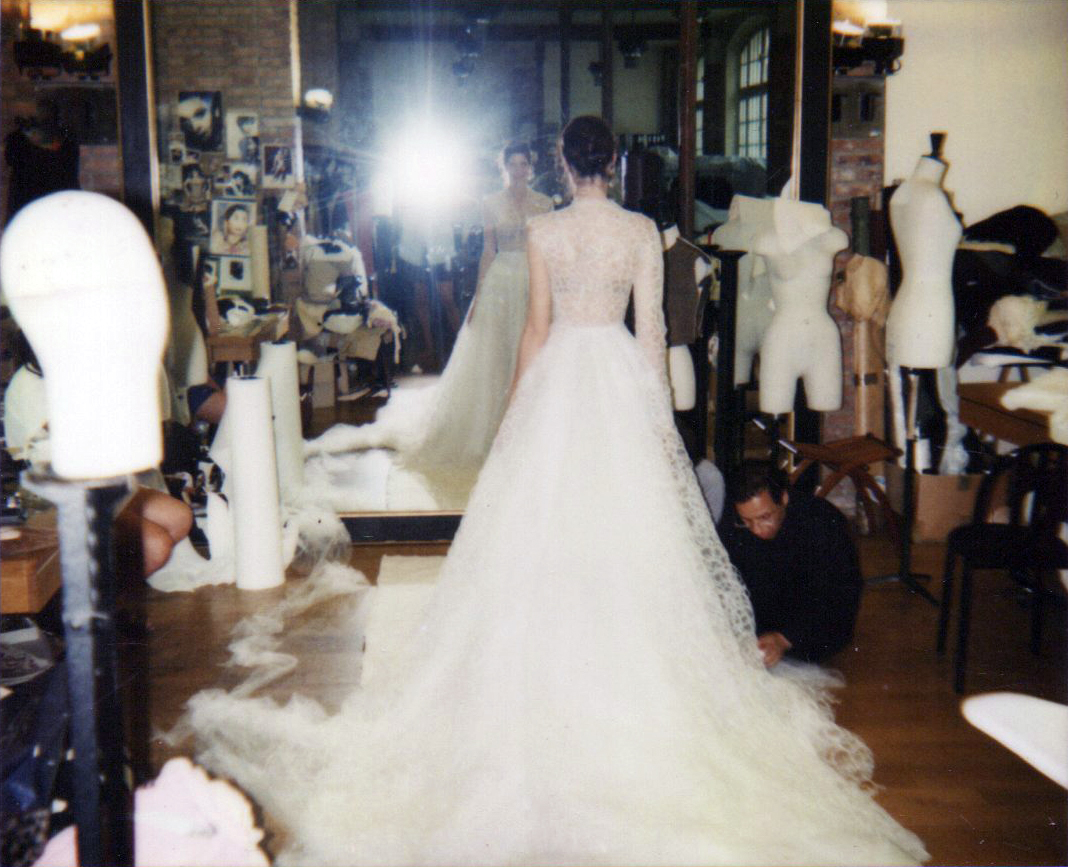 Azzedine Alaïa, fitting © azzedine alaïa foundation
When I am alone, I watch the news on televison, I watch National Geographic, or programs about history or about animals. And then I work until 6 o'clock in the morning, but I don't feel tired because I am by myself and I am calm.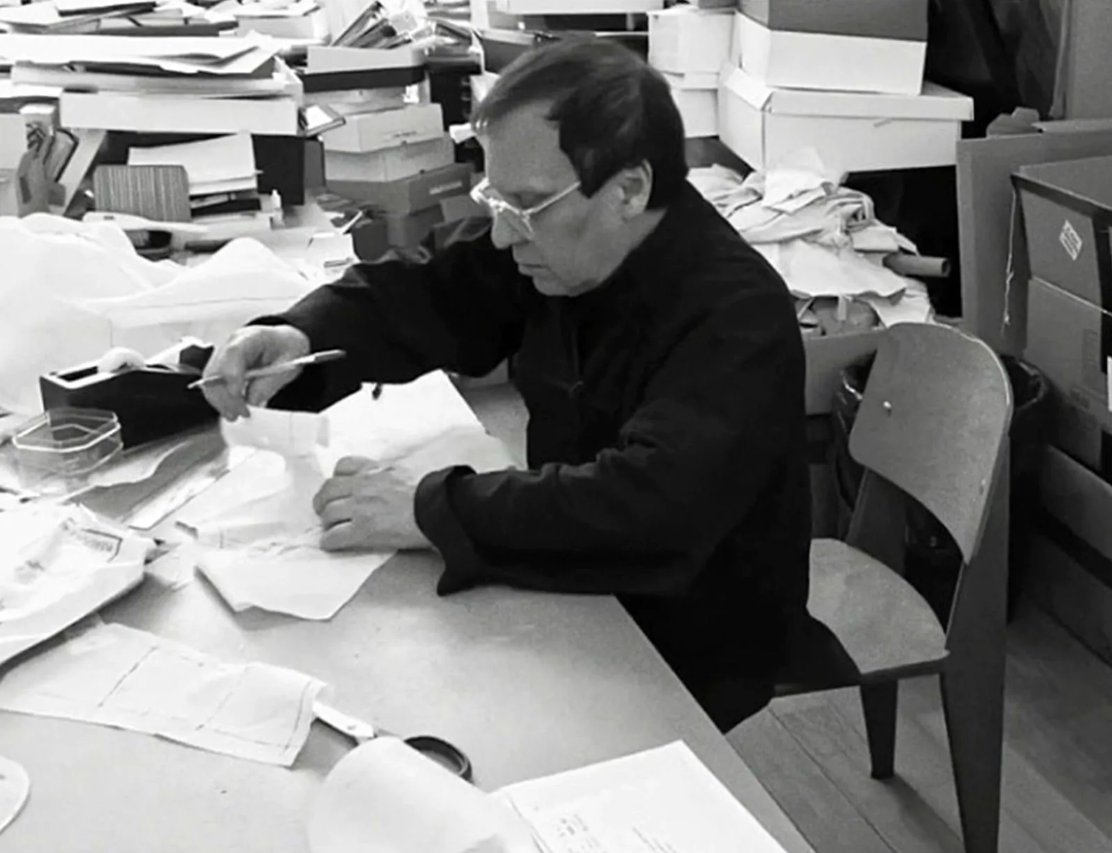 azzedine alaïa in his studio © azzedine alaïa foundation
Often, in the evening, Azzedine Alaïa would go downstairs and cook, preparing dinner for his friends before returning upstairs to sew until late into the night. It was at night that he would set himself before his work table sewing, moving a seam a centimeter one way or the other, or curving it in a different way, perfecting and re-working the most suitable placement of a line, of a seam, alone in the silence of his studio.The television, set up near his work table, was often turned on while he was working.
A perfectionist to the extreme, he was so meticulous in his work that it is fitting to bring it back to life in this immense space that was his studio, the birthplace of all of his ideas.