Exposition
06.06.2014 - 29.06.2014
world press photo
photographie et journalisme
commissaire d'exposition: world press photo - scénographie: claudio dell'olio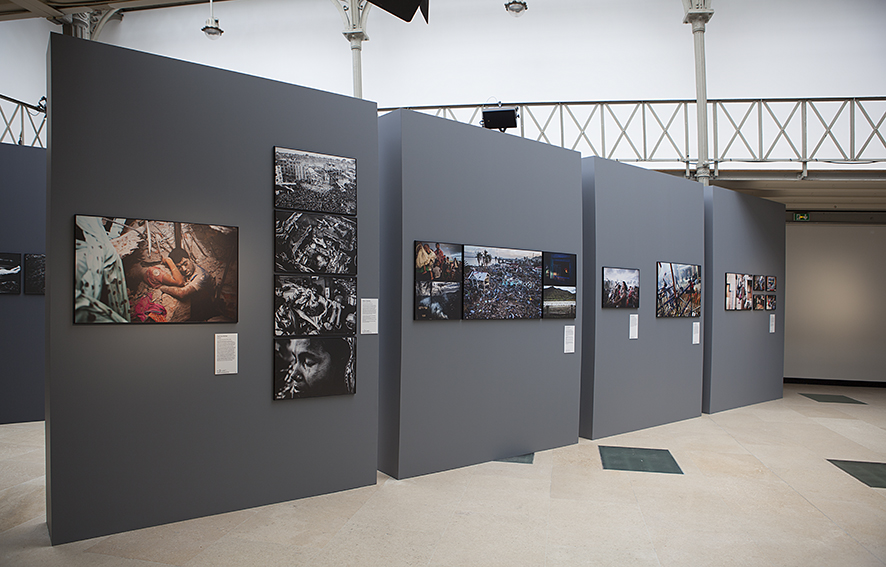 vue de l'exposition du world press photo 2014 ph. sylvie delpech
Le jury international du 57e concours annuel de World Press Photo a choisi une photo qui raconte le drame de l'immigration. Sujet qui a malheureusement fait les gros titres des journaux tout au long de l'année passée, beaucoup de ces candidats à l'exil périssant en mer ou à terre par la faute de passeurs peu scrupuleux et dénués de toute humanité.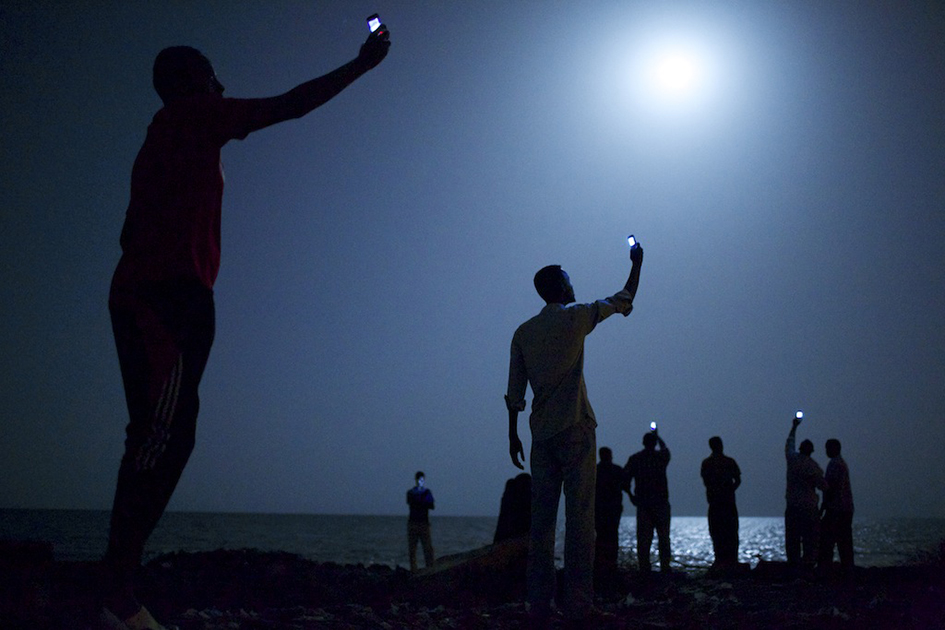 Concours de photo 2014, World Press Photo de l'année ©john Stanmeyer
John Stanmeyer, photographe américain remporte le prix avec cette photo prise de nuit.
On y voit des migrants africains sur la rive de la ville de Djibouti, avec pour seul éclairage la lumière de la lune, élevant leurs téléphones dans l'espoir de capter un signal peu coûteux de la Somalie voisine – un lien ténu avec la famille à l'étranger.
Djibouti est un point d'arrêt fréquent pour les migrants en transit en provenance de pays comme la Somalie, l'Éthiopie et l'Érythrée, à la recherche d'une vie meilleure en Europe et au Moyen-Orient.
John Stanmeyer, né dans l'Illinois, est l'un des membres fondateurs de l'agence photographique VII.
Au cours de la dernière décennie, Stanmeyer a travaillé presque exclusivement avec le National Geographic, produisant plus de 12 articles pour le magazine. Entre 1998 et 2008, John a été photographe contractuel pour le magazine Time, période pendant laquelle il a photographié la guerre en Afghanistan, la lutte pour l'indépendance du Timor oriental, la chute de Suharto en Indonésie et d'autres événements importants de l'actualité mondiale.
Stanmeyer a reçu de nombreuses distinctions, dont le prestigieux prix Robert Capa (Overseas Press Club), le prix du photographe de magazine de l'année (POYi), et de nombreux prix World Press, Picture of the Year et NPPA.
En 2008, son article de fond du National Geographic sur la malaria dans le monde a reçu un National Magazine Award, et en 2012, il a été nommé pour un Emmy avec la série de films documentaires VII, « Starved for Attention ».
vue de l'exposition du world press photo 2014 ph. sylvie delpech

vue de l'exposition du world press photo 2014 ph. sylvie delpech